If you read my blog you will know that I am a fan of all things weird & wonderful and cock cages are no exception to my desire to try out things and experience everything they have to offer. I have been using cock cages for ages now and so I felt it was time to share mine and my boyfriend's love for this cock device that keeps you on your toes, submissive, and keeps my partner completely wrapped around my little finger!
If you don't know, a cock cage is a metal or plastic device (there are other materials too but these are the most popular) that secures itself around your cock and balls. It can be secured with a latch and sometimes a padlock and key. The main purpose is to render the cock un-usable, bringing it torture and pleasurable pain as it gets aroused and teased inside of its tiny prison. Couples and keyholders drag out the punishments, the time inside of the cage, and keep the cock locked away until they say so. It's an acquired kink but it is a whole lot of fun and a real arousing experience for everyone involved. Now, let's get into what cock cages we use and which is right for you.
Measuring Up Before You Purchase
It's really important that you measure up before you commit to a cock cage. I created this guide of how I measure up every guy for a cock cage, if you don't know how to size yourself it's a great read and will show you exactly how to measure yourself correctly to ensure maximum comfort.
Now that you know how to measure, you're ready to pick your cage, however, I wanted to show you that there are so many different types of cages and further on below is where you will find my top picks and the ones that we use in our bedroom.
Types Of Cock Cages:
Most people think 'metal', prison-esque design, determined to scare off anyone not qualified in BDSM mastery but that is not true. There are cock cages to suit so many different types of people and their different purposes and desires.
Normal Closed Cage: These are the best for long-term use, they usually have a pee hole, are easy to clean, and are what most slaves opt for.
Open Cage: These cages are usually metal, and are easier to clean.
Attachment/Butt Plug Cage: This is a cage that has a butt plug connected to it to enhance pleasure.
Spiked Cage: These are cages with lots of little spikes, that are usually used for timeouts and punishments. You don't usually wear these for a long period of time, they are just to teach you a lesson.
Open-Ended Cage: These have an open end, so your whole cock is entombed by a metal tube and there's just the tip of your cock hanging out.
Fully Closed Cage: These are cages that offer no part of your cock out, there isn't even a hole to pee.
Remote Controlled: These are chastity cages that can be controlled via an app from any location, so your keyholder doesn't have to be local to you which can be great if you play solo.
Materials of cages:
As well as different types of cock cages they are made with different types of materials too which changes the way they look and feel to the wearer.
Silicone: Good for beginners as it's really lightweight, easy to size and fit, but remember silicone can't be used with silicone lube. I also have found it harder to find good cages, as the silicone material doesn't last as long as the hard plastic and stainless steel do.
Hard Plastic: This is the most common material that is used, my favorite cages are hard plastic like the CB-6000 (more on that below!), it's easy to clean, discreet (depending on size), and works with most lubes. It's lighter than the metal alternative, which makes it perfect for daily wear.
Stainless Steel: Most of the metal cages are made of stainless steel, it's easy to keep clean and visually it looks incredibly sexy and intense. It can be hard for public use as they are more obvious through clothes and they can't go through metal detectors as others can but it does work with most lubes.
Resin: Some of the custom cages use a resin material as they can be 3D printed. I personally have not used one myself, but it's an option nonetheless. If you have had an experience with a resin cock cage please do let me know your experience in the comments below!
CB-6000 Male Chastity Cage Kit (My Favorite Permanent Cage)
This is our favorite cage to use. It's great for long-term wear, short-term wear, it's robust, high-quality and I just love seeing my partner's cock through the clear material. I love that it's customizable so you don't have to worry about the measuring as I mentioned at the beginning of this article It does come in two sizes:
The Average Size

: This cage measures 3.5 inches and will be perfect for most wearers.
The Short Size

: Designed for smaller cocks measuring just 2.5 inches in length this cage is a real challenge.
Whichever size you choose, both cages come with padlocks, a urination/ejaculation hole, a restrictive fit, and comfortability in the fact that they are made with high-quality hard plastic materials.
It Even Comes In Sissy Pink
This is the cage I like to use most regularly for my sissies too, it's the same as above but in cute pink. You don't even have to be a sissy to enjoy the pink cage, many men enjoy the humiliating aspect of the color and just the fun spin on such a dominant sex toy.
Clit sized cage

: Tiny for small cocks, this cock cage is a real treat for small and very naughty dicks.

Pink and short sized

: hypoallergenic and measuring 2.5 inches this short cage is a real challenge but a perfect prison for your pecker.

Sized to perfection

: The most common size, this pink cage is ideal for a huge range of wearers, it's discreet under clothes and airport security and it looks super cute.
Master Series Rikers Stainless Steel Cage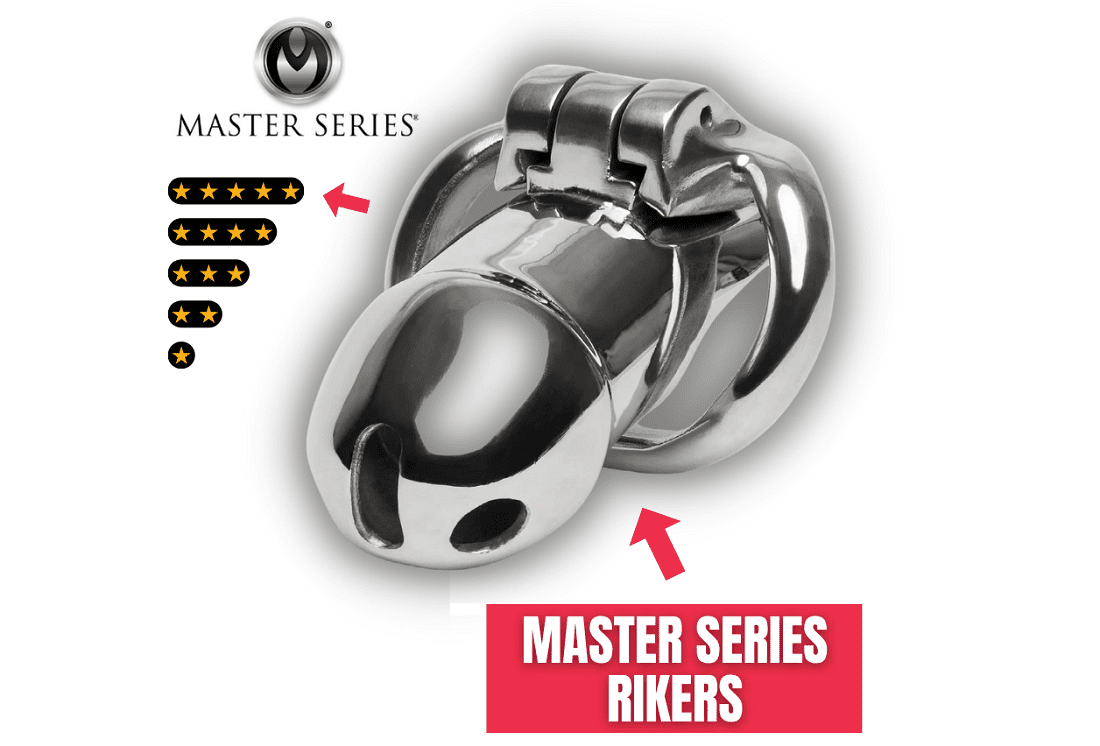 If you like prolonged wear from your cock cage this is a great choice for permanent cages for long-term use due to it being made from stainless steel. This material also makes it a little easier to clean which is a huge bonus for many cock cage lovers. Plus this cage will last a hell of a long time.
It was hard to choose between this stainless steel cage and the CB-6000 above. For me personally, the CB is the best, but this purely comes down to personal preference, I'd say that either of these cages would be ideal, the CB takes it for me, but if you want a stainless steel cage you can't go wrong with this one.
CB-3000
The CB-3000 cage certainly deserves a mention, it's one of the best cages out there for a great price, but for me and for a lot of the guys I've talked to the 6000 is just better, it was down to the ring and comfort of the CB-3000, my partners just find the 6000 a cut above. I still like mine and it's a good one to have in my collection, but I find the CB-6000 just a little better.
Spiked Cock Cage
I wanted to include something a little different for my kinky and punishment-loving cock cage wearers. This is a purposefully spikey cage. Remember, this cage isn't for permanent wear, this is for when he has been naughty and when he needs to be taught a lesson for breaking rules. It's pretty simple, he gets a certain amount of hours in it as a punishment to him and his cock.
It's like to think of it as a time out.
Cellmate Remote Chastity Cage
I am always with my cage wearer but on the occasion, they have been away or we wanted o try something kinky in public these remote chastity cages are an exciting option. They are good, but the apps can be hard to get the hang of. However, this is the best remote-controlled one I've used and it is a lot of fun and brings in a modern twist to the age-old kink of chastity cages.
Cheap & Affordable Cages
Some of you reading here may not have budgets that stretch to the really good cages or you might want to get something cheap to learn about sizing and what will fit and if you even like cock cages. You can check out sizing, fitting, and how to use a cock cage guide which will help you even further on your quest.
The only issue with cheaper cages or knockoffs that are a fraction of the price is that they can use cheap materials that can snap, be harmful and cause other issues.
You only have one penis and it's a good idea to take care of it.
Usually, you will have a cage for years so it's a good investment, especially if you will wear it most days, but if you can't wait any longer and want something inexpensive you should look for a stainless steel cage as there will be less that can go wrong.
Probably the most popular budget cage provider on Amazon is:
I have heard from a few beginners that have used them, but I have not tried them with any of my partners, however, I do like the lock that they sell (mentioned further on below).
Again I've heard a few horror stories of cage breaks causing damage and bad pinching, so please be careful.
Custom Chastity Cages

If you want something that is completely custom and you have a big budget to enjoy then there are some companies that will create you a cage from scratch which perfectly suits your size and body.
The only issue being is cost, a lot are around 400 – 1000 dollars, however, I did find one that's around the $250 mark, I'm saving up for one and so I haven't yet been able to test the quality but if you want something nobody else has it may be an option of you.
Again, I haven't tried these yet.
Honorable Mentions:

These are some of the brands, I've been wanting to try.
These are in order of the ones I'll try next, from going to buy to going to wait and save up for. Let me know if you have tried any of these cages and your thoughts.
Holy Trainer
MatureMetal
Chastitydevice4u (Lori) – (amazing, but pricey)
badassworkroom
CustomChastity
steelwerksextreme (Custom – very expensive)
Replacement Locks And Keys
Sometimes locks get broken, keys get misplaced and it can be a nightmare when you're searching for them so I like to have replacements on hand so that I am prepared for any eventuality.
Cute lock: These are super cute, affordable, they go with the pink cage I mentioned earlier in this article and they are great to keep on hand for playful evenings.
Heavy Duty lock: A heavy-duty lock to keep cages securely locked up and without a peep.
Pin locks: Discreet, easy-to-use, and hard to break out of. They also come in a set of three so you will always have some on hand when you need them.
Real Ties: A 10-pack of numbered locks that must be cut to be unlocked, a masochist's dream, and a real treat for doms and subs alike.
Cheap Lock Ties: A pack of 50 lock ties, numbered and in different colors, these cannot be re-used but offer a simple yet bondage vibe to any caged cock.
Locking Pins: Hold your cage together with these 4 locking pins. Re-use them whenever you want and always have a pin on hand to secure his cock in.
As always practice caution and safety when using your cock cage and other chastity devices.
Tell Me Your Favorite
Tell me your favorite cage or the one you want to get in the comments, also feel free to ask me any questions about the cages I've used and I will try and help as much as I can!
Jess <3
I'm Jess and I'm a woman in my twenties. I created this blog to share my sexual experiences along with the experiences of people from all walks of life. I am actually quite introverted, but my boyfriend and I have a semi-open relationship and it's really helped me open up and experience things I never thought I would and that's one of the biggest reasons I created this. I hope you enjoy my blog as much as I enjoy writing for it. Read more about me.