Welcome to my 30-day chastity training program, this is for those of you looking to challenge yourself with your cock cage. Looking for a new way to push your boundaries and make yourself feel amazing and accomplished.
Inside this training program, you will find 30 whole days of challenges for you to complete. Except these aren't any kind of challenges these are specifically to do with chastity and caged cocks. You can do this challenge solo or with a keyholder present, it's up to you, but whatever you choose have fun, be safe and good luck because this chastity challenge isn't easy.
What You Need:
You are going to need a few things to start this chastity training program and I have left those below. Some are just recommended and others are definitely needed to complete this program.
Lubrication (Needed) – Lube is very important, I like this water-based lube as it's safe to use with any sex toy. Remember to avoid silicone lubes if your cock cage is made of silicone as it will damage it.
Cock Cage (Needed) - This is my favorite cock cage to use with my caged cocks. It fits most men, it's strong, durable and does the job of containing your mear very well.
Timer (Needed) - Use your phone or clock, anything that can keep time well and efficiently.
Butt plug Training Kit (Recommended) -It's not 100% necessary but I recommend a butt plug training kit to help you train your ass and get the most from anal play.
Accountability (Needed) – If you don't have a keyholder who can do this for you, feel free to use the comments below to hold yourself accountable and complete this chastity challenge.
Self Timing Key Box (Recommended) - This isn't necessary and is more of a luxury but a self-timing key box holds your key for you up until the timer is up. This ensures you don't get access to it a moment too early.
A 6-inch dildo - (Needed) - My favorite size for male anal play, this dildo will bring you delicious prostate stimulation and lots of exciting erotic fun. I also use this dildo all of the time, it's such a great addition to my toy box.
An 8-inch dildo - (Recommended) - With my challenge you will be using your ass at times and if you want to put yourself to the test, enjoy an 8-inch dildo whenever prompted to use a dildo.
A mega 10-inch dildo – (Recommend for thrill-seekers) - If you want to push yourself to your limits, a 10-inch dildo will put your ass and mind to the ultimate test.
Butt plug – (Needed) - You're going to need a butt plug like this one that vibrates during this challenge and you're going to love it.
Panties – (Needed later on in the program if you decide to do the femdom challenges each day) - This is an optional item that you're going to need, if you're not into femdom, skip this one.
Bra – (Recommended) - A bra is recommended to complete this chastity challenge but not to worry if you don't have one to hand because you can improvise and use your imagination.
Nipple clamps (Recommended) - You are told to put on nipple clamps during your challenge if however, you don't want to have real ones, feel free to use clothes pegs.
Stockings - (Recommended) - I love my caged men in stockings and if you want a truly chastizing, all control gone kind of experience get some.
Nail polish – (Recommended) - This can be picked up for really cheap at virtually any store, it isn't essential to this challenge but it is a nice bonus to some of the more feminizing daily challenges.
Wand vibrator (Needed) - This vibrator is needed during a few of your chastity challenges. It's used to tease, make you cum and drive you insane.
Summer dress – (Recommended) - Not a must-have but a great addition to your arsenal for this chastity challenge. You will see why when you explore the challenges for yourself.
Rules Of Training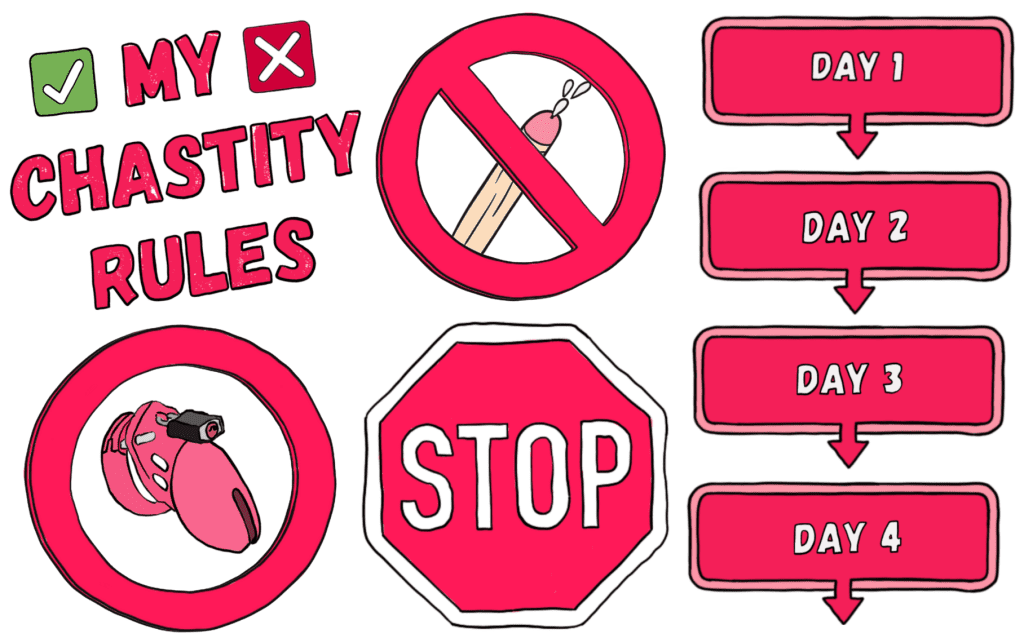 There are some rules which must be adhered to:
If you don't have the items try to improvise, if you can't improvise, pick a punishment from this list of chastity punishments.
Days must be completed in order.
If you don't wish to participate in one of the days for a legitimate reason, this is the only time you may skip to the next punishment and you can only do this once, so pick wisely.
If you can't sleep in your cage, spend the whole next day locked up before continuing with the next day of the challenge.
If you accidentally cum during any of the challenges, ruin your orgasm, and have 3 days of cold showers (minimum of 30 seconds).
Safety Disclosure: This is a game, it's for educational purposes only, don't try anything, if you do, you do it at your own risk. Wearing a cock cage can be dangerous and cause life-changing issues. Be careful, do your own research, and anything you do, you do it at your own risk. Wearing a cage at night can be harmful, do your own research, if you can't do it, just spend the following day locked up for the whole day.
What Will Happen During And After This Self Chastity Training
This is a completely free chastity training system, this is the same training I use for anyone I keyhold for.
I could charge for this, but I want more of you to experience what it's like to be under me and be my chastity slave.
In the next 30 days, you will be told exactly what to do, you will have to completely submit to me and you will probably do some things you really don't want to do. I want to train you to be a sub, a good caged sub who follows rules and wears their cage when they are told to.
Before you start, I want you to write your own contract on a piece of paper exactly like this:
Chastity training program contract.
I will follow this challenge for the entire 30 days. I will listen to all rules and commands and understand my cock is no longer under my control under I complete this chastity challenge.
Signed:
Printable image:
This is a novelty contract, but it is to make sure you take accountability, I'm not there so I can't make sure you do as you're told, however, you just signed it and so now you're locked in and ready to listen.
If you don't already read my blog, my name is Jess and I love to write about sex (as well as have it and watch it, duh!), I also love chastity, and creating this free chastity challenge was a big deal for me as I wanted more caged lovers to come forward and enjoy something that will make them seriously submit to me and may even turn them into a sissy, cuck, or a permanent chastity wearer. It may also make them only be able to cum when wearing a cage, it might make their cock shrink, who knows? All I know is that I love chastity and this challenge is going to blow your mind and give you 30 days of pure caged pleasure.
Chastity Training Program: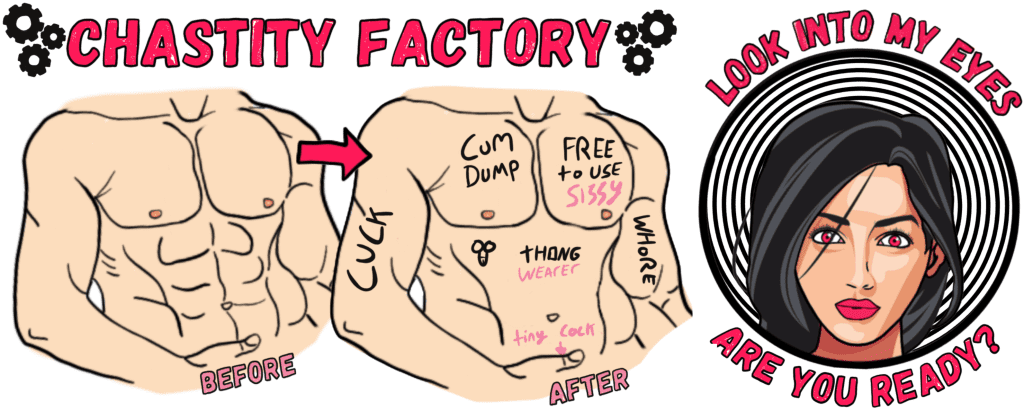 The first 5 days are the warm-up, after that it gets more advanced as it each day progresses.
Warning: This may turn you into a sissy, a cuck, and a chastity wearer for life. Good luck and let me know how you get on! ❤
Ready...set...start!
Cool Off From The Challenge
I've been thinking and it's not a good idea to completely release you from this challenge just yet.
Enjoy one day off out of the cage but no orgasming.
I don't think you should orgasm for the next 7 days and have at least 5 hours per day locked up.
After that, you're only allowed to ruin your orgasms for the following 3 days.
Then you're allowed to orgasm like normal but only while watching femdom, chastity, or cuck porn.
How Far Did You Make It?
Let me know what day you tapped out or if you completed my extreme chastity challenge! Thanks for playing.
Jess ❤
I'm Jess and I'm a woman in my twenties. I created this blog to share my sexual experiences along with the experiences of people from all walks of life. I am actually quite introverted, but my boyfriend and I have a semi-open relationship and it's really helped me open up and experience things I never thought I would and that's one of the biggest reasons I created this. I hope you enjoy my blog as much as I enjoy writing for it. Read more about me.