I know that men have a lot of hang-ups about their penis size, it can be torturous not knowing if yours is normal or nice or big or small, it doesn't help that the media emphasizes the love for big cocks, even though not every sexual partner you're with is going to have that as a preference, whether you have a big cock or not.
Every person has different preferences, what I may love you may hate but today I wanted to talk about my own personal preferences when it comes to dick size, what I like and what I look for in a potential partner.
Do You Have A Big Enough Dick To Satisfy?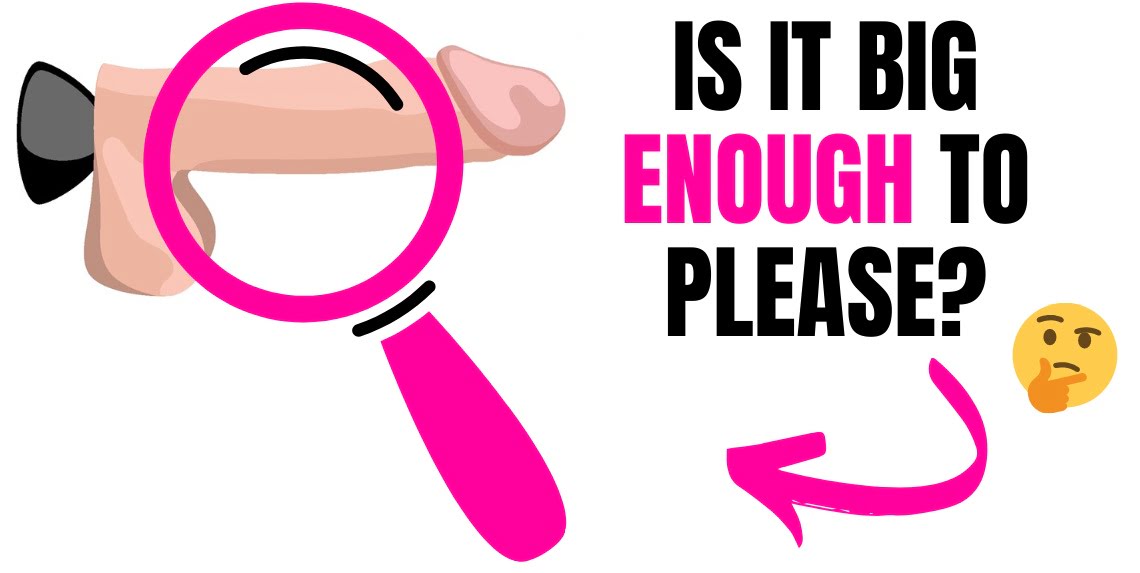 As I mentioned before, my preferences are not everyone's preferences but today I want to tell you about mine. Knowing how to use your dick, how to pleasure your partner, and how to put the work in, in the bedroom are all important factors that got into sex. Having a big dick and not being able to use it is disappointing and I have seen it happen. You want to be the all-rounder, the person who can make someone cum, who can satisfy with their cock, sex toys, fingers, and mouth. Foreplay is just as important in sex, never forget that.
What Size Do I Like The Most? ?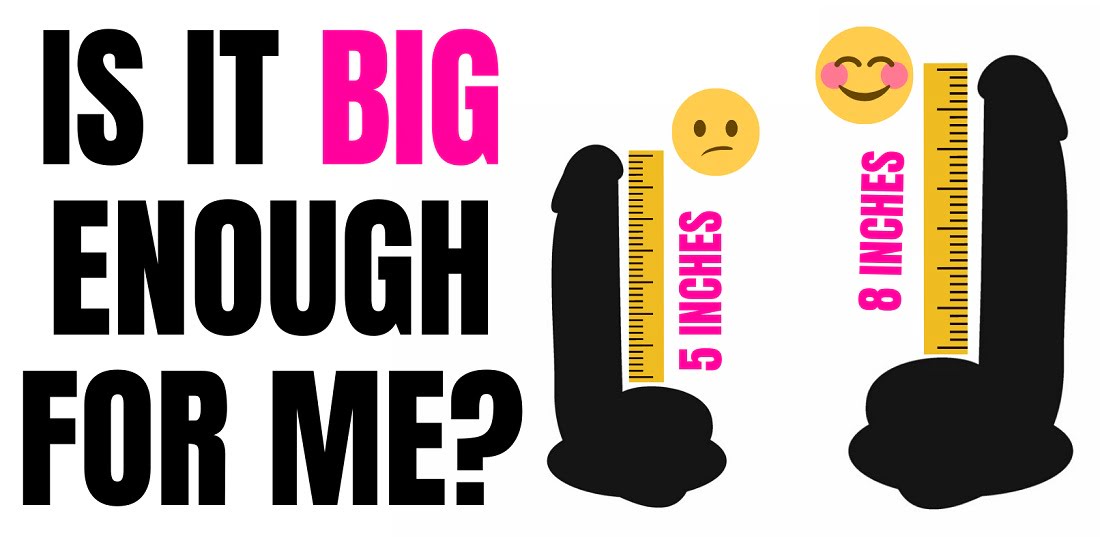 I want to be totally honest, I like 'size play' (this is where someone enjoys larger than average sex toys, stretching, and the sensation of being filled up), it's a big kink of mine, which you will know if you read my blog. I enjoy men with bigger members, however, I also enjoy smaller men too.
Bigger men for me mean I am able to achieve a fantasy, it's a kink for me to fit it all in and be stretched out, I enjoy the challenge of a bigger cock. However, I do enjoy smaller men too. I find size play to be a kink and average-sized cocks fun to play with on a daily, I don't need any prep as I do with larger cocks and most men are average, which is naturally easier to find.
Why I Like Average Cocks: I enjoy average cocks because there's no prep beforehand, it feels good, it's easier to take on days I am not feeling up to a larger cock, you can always add things to make it bigger should you wish (more on that below) and I find guys with average cocks are easier to find, they also usually put the work in elsewhere, like mastering their oral techniques, guys with larger cocks sometimes think foreplay is a myth.
Why I Like Monster Cocks: I am a size queen, I enjoy stretching my pussy and my ass, filling myself up, and setting myself a challenge. I usually opt for larger sex toys as they are easier to find than monster cock guys but when I do find a monster cock guy I make sure to use him up and have him fuck me with that thing, I just love the sensation of it, and watching my pussy gape for him.
How Big Is My Boyfriend?
My boyfriend has a larger-than-average cock, which pleases me exponentially. He knows how to use it, he pleasures me better than anyone ever has before, his foreplay techniques are insanely good and he feels incredible inside of me. I was lucky I found someone who has exactly what I like, would I like him to have a monster cock? No, because I couldn't use it every day, and because he is an over average size it means I still get that filling sensation without the prep and he can always add sex toys to fulfill my kink.
Overall I am very happy with his size, even if he was less endowed I would be happy because size play is a kink to me and there are so many great size play sex toys out there.
Asking Everyone I Know What Cock Size They Enjoy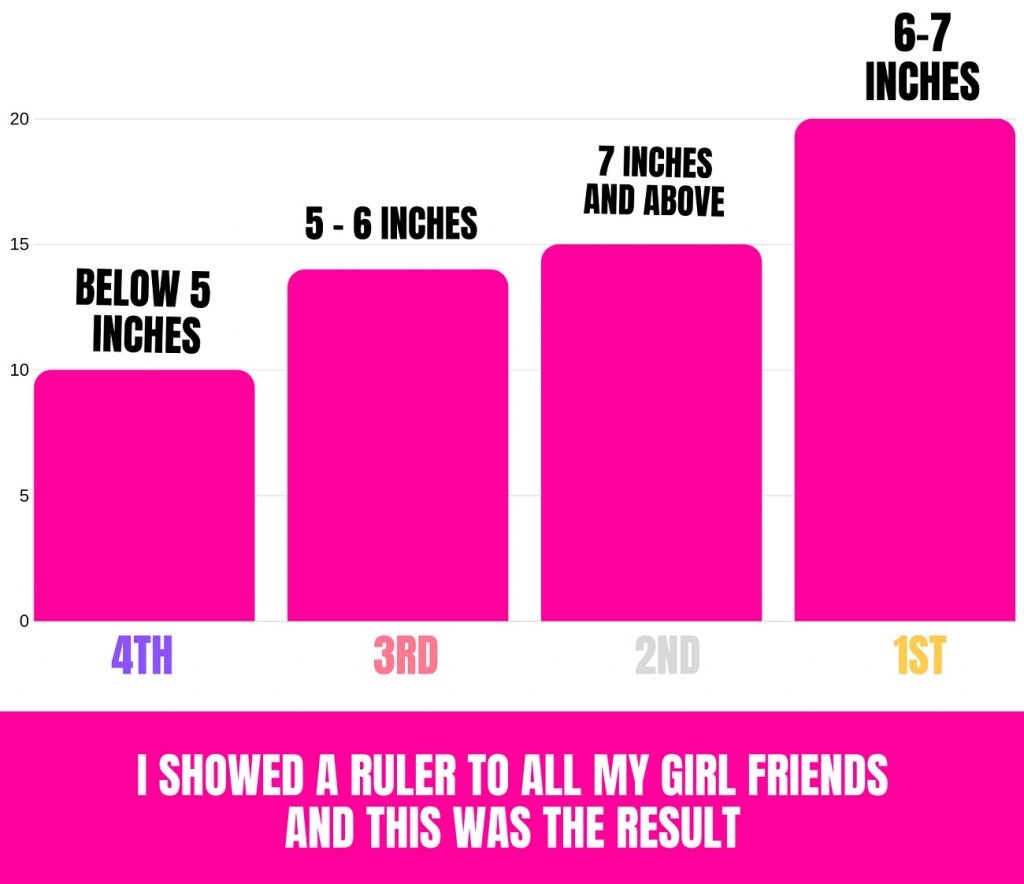 I thought it would be fun to ask some of my friends what they enjoyed from a cock. All of them have their own unique preferences, what they enjoy I may not and that's ok.
Amy: I may be outnumbered here but I love small penises, I think they are super cute and every man I have been with a small penis is so generous in the bedroom. As long as he knows how to pleasure me, I don't really mind but a small penis is a huge turn-on for me.
Lily: Anything around 6-7 inches is my ideal, anything too small isn't for me and anything too big isn't either. If you're between 6 -7 inches, that's ideal and I know a lot of women that think that too. Know how to use it and she will be happy.
Tammy: I'm with Jess, I am a size queen. The bigger the better for me and I know Jess she likes average for an everyday cock, I don't, I want a big cock 24/7. If he doesn't know how to use it, I'll teach him.
Annonymous (a friend from the blog): I love a smaller man, especially if he can use it. I just prefer average and it's perfect for me and my pussy, we love the feeling, anal is a breeze, deepthroating is much more fun and it's just my type.
Annonymous (friend for the blog): I like a mix, sometimes I love both big and small, sometimes a small cock is all I want, and other times when I'm really horny I crave a big cock. Just learn to use what you have and you'll be fine.
Siobhan: 7 is my favorite size, it's not too big and it's not too small. It looks great hard, it feels great inside of me and it's just an all-around great size.
Tiff: Girth matters to me, I love big girth, it doesn't matter if he's big or small if the girth is there, I am there. I love fitting a meaty cock into my mouth or vagina, it's hot and girth is what's cute.
Do Women Want Girth Or Length Or Both?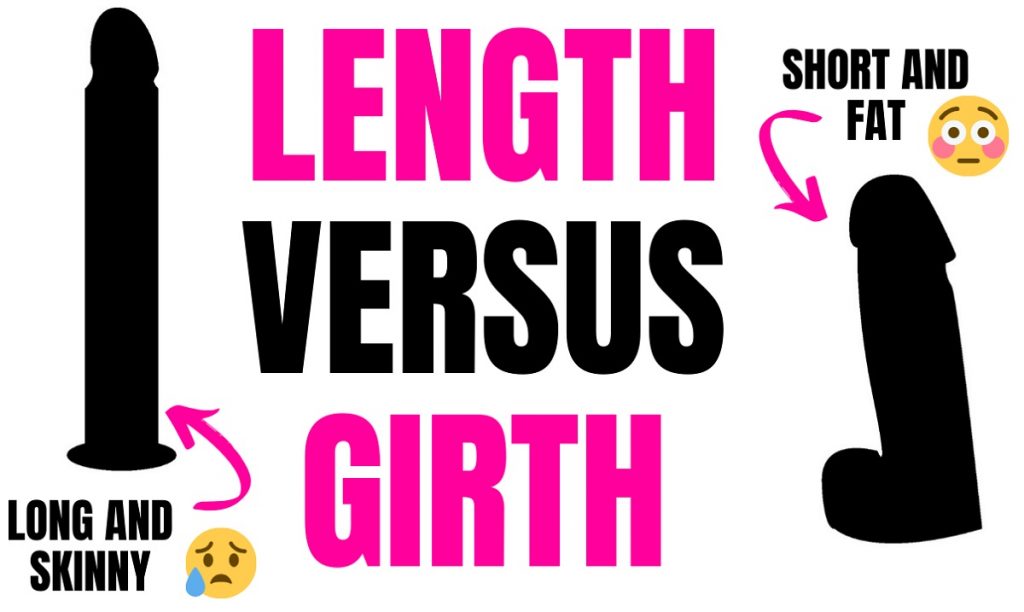 If you look at what my friends said you will see everyone is different however on average they all said if you can use it, it doesn't matter.
For me, ideally, a great penis has average or above-average length and a little bit of girth. Some women love skinny penises, some like them fat, some like them somewhere in the middle, it's all up to the individual. I'd say that girth can sometimes be more important than length and a smaller girthier penis can usually feel better than a penis double the length, but skinny.
How Many Men Have Massive Dicks?
I have been to a lot of sex parties, I have seen a lot of men naked in the flesh and I can tell you truthfully that not many men are actually hung like horses as the media likes us all to believe. I use dating sites and have been with loads of men (mostly in threesomes with my boyfriend) and most men lie about their penis size, which is quite sad as it doesn't really matter at the end of the day. There are a few who don't lie but it's not all that often.
However, I do find that the men that really do have large penises, tend to post them much more online which is why I feel like other men think all men have massive dicks because it seems to be all that we see.
This Is How Common A Big Dick Actually Is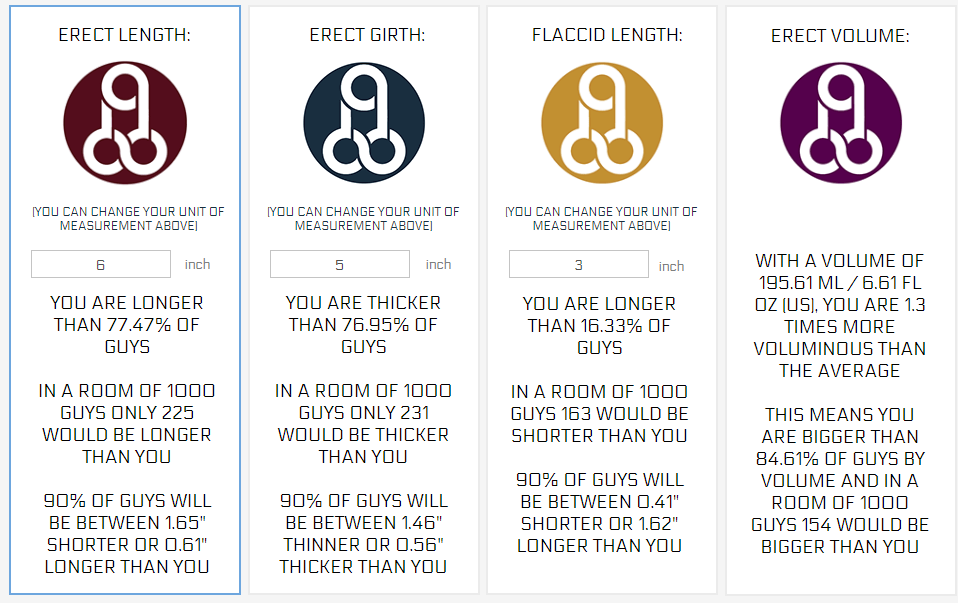 If you head on over to sizemeup.info, you can input your about your flaccid length, erect length, and girth and from there you can see where you compare against other guys who have inputted their date, remember to be truthful otherwise averages do not work. This test is totally anonymous and takes seconds.
As you can see, if you have a 6-inch penis you'll be bigger than 77.47% of men.
Different Cocks And What They Are Good And Bad At
Tiny Cock: A very small cock may be ideal for someone with a tiny cock fetish, there are lots out there. Having a tiny cock just means you need to work on your foreplay skills.
Small and girthy: Although you may be small in length your girth may help you with pleasuring partners, the girth will fill them up and if you can use it, size won't be an issue.
Average: If you're average that's great, you fall somewhere in the middle, this is what most women are used to working with, all you need to do is learn a little foreplay and you'll be perfect.
Average and Girthy: If you're average and girthy, you will find lots of people love that, the increased girth allows you to unlock the sensation of that full feeling some women go crazy for.
Average and skinny: Some people prefer a skinny cock, if you can use it well, there's not going to be an issue.
Long: If your cock is long, you will pleasure her deeper, harder-to-reach spots. Some women hate men who are too long as it can hurt them, so always make sure you focus on foreplay before penetration.
Long And Girthy: An ideal combo for lots of people and just like a tiny cock, it's a kink. I love men like this, but it can be harder as I have to be horny and in a kinky mood, otherwise, it's hard for them to get inside without hurting me.
Massive: If you fall into this category you are somebody's fetish. Enjoy having a big cock. You'll probably have just as many issues as a guy with a smaller cock, as most women will outright refuse anything too big, but keep looking and you'll eventually find someone who has a soft spot of larger-than-life cock.
The Sad Truth About The Size Of Your Cock
The truth is not every woman or man is going to love your cock size and that's ok. Not everyone is going to love your cock just like you're not going to love every cock or pussy that comes your way. It doesn't mean it's less, it just means it's not for them and you have to be happy and work with what you have got. Work on foreplay, techniques and be the best you in the bedroom.
Men Are More Obsessed With Cock Size
Love what you have.
Doesn't matter if you're 8 inches or 5 inches down there, confidence, and knowing how to use it counts.
Be open to trying sex toys and learn to use your body, mouth, and words in the bedroom and you'll be better than most men out there. Honestly, one thing all of my friends agree on is that men sometimes think that foreplay isn't necessary when that means far more to us than your cock size.
Try A Penis Sleeve/Extender (My Boyfriend Uses Them All The Time)

A really great piece of advice is to wear a penis extender in the bedroom with your partner, this is the penis extender my boyfriend wears from time to time (you can read our story about using this extender there). You slip your cock inside of it, secure it in place with the ball loop and it can add up to an extra 3-inches. It feels great inside of the vagina and it can really give you some added confidence or just a little bit of roleplay fun.
It's perfect also for those men who often cum a little too quickly as it desensitizes your penis slightly when it's inside of the extender.
It's a great sex toy that we love using, especially during roleplay and when my boyfriend wants to last longer.
Try A Strap-on
Trying a strap-on opens up your world. You can use a strap-on to use a bigger cock on your partner or you can also change the size of your cock to smaller by using a strap-on. They are very diverse sex toys and really important to check out if you are interested in different sizes and pleasing your partner in different ways. There are lots of women that like smaller penises and would be happy to try out something new.
We use this hollow strap-on, it slips straight on and allows for lots of different play styles, versatility and it's always comfy to wear and quite frankly, fuck.
Try A Dildo
Lots of people use dildos, they provide you with different sizes to pleasure your partner with and they are a very classic sex toy that everyone should own. We love this suction-cup dildo, it's a great size and feels amazing inside of me. Use a dildo on your partner, have them ride a dildo, get off watching your partner, the list goes on.
Using a dildo just opens you up to new things and allows you and your partner to explore. People who think using penis-type sex toys with their partner is wrong, I am here to tell you it absolutely isn't, it'll allow you and your partner to explore and try things you otherwise couldn't. Both giving each other pleasure whilst having a great time is all anybody wants.
I Like To Play With Different Sizes And So Will Your Partner
Use dildos, strap ons, sleeves, play with toys, and experiment, I have threesomes and try different sizes, it probably sounds crazy, but I love my boyfriend for him and that doesn't mean I don't like to experience other things. I like him to be by my side as we both explore and experience things in the bedroom, life is too short to not try these things out, you're missing out if you think you can't branch out and still have a strong happy relationship.
What I'm trying to say is you can enjoy Pizza and Pasta, your partner might love smaller pleasure, but sometimes enjoy larger pleasure, that doesn't mean she will replace you with the next large dick guy she meets.
Leave Your Cock Size/Ideal Cock Size In The Comments
Let's get rid of the stigma online, be honest. ?Let people know how big, how average or how small you are, so what? You can do this anonymously and it will feel refreshing. Not everyone has these huge dicks we see in porn and online and I want the world to know that.
Jess xoxo
I'm Jess and I'm a woman in my twenties. I created this blog to share my sexual experiences along with the experiences of people from all walks of life. I am actually quite introverted, but my boyfriend and I have a semi-open relationship and it's really helped me open up and experience things I never thought I would and that's one of the biggest reasons I created this. I hope you enjoy my blog as much as I enjoy writing for it. Read more about me.