Ahh. The wonderful, erotic, kind, and tender world of gentle femdom. It's a community with millions of very happy people who all love the dominant yet light and pleasant side of this type of relationship. Gentle FemDom is also sometimes abbreviated to GFD which some of you may prefer to call it.
Gentle femdom is like normal femdom (female domination) except it's sweeter and kinder and where the sub will perform acts of service, body worship, sexual submissiveness, maybe the sub will be collared but rarely will the sub be punished as would usually happen, instead a sub is usually praised for their efforts through affection and physical and verbal praise. They may be teased and denied their orgasm but this is done affectionately and a sub will always give their best effort which is more than likely always rewarded.
My boyfriend and I have had a lot of fun with the gentle femdom kink. It started with pegging, which was completely separate from our femdom experience, but we actually started to enjoy the domination aspects of it, so much so I've written about it a few times on my blog.
We've had pegging threesomes and I even wrote a femdom pegging guide. I think I'm pretty hooked at this point and so ladies and gentlemen this is everything that you need to know about GFD.
Why I Choose To Be Gentle

I'd say that personally gentle soft femdom is the perfect intro into this kink. It still needs an open mind from whoever is involved, but it's far easier to start and have a conversation about it.
There are also a lot of ways to try this type of female domination without having to dive deep into the kink, so it's pretty accessible for newbies, which is always a great opener. For me, it's not about complete domination all the time. I'm personally a switch which means that I enjoy being dominant and submissive.
If you choose to enjoy gentle femdom it's a great way to build up trust with a partner and feel a great connection, this can happen whether you're a newbie or practice femdom (I have some amazing femdom bedroom ideas here) all of the time. Switching on that maternal, loving side to your brain is really nice sometimes and allows you to explore a really interesting side to sex and even your relationship.
I actually find gentle femdom to be a deeply loving and bonding experience, it's about being soft and gentle guiding your sub, and having fun with your sub, showing them lots of love all while still being in total control of them without any of the punishing or humiliating.
I find it a really healthy kink and it's a great reward after some harder femdom moments for those of us who still enjoy the dominatrix and hard dom side to the femdom world so if that sounds like a nice idea to you here are the best ways to enjoy soft femdom with my 101 guide that tells you everything you need to know:
How To Practice Gentle Femdom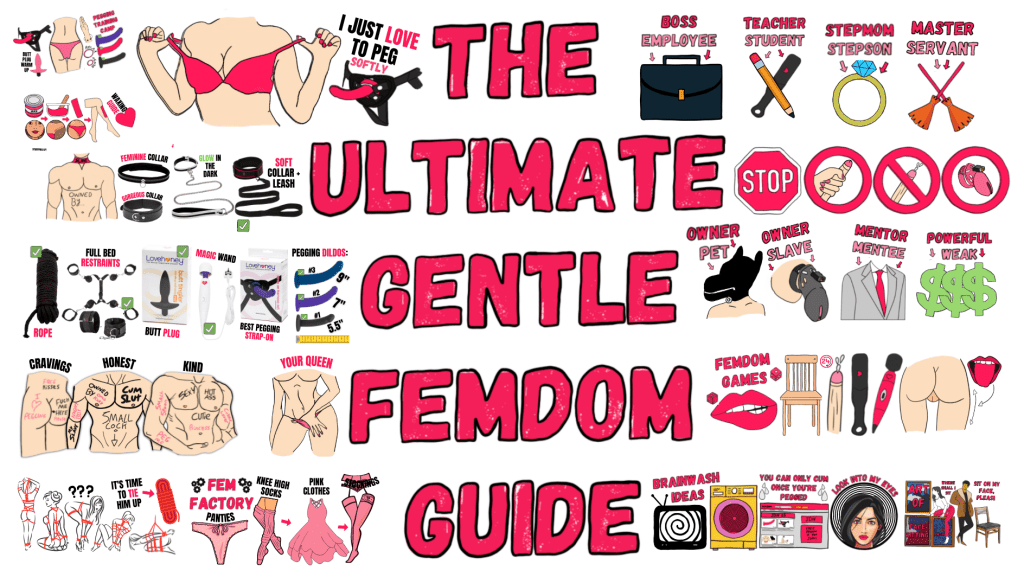 I'm going to show you some of the things I've fallen in love with during my time experimenting with femdom with my boyfriend so that you too can have a sweet and exciting time as a gentle dom.
Tools, Toys, And Goodies
I decided to keep track of everything I used the last few times I gently dominated my man and this is a quick breakdown, it's also all the stuff I mention further on in this post:
Bed Restraints: Most of you hopefully already have some bed restraints (these bed restraints are amazing), they are amazing for all kinds of sex, especially domination. Once their feet and hands are restrained, you can do whatever you please without any of their limbs getting in the way.
Handcuffs: You can use heavy-duty handcuffs, rope, or any loose material that can bind the hands together. I usually use handcuffs or rope, we have used scarves and a modified belt before too.
Rope: Rope is solid, you can use it for so many different types of restraining and it's cheap and easy to buy. The only downside is you do need to research knots and ways to tie but this really isn't hard to learn.
Blindfold: Use fabric, use a pillowcase, or a t-shirt, or if you have a blindfold use that. Adds another element of control as you take away your sub's vision.
A Good Vibrator: I love my magic wand, it's easy to use with restraints, has high enough vibrations to make my man cum, and can be wired or wireless. If you don't have one you can use an electric toothbrush (just take the head off and make sure to charge it fully), you can use it on the balls and head of the penis for a satisfying rumble.
Butt Plug: Any good butt plug will do, good for a warm-up and fun for teasing and denial.
Strap-on: I've played and tested a few strap-ons, these below are by far the best for pegging but just wear one that feels comfy to you and your sub.
#1. Beginner Pegging dildo: This beginner's dildo is a manageable 5.5 inches, slim, and easy to use and handle. Ideal for beginners and those who just prefer something a little smaller.
#2. Intermediate pegging dildo: It's slim, and there's a hole for you to add a vibrator into, it is incredibly irresistible, and is perfect for all doms and subs.
#3. Advanced pegging dildo: A delightful 8-inches, hollow, and with a vibrator attached, this pegging dildo is a real treat and great for putting subs in their place, respectfully of course.
Masturbator: You can use a fleshlight or a male masturbator, it's really good for edging. (if your sub is male if not just edge them with your vibrator).
I have done a much more in-detail femdom resource guide, but this is pretty much all you need to get started with gentle femdom sex toys. Now, let's move onto the affectionate verbal side of this harmless and kind kink:
Positive Reinforcement and Words of Encouragement
The first step in making yourself into the best gentle dom is by acquainting yourself with kind and encouraging positive words. This is super simple, you want to be in full control, but be positive and supportive instead of forcefully dominant and punishing.
Being able to do this puts you in a great position and will instantly make your sub feel good and set you on your way to mastering the art of soft femdom.
Remember though, your sub still has to be respectful, listen, and do as you say, but you're more forgiving, you give them rewards and you're mindful of their feelings.
It's all about nurturing with slight hints of domination whilst still remaining calm, kind, and in control.
Positive Words Subs Love:
You look cute today
You look better with my peg in your butt
You're so good at taking my peggy
Let me put on a cute thong, so we can be matching.
Take it slow, we want you to be able to walk tomorrow
Moan for me hunny.
You about to cum, beautiful, cum for me.
Your ass looks so good when it's stuffed with my peggy
Will you please wear my clothes?
Sexy, get your ass over here.
You going to wear the cute outfit I picked out for you.
Are you ready to be a good boy for me?
Sweetie
Princess
Positive Actions:
Stroking hair
Being the big spoon.
Soft, deep thrusts
Sooth him: shhh, it's okay, deep, breaths while I push deeper.
Kiss bombing: shed them with loads of kisses.
Want a massage with kisses, great after a long pegging session.
Let people know they are yours.
Push them up against a wall to fuck them.
You can add any of the above to your pegging, punishments, and sex and it will add a nice gentle vibe to the whole experience.
Positive Dirty Talk
Dirty talk can be just as important as positive reinforcement and actions and so try out some of these pleasant and stimulating GFD words and phrases to use on your submissive:
You're my toy, okay?
I'm going to use his special cock.
You're so special I want your cum, okay?
Good boy, fill me up, nice and good.
You're such a cute little slut.
Come on, cum.
Don't you dare cum inside me, not yet.
You love taking this dildo, don't you.
I want a nice big cumshot from you, do you think that's possible?
Good boy
Are you a cum slut? Want to taste your own cum/precum?
Good pet, toy or slut.
Do you want to cum? Beg me
Look at you…
Look at how hard you are for me, good boy
Look at your cute, tiny cock
Look at you all worked up and ready to do anything I say
You'd do anything to please me, wouldn't you? (After they say yes, name the thing you want).
You're so beautiful when you're inside me.
You've been so sweet I'm going to make you feel so good.
You're all mine, aren't you?
Tell me that you're mine, and when he tells you, tell him he is a good boy.
You make me tingle in my belly when you're inside me.
Don't worry, I'll take care of you.
You're my favorite toy
You're owned and safe
Who s your boss?
Grab his cock, and tell him it's yours.
That feels amazing, keep doing it like a good boy.
You're so deep in me.
You love my ass don't you, why don't you kiss it.
Next up in this femdom 101 guides, let's talk about feminization…
Light Feminization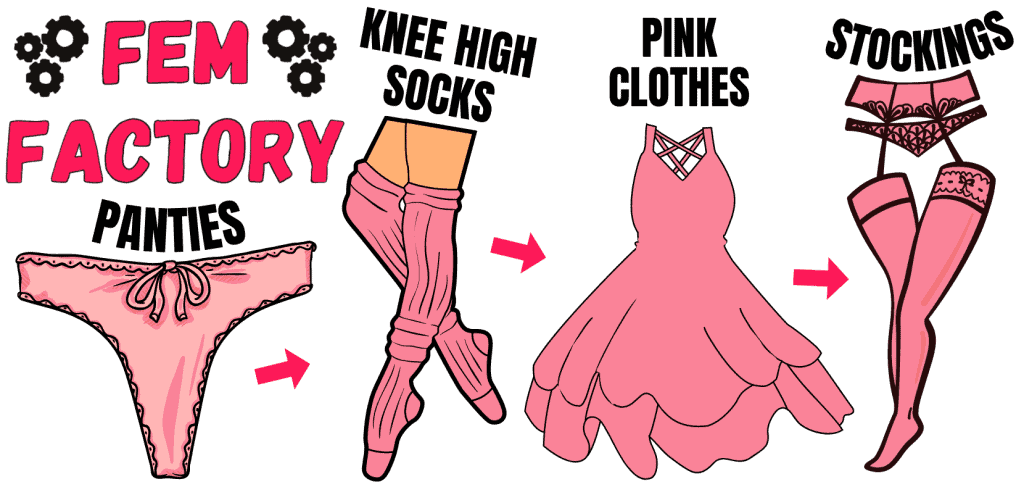 Some of you may wish to skip this part as gentle femdom doesn't often involve feminization or humiliation but for those of you who wish to try it out and get some femdom tips in this category, this is for you. If not, scroll down to the next block.
Not all subs are into feminization, but it can be a beautiful part of this kink if you do it right.
You're letting go of a big part of control when you wear something feminine and it doesn't change who you are, it's fun and something to be embraced if you enjoy it, and try it at least once if you haven't before. For me, I like my man to embrace his feminine side and be treated with the love and care that females are often met with.
My feminization routine isn't as intense as it would be for more extreme gentle female domination, instead, it's just sexy and an experience for him to wear the hot clothes I wear every day and get treated with tenderness and care.
Knee-high socks: This is usually where it starts, just a cute pair of knee-high socks for him to look sexy in (he has great legs!).
Stockings: Stockings are fun to wear and I want to share that fun with him.
Panties/Thong: Next you can make him wear a thong or cute panties every time you peg him. It's strange how hot it can be, it's like I shouldn't find my boyfriend hot in a thong, but while I'm pegging him it just is. Especially if you're bi and like women. Seeing his cock tucked away inside of the small material is such a turn-on!
Pink Clothes: Pink PJs, pink jeans and shirts, you can have a lot of fun with them and it's really easy to find pink clothing. Usually, I make him dress in pink for date night.
Body Stocking: If you really want him to be sexy, then try a full body stocking, it's crotchless, cute, easy to wear, and will make him look cute.
Now, remember the compliments, I always compliment how sexy he looks, I let him know it's fun for me too and I give him lots of positive reinforcement, to keep him wanting to try it again and feel hot and pretty rather than humiliated or forced.
Your Own Outfit
Some like mom jeans, PJs, and everyday clothes, while others like to wear something latex, sheer or slutty. Some like to dress their partner up in their own clothes. Whatever it is you think would suit your relationship and dynamic is the best option.
I did a big article on the best femdom outfits (coming soon), I find myself that if I wear something that makes me feel sexy and powerful it puts me in the mood to be a good dom even if it is a gentle scenario, I still like to feel powerful.
The outfit is sorted now let's move onto the leash and collar, a very important step for femdoms:
Leash and Collar

Taming is part of this kink and I haven't found a better way than when using a collar and a leash. Collars are pretty standard and are like the wedding ring (or at least engagement ring) in a femdom relationship.
The submissive who wears a collar is officially 'owned' by their dom. It also gives a nice little contrast of the power dynamic between the two of you.
Usually, it's worn in private, at pride and lifestyle-safe events and clubs, some also have a daily wearer that's a little less noticeable.
You can even have a ceremony to commemorate it, this is usually done when you sign a femdom contract. However, don't feel as if you have to wear it 24/7 some just like to wear a collar and leash in the bedroom and when they are engaging in some gentle or non-gentle femdom play.
These are the collars I like:
Or you can simply go to a pet shop and buy one it doesn't have to be complicated.
You then have the pretty leash as an option too, it's again about submission, you don't have to be forceful with it, you can be playful, use it to guide and treat your sub like the good pup they are.
Personal Grooming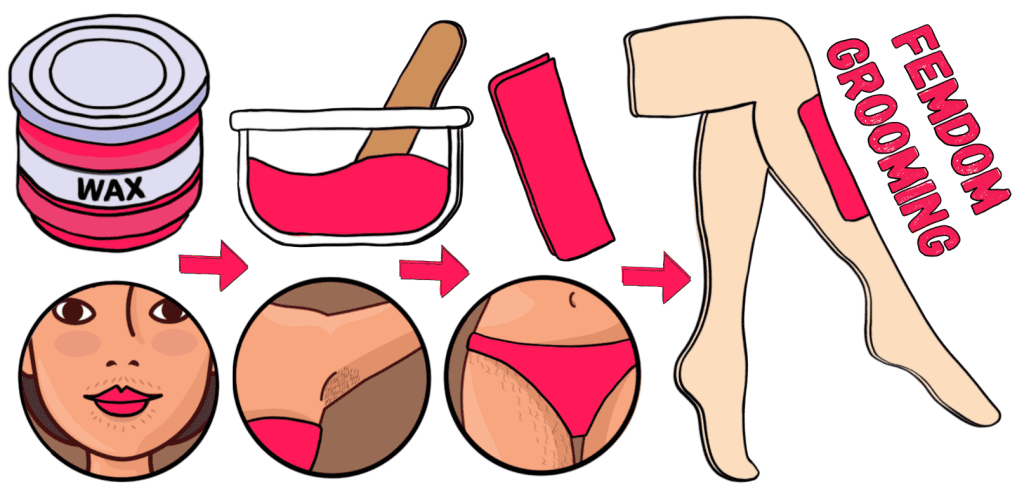 The next step is personal grooming, you can teach your sub how to wash you, shave you and cleanse your body. Even set up their own routine. Have a bath or shower together and show affection and praise as your sub does exactly as you like. Also if you prefer them shaved, you can show them how to shave, with intricacy and soft strokes. This is a good bonding experience for you both before you start your sex session and can be something that is done routinely between you both as a way to get acquainted and reassure one another of the power dynamic that is about to occur between you both.
To be the best sub and dom it's important to remind yourselves of your dynamics and your position in the bedroom and that's where eagerness comes in…
Eagerness
Reinstate your eagerness to your dom/sub. Repeat these instructions to one another and remind one another what it is you want and gain from your power and docility:
Dom: I am caring and respect your limits and try not to push you over them, I'll care for you even after the session and help guide you to be the best sub.
Sub: I am eager, willing to do as you say with complete enthusiasm and appreciation, I will give myself to you because I trust you fully.
Restraining Him With Love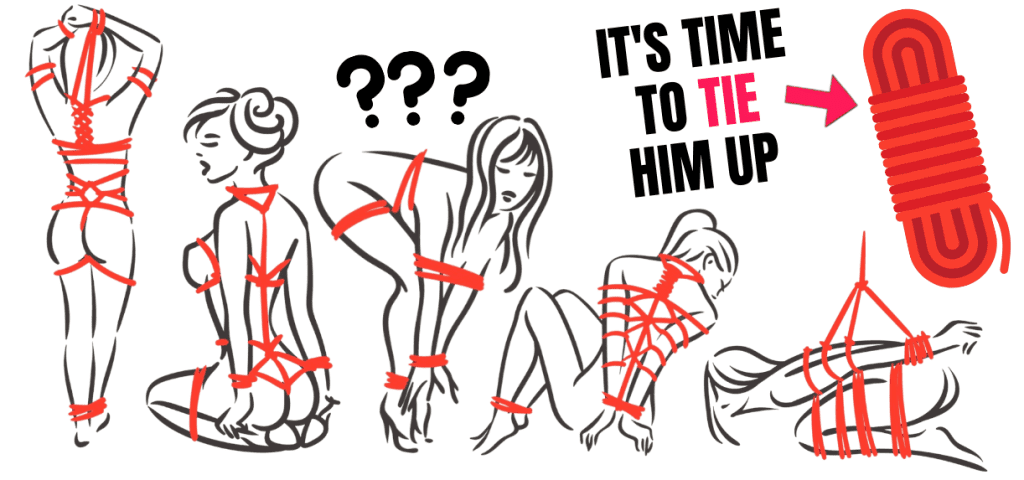 Restraints are super important for gentle femdom, why?
Restraints are used to keep your sub however you want them, they are used to tease, deny and give your sub a loss of power. They control him so you don't have to.
This makes it easy to stay gentle because you don't need to restrain him yourself. It also is a great reminder as to who is in charge. If you're on a budget use rope, it's cheap and has lots of wonderful uses, if not then get a four-way bed restraint. You don't need to remove it before sleeping and it can be tucked away nice and discreetly whenever it is not in use.
Ways to restrain him
Here are my favorite ways to restrain your sub:
Four ways on his back: Restrain both his wrists and ankles to each corner of the bed (this is so easy with the restraints I mentioned before). Great for edging his cock, tickling, cuddling, ruined orgasms. You can unclip his legs for easy access pegging, you can peg his ass, put a vibrator on his cock, or milk his cock at the same time.
Four ways on his front: Securing his four limbs to each corner of the bed except this time on his front, this is amazing for pegging, with complete control, gentle spanking, and massage.
Hands behind the back: Doggy style with hands restrained with rope or cuffs behind the back is the perfect soft position, the position does the harder work, while you just gentle thrust, while holding onto his cuffed hands.
Hands tied above head: If you use rope or cuffs, have them anchored to the part of the bed above their head, you can pick if you want them on their front or back, this gives you the flexibility to move their legs but stops them being handsy with you.
To a chair: If you have a good wooden chair there are so many ways to can restrain for femdom fun on it. Get some rope and explore. This plus a magic wand with a cock attachment can be beautiful orgasmic torture that can still be gentle.
Using your hands: Don't have restraints, just tell them to put their hands in a place and maybe use your hands to hold their hands in place, you can do this during cuddles, sex, or just while you're chilling.
Impose Your Weight
You need to learn to impose your weight, it's probably the best tool in a gentle fems arsenal.
Start cuddling while laying on them, them on their back, you on top. Use your weight to secure them down. The weight of your body on theirs puts you in a power position and allows you to take control subtly whilst they just lay there unable to move.
You're Completely Mine, In Every Way
A lot of this kink for the sub is about being submissive to love, being allowed to serve, and knowing that you're loved for serving. It doesn't just stop in the bedroom, for some it's not even sexual, it's the way they show love and if you're female dom reading this there's a chance it's how you show love too.
Learn to let them know that, they are yours and it's going to be okay, you're not going to overuse them or throw them away.
It's all about The Peggy
This isn't a pegging guide, but for many people pegging is a massive part of this kink.
You can bring your sub to a place with orgasms that he has never been, if you have ever given a man a prostate orgasm you know what I'm talking about, once he is there there's no going back and with gentle femdom pegging is a way that many doms like to show their sub who is boss whilst also giving them out of this world pleasure.
Here are some quick tips:
How to take a big dick anally, seems weird, but it's a guide I did on anal play, it will teach you everything there is to know about warming up your butt, playing with different sizes, and anal after and before care which is important if you're going to try out pegging your man for the first time.
If you don't want to read, just know that a finger, then another one before pegging is good, and a good quality butt plug beforehand also helps things space out and get your ass all nice and loose, ready to take a dildo up there.
Start slow and work up to your ideal pegging dildo size. Always put the strap-on harness on before sex as it can sometimes take a few minutes, but remember it does get in the way of oral, and sex. I mentioned above my favorite pegging sex toys, but I usually use this beginner peggy to start, then go to this one, and finally move on to the bigger sizes.
Some people don't like pegging dildos looking like a cock, but if you do you can work the realism into your kink and have fun with it.
Gentle Femdom Games
These are some of my favorite sexy and erotic little games I like to play with my sub in the bedroom. It makes things really exciting, adds a little spice into normal foreplay, and makes my sub completely desperate and obedient for me:
Restrained Snuggle
Something I like to do in gentle femdom is fully restrain my boyfriend, then just snuggle up and watch a movie of my choice. He is completely naked and I am usually just in my PJ's or in something a little sexier like some lingerie.
That's sometimes just enough, I'm in full control, I decide what we do, but I keep it cute, I keep him just like a tool for my own comfort. However, I do sometimes do something a little extra…
I spice this up by:
Using a

tickler

, it's a light tickling stick, you just tie them up and rub it over their body, it's pretty tickly but can feel good and make you long to be touched.
I edge him, when I'm bored, usually in ad breaks, I edge him, maybe with my hand, my pussy or mouth, whatever I'm feeling at that moment.
I blindfold him and play with him as I please, I usually do slow kisses, hold a vibrator on his balls and cock, and gently place my thong or socks in his mouth whilst giving him positive reinforcement.
I grind on his cock with my pussy but don't let him actually inside of me.
Fuck him slowly, pull him out every time he is close to cumming, massage his cock in between, and use it like I want to whilst telling him what a good boy he is.
Sit on my strap-on to keep it warm, I have him sit on my lap, on my strap-on, he can't move unless I readjust him. I cuddle him from behind, tease him and make him beg for me.
The Massager
You get a magic wand or vibrator, you then encourage him to orgasm with no hands, whisper in his ears, tell him he is a good boy, tell him you want all of his cum, you can use a magic wand with attachment, it's the ultimate femdom toy, you can just tie him up and leave it on, leave the room and enjoy the mess you come back to in an hour or two.
If he is into feminization, use this chance to treat his cock as a clit as you use the vibrator on him. Encourage him with sweet, positive words about how perfect he is and how sexy he looks using a vibrator.
Sit In Place
There are two ways you can play this delicious game.
The first way: You sit down with your pegging dildo on, usually on your couch, he then sits on the dildo. He can't move, he cants thrust, every now and then you can move, readjust or gently rub his cock. Remind him that you're deep inside him and that he is a beautiful slut. Don't give too much pleasure, treat it more like a tease.
The second way: If your partner is a bit too heavy for the above, you have him get hard, slide on top of him and he then has to go inside your pussy, no moving, no cumming, he must stay hard. Again, remind him that you feel him and that he is inside you, usually restrain his hands and legs to go a step further.
You can do a little couple of cute thrusts every now and then and remind him it will be his turn too. This is about you using his body, he is just a seat to you.
It's my turn now
Good boy, lick my pussy, suck my pussy, put your tongue deeper inside me.
Be kind to him, but use him as a beautiful sex toy, tell him what you want, give him light orders and instructions as you treat him as the best sex toy you ever owned.
How long can you lick my pussy for
Tell him you want some quick oral sex, don't ask him to stop, once you want a break, take one and then send him right back down, do this for as long as you like. You can have him go down while you watch TV, game, even while eating dessert. Put your subby to work!
Who told you you could come yet?
Give a blowjob or a handjob, the second he is about to cum, grip the bottom of his cock, stop everything, and ask: "who told you you could come yet?".
If he cums, without a second thought, ruin it and whisper to him: "I'm so sorry that I had to ruin that one, it wasn't time for you to cum yet, I love you and we will try again, okay?",
Tricking him into cumming
Tell him to edge, tell him not to cum, but don't stop when he is about to cum, keep going but beg him not to cum, tell him he needs to learn to be able to control his orgasm with his mind and allow you to keep playing with his cock even when he is close to orgasm like a good boy would. It will drive him crazy.
It Doesn't Stop There Silly
This is something I have a lot of fun with.
I tease my subby boy to new heights, I bring him to the point of orgasm, stop and give him kisses. I bring him all the way back, I get real close to his edge and I fuck him hard and deep.
He usually moans, squirms and his legs tremble. He should want to stop at how hard I'm fucking him, but the second I stop he begs me for more.
I keep doing this until he can't stop his cum from coming out of his cock. But once he cums, I don't stop, I keep going, the same pace, his face looks scared, it hurts because he is so sensitive post-orgasm, but I don't stop and I repeat the whole process again.
He shouldn't have been silly, it stops when I want it to.
Be warned: He won't be walking straight for a few days after you do this.
Cums Too Soon?
If he cums while you're riding him and he came a little too quick, tell him you need him to go down or sit on his face, it's a perfectly harmless punishment, just make sure to give him encouragement and tell him how good it feels and playfully what a naughty sub he is.
Red Lipstick kisses
This is just a cute thing that's amazing for aftercare, cover him in red lipstick kisses. Don't leave any part of his body uncovered. You may have to keep re-applying your lipstick but it's worth it when he is covered in your lip print over every inch of his body. Not only does this feel sweet and nice but it looks really erotic too and once again is just a subtle and soft way to assert your dominance over your sub.
Naked cuddling
You can be clothed, while he is completely naked or you can get on top of him while he is completely restrained and be naked together, lots of kissing, but no fucking. Just enjoy each other's arms. The intimacy is staggeringly nice and bonus points if you whisper affection yet dominant things into his ear (like the ones we discussed further on above).
Pegging Dildo Under Summer Dress
My boyfriend told me that it doesn't get much better than that, I sometimes hide it under my dress, or I wear the harness under and keep the dildo and lube in my bag, this allows me to use it wherever and whenever I want. The summer dress also adds a nice little feminine addition to my dominant side hiding under my clothes.
If you have any femdom games and foreplay techniques you use, let me know in the comments below, I adore hearing from you all. Now, let's talk about facesitting because not only is it used during extreme femdom sex it's also used during gentle femdom with just a few minor adjustments (think less torture and pain and more appreciation and moaning)…
The Art Of Facesitting
Facesitting can be for pleasure, punishment, or both. Even during gentle femdom, facesitting is sometimes used as a soft punishment where the sub is encouraged to lick and suck the pussy whilst being told what a good sub they are for learning their lesson.
It's one of the most popular femdom moves and this is how I involve it in my femdom.
Facesitting is a feeling of being completely owned and taken out of control, it involves a lot of trust and is the ultimate stimulation, which I think most will agree with.
For me I love how primal it feels, pinning him down, rubbing my pussy over his face, grinding on it as I please, and then guiding him while he eats me out, you can give orders easily and you're in full control, you can shut anyone up with your pussy in their mouth, it's exciting to cum on someones face. Nothing like seeing his flustered, bright red face when I get off. It's true power.
Wearing a summer dress with no underwear: I'll ask my man if he can lay down, I'll just straddle his face and tell him to lick, I do this whenever I feel like it. I tell him he's a good boy while he eats me out.
In the bedroom: I do it when I know he is about to cum, I get off his cock and ride his face, if he cums from eating me out, the orgasm is ruined, but I give him another which is an even better orgasm for the appreciation that my pussy in his mouth made him cum.
Hovering: I sometimes just hover my naked pussy and ass over his mouth while he is tied up, he then pushes his face in and gets stuck into my holes. Sometimes I lower every time he begs me, just squatting slower over his face with every time he begs and pleads.
Book reading: Sometimes I lay him down, straddle his face and just read a book, watch a tv show, while he eats me out, I stroke his head and just relax. It's a good, soft punishment for when he won't be a good boy.
Squirter: I can squirt, it takes me a while, but I build up my orgasm and when I'm ready to squirt, I do it on his face, it's a little different and is pretty hot. He thanks me for it and I tell him how great he is whenever it happens.
Warning: Always practice precautions when facesitting, have a way for them to breathe from their nose and make sure you keep your eye on their breathing if they are also restrained.
Forced/brainwash Femdom
You might be thinking that you can't be forced at the same time as being gentle but you can and it's extremely hot. For some, it does teeter too closely to the edge of not being gentle femdom enough but if you're careful and do it right, it absolutely can be. All of these ideas must also be met with positive reinforcement and praise for them to work.
Tricking him into Breeding: I treat him like he's just a dumb boy, I restrain him up, I ask for his cum, I tell him I'm not on the pill, but I don't get off when he cums, instead I sit down (sometimes ruining his orgasm), he can't do anything because he is restrained. I then say thank you for his cum and give him a kiss.
Consensual: This is all consensual and pre-planned, but we forget that part during the moment.
Brainwashing with porn: You can use restraints or if he is a good subby he will do as he is told. Give him femdom homework, he needs to watch and read femdom porn for 30 minutes a day, he can also study sub guides to learn to be a better sub. This is perfect for developing the kink.
Cum as a weapon: Use his orgasm as a naughty weapon to get him to submit, if you make me cum, you can cum, if you're extra good today you can cum, if you wear your collar all day we can squeeze you in for a pegging session. This works the longer you withhold his orgasm and it works even better if you wear a slutty femdom outfit around the house after a few days of orgasm denial.
Orgasm Ruin, Denial, And Edging Like The Queen You Are

This is another massive part of this kink.
Edging and denial play brings out the very best in every sub and ruining an orgasm is a beautiful lesson in power and it's also beautiful to watch. This is done positively and affectionately rather than as a punishment.
The only orgasms, I don't ruin are prostate, he's already being so good, taking my dildo and once I see them orgasmic waves building, I find it very hard to stop.
Roleplay Roles To Adopt
There's a big, long list of roleplays you can do to set the sub and dom tones and help bring out this part of your relationship.
Boss and employee
Teacher and student (could be a failing student)
Master and servant
Step-mother and step-son
Owner and slave
Owner and pet
Mentor and mentee
Rich and powerful person and person on hard times
What About The Sub?
A lot of this was teaching the femdom how to behave and show her sub a good time but in truth, all the sub needs to do is exactly as they're told, commit fully and do all of the kind things you can for your dom.
The kinder and more you submit to her, the more she can help you. A lot of the above involves you being complicit, well-behaved, and eager, so your job isn't to just sit back and let the dom do all the work, which I know you already know.
Let go and embrace submission to your master.
Trust her fashion advice, her sex advice, embrace her body completely and go above and beyond to please her and reap the rewards of being a good, gentle and placid sub.
What About None Gentle Femdom?
I've made a few guides on the more extreme sides of this kink.
I'd say if you're looking for femdom ideas to take it to the next level this femdom idea guide I did rocks and if you want a more extreme guide, you should check out my femdom training guide.
If you have any questions, let me know below!
Jess <3 <3
I'm Jess and I'm a woman in my twenties. I created this blog to share my sexual experiences along with the experiences of people from all walks of life. I am actually quite introverted, but my boyfriend and I have a semi-open relationship and it's really helped me open up and experience things I never thought I would and that's one of the biggest reasons I created this. I hope you enjoy my blog as much as I enjoy writing for it. Read more about me.