I am very excited to share my BDSM punishments with you all, whether you're a sub reading this or a dom, my list will give you inspiration, ideas, and a set of new and refreshing punishments for you to explore with your partner. It can be difficult to think of new ways to get your sub under control so I am here to save the day. If you have any punishments that you want to add, leave them down in the comment section below!
Before we begin, I feel like I need to just quickly outline a few things:
Know your subs limits: A lot of the punishments below require you to know your subs limits without even asking them, so make sure that's something you thoroughly discuss before doing anything in the bedroom.
Consent: I shouldn't have to say this, but you always need consent for any of the punishments below. If your sub doesn't like spanking don't just suddenly introduce it because you think they might like it that one time, no, only do what you both consent to at all times. To make sessions flow a lot easier a lot of subs and doms have an agreement that they go over outlining their do's, dont's, and limits.
I also want to make it clear that everything mentioned below is part of BDSM/bondage and is enjoyed by people who embark on this kind of lifestyle. People 'punishing' their partner do it consensually and during sex and foreplay, a lot of trust is shared between them, and in no way am I promoting anything other than consensual adult fun to people who understand the kink.
Aftercare: Something a lot of sub/dom relationships love is the aftercare, so it's vital you know exactly what your sub wants after playing with them. Some choose cuddles, some a soapy bath, some want to be waited on hand and foot, whatever it is, discuss it and make sure you make aftercare a priority.
Now we have that cleared up, let's get onto the punishments that I have lined up for you!
Orgasm Punishments
These punishments are all concerned around the big 'O'. Some punishments deny it, some encourage it, and some overload your sub with it. There's something for every sub here and it's a great time for me to mention that orgasm punishments are some of my and my boyfriend's favorites.
1. No Orgasm For You
This BDSM punishment involves denying an orgasm to your sub no matter how good they have been. You can experiment by getting them all worked up and then just leaving them desperate and needy, it will drive them wild and have them begging for that sweet release.
2. Ruined Orgasm
Ruining your subs orgasm is tremendous, (I ruin my boyfriend's orgasm all of the time!) all you need to do is get your sub right on the brink of an orgasm, and at the very second that they begin to cum, stop what you're doing and just watch as they wriggle and complain as you deny them something they were so on the cusp of.
If your sub is female, just keep ruining their orgasm, if they are male, do it as many times as he can take. After you've ruined their orgasm, they should thank you like they had the best orgasm of their life.
3. Chastity Time
Chastity is a great way to restrain your subs intimate areas, this is how I train my boyfriend and it's so simple. Just lock your sub up, keep the key safe and keep them locked away until further notice. This can be for a few hours, days, or even longer. I like to tease my boyfriend when he's locked up, masturbating in front of him, getting off, and watching his cock strain to grow hard inside of the small cage, this is the one I use and then you can mix it up with these cruel chastity punishments.
Another thing you can do is only allow your sub to have an anal orgasm when they are locked up. It gives them a release but it's certainly a punishment to be locked away and only allowed to resort to one hole.
4. Strapped Up To A Sex Machine
Pure torture and so much fun, strap your sub onto a sex machine and watch them cum again and again without stopping. The pleasure they will feel is immense but they will feel exhausted and overly sensitive after a while. It's a great way to spend an afternoon, turning your machines on and off again and again all to punish your silly sub. These are the sex machines that we use the most:
5. Milking Time
Milking time! During this punishment, you only get to come once you have produced enough precum/pussy wetness. You achieve this by fingering or penetrating the ass or pussy and waiting for their milky juices to come pouring out and once you are satisfied (if ever!) that's when your sub can cum.
6.You Can Only Cum Once You…
For this punishment, you set a goal for your naughty sub. Maybe they can only cum once you have had a total number of 5 orgasms, you can spread these orgasms over days, weeks however long you want, but they are not allowed to cum till your order is complete.
You can also use tasks from further on in this list, once for instance the whole house is clean they can cum or once they have begged for long enough, use your imagination and keep ahold of your subs pleasure.
7. Let's Press Play
Get a remote control sex toy, put it inside or on your sub, and leave it on for an hour, (I recommend this toy for her and this one for him) tell them they can't cum, if they cum ruin their orgasm, and add another [insert time] minutes to the timer for disobeying your commands. Make sure to also read this guide on having a hands-free orgasm for added expertise on this kind of torture.
8. Forced Orgasm
Once your partner has cum, don't stop the pleasure, keep going, don't stop, see if you can get him or her to the point of a dry orgasm. They will wriggle and moan but forcing their orgasm out of them is giving up all control to you and they will shudder with an overload of sensory pleasure.
Productive Punishments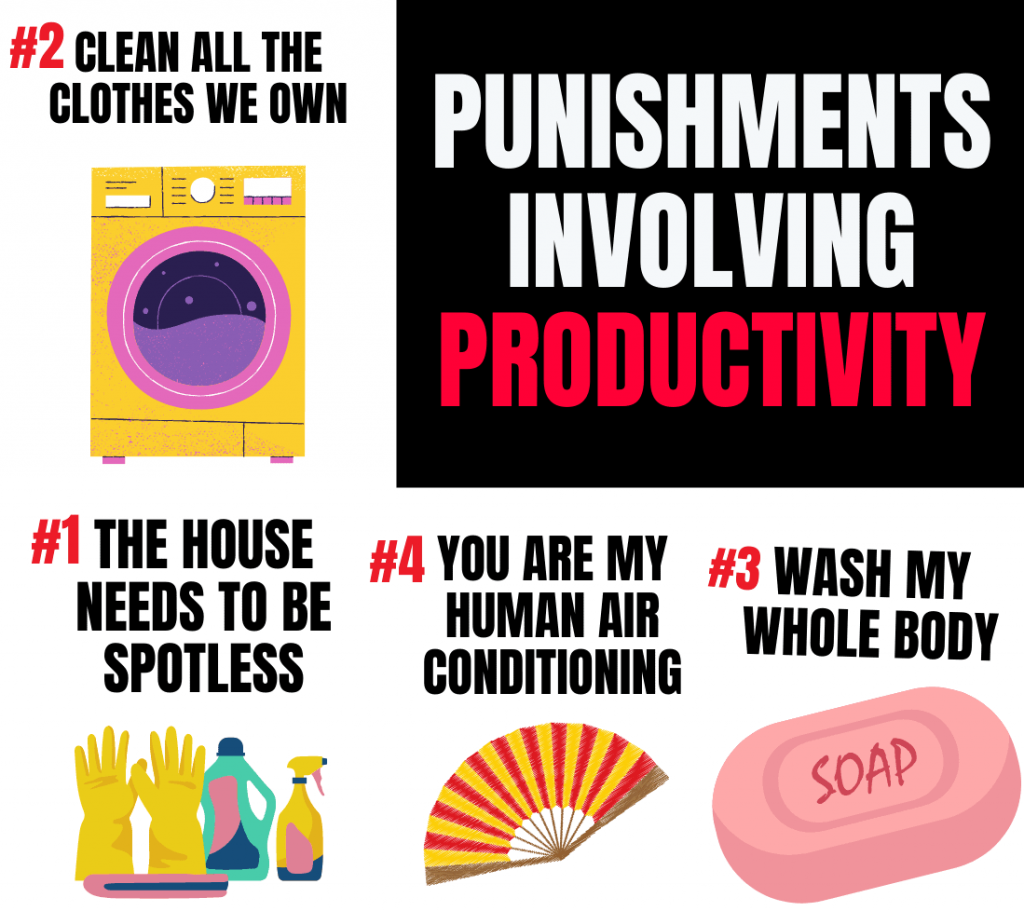 These next punishments are my productive punishments, things that don't involve anything sexual but get your sub to work before they can get any kind of pleasure or as a punishment for misbehaving during play. It shows the power dynamic between you both and has your sub actively trying to please you and get back on the right track.
1. Clean The Whole House
Have your sub clean the whole house before you even think about doing anything sexual with them, this could be because they broke some rules or just because you want to make them wait and serve you before you let them cum.
2. Clean Every Piece Of Clothing We Have
A pointless task, one that takes ages but one that will make them understand what they did wrong. It's a great punishment for a sub that needs to be taught the lesson of patience, perhaps they came before you allowed them and now they need to learn.
3. Every Time You Wash
You're in charge why wash your own body? Hop into the shower and have your sub wash you down, using care to ensure you are all clean, then have them wait on their knees and dry you completely off with a soft warm towel once you're done. Not only are they servicing you but you can use this wash as an advantage to tease your sub with your naked, soapy body.
4. Human Air Conditioning
If you're hot they must stand and fan you down until you say so and if you're cold then they must strip off naked and use their clothes to warm you up. Show them who is in charge by showing them that your body temperature is far more important than any of their concerns.
Painful Punishments
These next sets of punishments are not all for the faint-hearted so skip past if you're not into some pain in your bedroom. Remember to always have a safe word, know your subs limits and ensure proper aftercare.
1. Spanking
Spanking your partner to keep them in line is some people's first introduction to BDSM. They may enjoy the stinging sensation or loathe it but it sure does make an impact with a sub and can sometimes leave a mark. You can use your bare hand to spank or an unforgiving paddle, which is what I like to use the most.
2. Washing Mouth Out With Soap
An old-fashioned punishment but one that dominants have been using on their subs for years too. If they have misbehaved or spoken back to you, clean their mouth with soap and teach them a lesson.
3. Hot Wax Play
Please don't try and use normal candles for this you need specialist bondage candles that burn at a higher temperature, are odorless, and are skin safe. They can leave a mark that disappears over a few hours but they are a great way to punish your sub and also explore sensory play.
4. No Warm Showers
Without warm water from your submissive, if they want a warm shower, they will have to earn it back and until then it's cold all the way, no matter what.
5. Spicy Chillies
Make your partner eat some hot chilies, either in front of you directly or put inside of their food. See how hot they can go and maybe if you're satisfied they are let off the hook for whatever they did wrong.
6. Ice Play
Although at times it can be a pleasurable sensation, playing with ice can be a real punishment. Run it across their body, again and again, the cold water trickling down them, hold the ice over their nipples or genitals to numb them and get the blood flowing and get creative with where you think ice is going to make the biggest impact.
7. Eletrostim
Electrostimulation is basically the art of zapping your nerve endings with electrical currents. It is a unique type of sex toy and one that people shy away from but soon learn feels totally crazy, pleasurable, and a little painful all at the same time. This is a great Electrosex starter kit that will guide you in and satisfy you whatever level you're at.
8. Nipple Clamps/Suckers All Day Long
Using nipple suckers (I adore them) or nipple clamps for the entire day gets painful and will make their nipples incredibly sensitive and aroused, making nipple orgasms easier but also nipple spanks and tugs more intense and scream-worthy.
9. Kneel On Pencils/Rice/Wire
Get your submissive on their knees and have them kneeling on pencils, a handful of rice, or even a wire (phone cables work well). It will be fine at first but soon they will be begging for mercy.
10. Foot Rest
Turn your partner into your footrest as they get on all fours for you and let you keep your feet nice and comfy on their back. Keep them there for the entire show that you're watching or set a timer for them and remember footrests don't make a sound.
11. Hold This For Me
Make them hold something light, but have the old it with their arms out in front of them. At first, they will think it's a harmless punishment but soon their arms will begin to ache and as their dom, you're going to have to teach them a lesson if they drop the item they are holding.
Pointless Punishments
Now it's onto the pointless punishments, these types of tasks are non-sexual but will teach your submissive a lesson or two if they have misbehaved during sex/foreplay or even during the day (depending on the type of sub/dom relationship that you have). These tasks are tedious, repetitive and something all subs wish to avoid.
1. Naughty Corner
Sit them in the naughty corner and do not let them out until you say so. They can have no phone to entertain them, they must just sit quietly and reflect on what they did wrong.
2. Counting A Bag Of Pasta/Rice
Tedious, boring, pointless, and time-consuming. Set your sub to work with counting grains of rice or pasta shells, if you think they have gotten the number wrong, make them do it all over again.
3. Cleaning The Floor With A Toothbrush
Hand them a toothbrush and set them to work on your floor as they scrub and clean away all of the dirt. Every inch that you say must be scrubbed and let them know you will be inspecting their work later on.
4. Counting All Of The Things You Own
With lots of room for error and a tedious task at hand, this will be hard for your partner. Have them count everything you own in one room, everything that's a single color of your choosing, everything that starts with a letter, and so on and so forth.
5. Write 5000 Lines
Have them write down what they did wrong a predetermined amount of times (I like to choose anywhere between 500-5000 times) and then once they are done writing have them show you their work and judge it.
Kinky Punishments
This next list of punishments is naughty, erotic, and provocative. Although still punishments this set may bring some subs certain levels of sexual satisfaction, however depending on your relationship and how bad they have been, that may be a fine resolution for you both.
1. Foot Worship
My boyfriend has a foot fetish so he loves this punishment when I set him to work on my feet. He licks them, caresses them, massages them, cleans them and I even pleasure him with them when he is not being punished.
2. Ass Worship
Get some loving in your backdoor as your sub licks your hole, cleans you, pleasures you and worships every inch of your fine ass. Have them wait on hand and foot for your pleasure whilst they get nothing.
3. Cock Worship
If you're a dom with a penis have your submissive worship and dote on your cock. Ensure they are begging for your meat, wanting to lick and suck every part of it and pleasure you in whatever way they can, be completely selfish, and allow just yourself to get all of the pleasure.
4. Tape Panties In Mouth
It doesn't matter if these are panties or boxers, wear them all day long and then tape them up against your sub's mouth. Set some rules like no complaining and make them carry your underwear inside of their mouth for as long as you say so. (Obviously, make sure they can always breathe and remove the underwear).
5. Daily Clean Up
Have them clean you up before you have a shower using their tongue. Maybe you have just had a workout? or been at work all day? Maybe you have just had an orgasm and you want to feel clean? Whatever it is, their tongue will be put to good use.
6. Golden Showers
This isn't for everyone but some couples enjoy the dynamic of a golden shower, this is where you urinate onto your sub and cover them in your warm fluid. Best done in the bath or shower to avoid mess and odors.
Restraint Punishments
Ahhh restraints! one of the first ways many people are introduced to BDSM and bondage and something a lot of people use in the bedroom daily. However, for teaching a sub a thing or two, restraints are a great way to get naughty and feel the power play at the same time.
1. Breast Bondage
Using ropes (I use these) to restrain the breasts to promote blood flow and make them more sensitive is the perfect lesson to teach. You can have some serious fun and enjoy slapping and pinching the engorged breasts as your partner remains restrained.
2. All Four Corners
We use these under-mattress restraints all of the time, you slide them under your mattress and restraint both wrists and ankles in an 'open wide' position. This is ideal if you are edging or teasing your sub (advice on edging) as they have nowhere to wriggle too.
Long Distance Punishments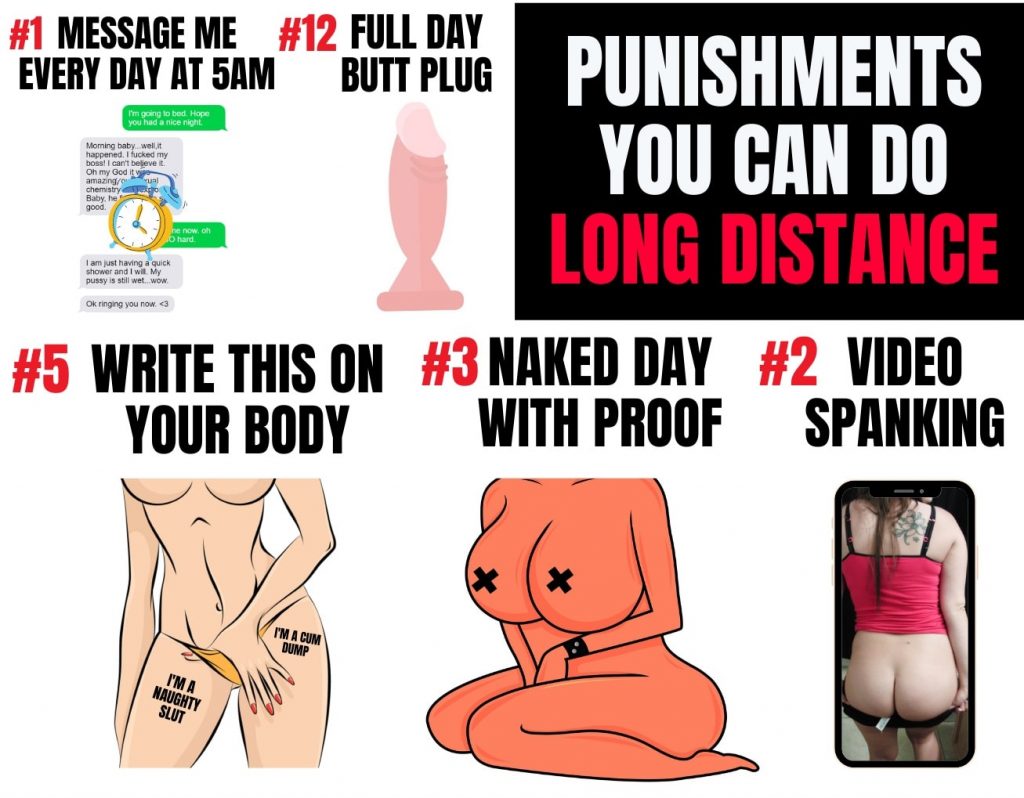 If you and your submissive are in a long-distance relationship or you just want to continue the fun when you aren't together these tasks are ideal, you do need a lot of trust and proof to achieve these goals but they are a great way to keep the sexual dynamic between you both alive and fresh.
1. Early Mornings
They have to get up at 5 am every morning and send you text proof, maybe even a video. There's no other task they just have to be up and ready for their day before the sun is even up.
2. Video Spanking
Have them send you a video of them naked, spanking themselves, pick a random number of spanks and have them take out the punishment themselves.
3. No Clothes For The Whole Day
Make them completely naked for an entire day, no covering up, just complete nakedness. Have them call you and regularly send you updates so that you can be sure they are sticking to the rules.
4. Lines Of Writing
Write the same thing over and over again, show you proof over a video call. This shows that even when you aren't there and checking on their work they must submit to your demands.
5. Body Writing
Have them write their bad behavior on them or what it makes them (slutty/bratty) all over their body in marker. Watch them over a video call or have them send you pictures of themselves after they are done writing.
6. Exercise Time
Have them send you a video of them doing squats, pushups, jump jacks, etc while they are naked. You decide how many reps, how long they must do it for, and when they should do it.
7. Exact Orgasm Time
On a call (Facetime is the best or any way you can see their face) give them an exact time to cum by or make sure they cum during your phone call, if they miss the window they can't touch themselves until you give them the next orgasm window.
8. Prepration For Your Meeting
Have your sub practice sucking dick using a dildo, tell them they need to learn to deep throat it all. You can also do the same by picking a dildo they need to learn to take in their ass or pussy before meeting you.
9. Pointless Task Video
Have them send you a video where they count a whole cup of rice, say a word 'X' amount of times or sit perfectly still in a position you choose, naked, for the amount of time you say. It's pointless but it's a punishment that they should learn from.
10. Fashion Choice
You might not be with them right now, but you can leave your mark so others know they have a dom, you can do this with a collar (this collar we love), a clothing choice, an anklet, bracelet, etc, just decide what suits your sub best.
11. Long Distance Sex Toy
Have them use a long-distance sex toy. You can get amazing vibrating butt plugs, vibrators, fleshlights, and everything in between, you can use this to ruin orgasms, set a timer on how long they have to wear it for. The one I love lets you control it via an app so even when you're apart you can enjoy pleasure as if you are together.
12. Plugged Up For The Whole Day
They have to pop a butt plug/love egg inside of them and have it in for the whole day, with picture proof. I love this butt plug for prolonged usage and orgasms.
13. Humiliating Pic
They have to send a daily humiliating picture to you. You can decide what this is or have them decide, if it's not humiliating enough, the punishment gets extended.
14. Ignoring
Ignore their messages, calls, and pleas for attention. Make sure this punishment is pre-planned and have your sub begging for your attention.
15. Direct The Orgasm
Have your partner masturbate while you watch them, tell them what to do, how to do it, edge them, and decide if they deserve an orgasm. Let them know that you're in control even through a screen.
16. Show Them Your Fun
While they are on punishment send them videos of you having sexual fun. If they can't cum, show them a video of you cumming, and if they have been naughty show them what they would get if they had been good.
During Sex Punishments
These punishments are to be administered during sex and foreplay. Maybe your sub is being bratty or maybe they always knew they would be punished when you were ready to fuck them. These punishments can be the easiest to incorporate if you are new to punishing and a lot of fun.
1. Sex Acts They Don't Enjoy
Circling back to my PSA at the start of this article, consent is a huge factor here and your sub needs to pre-agree and have a safe word for this punishment. However it goes like this, say your sub doesn't like being eaten out, that's what they're going to get, don't enjoy being spanked? Grab your whip!
2. Stimulation Overload
Every hole should be filled and your hands should be all over your sub. Get dildos, vibrators, butt plugs, or depending on your relationship a few friends, have them do everything at once and overload your sub with pleasure.
3. Cum Dump
Pick A Place: They are on cum dump duty, you pick a place every time you have sex and that's where your cum goes. If you're wearing a condom you just take it off and pour it wherever your choose could be in their mouth, pussy, ass, anywhere.
The same goes for him, have him cum into a condom and pick a place to let that cum out.
No Cleaning: In one day you cum on your sub as many times as you can and they can't wash it off. You can pick the place you like and they have to stay like it for the time you say, maybe if they have been really bad this punishment may last over a day.
You can also use fake cum and squirting dildos, to make it look even juicier if you are low on cum supply.
4. Constant Sex Position
They have to stay in a sex position of your choice and you can use them as and when you please. Maybe you get bored and go get some food and a drink and leave them in that position? If they dare move, more punishments await.
5. Forced Silence
They can't make a sound or the fun stops. No matter how hard they are cumming or how much fun they are having if they dare let out a noise of any kind, all bets are off and all of their pleasure must end.
6. You're Here For My Pleasure
You don't care about their pleasure you just use them as a toy. You cum where you want when you want and you use them how you want. You can restrain them and use mouth gags to silence your sub into submission.
7. You Don't Exsist
You watch porn and have them pleasure you without you paying any attention to them and their needs, they are just your masturbator, and once you cum they are your cum and cock/pussy cleaner.
8. No More Big Dick For You
Get a strap-on dildo that's really small and from that point on don't let them have your real cock inside them, make them beg for your small cock, and only pleasure them with it until they have learned their lesson.
9. Only Big Dick For You
The same punishment can work for a big dick too, you can get a big dick strap-on/penis sleeve and from this point on you only use it, doesn't matter if it's a quicky, that's all they're getting, big, hard cock. This doesn't matter the sex of your sub, because I made strap-ons work for women too.
10. Hand As A Gag
Don't care about their space, get your fingers all up in their mouth, use it to stretch their mouth for your cock or pussy, you can then use your fingers/hand as a makeshift dominating gag.
Anal Punishments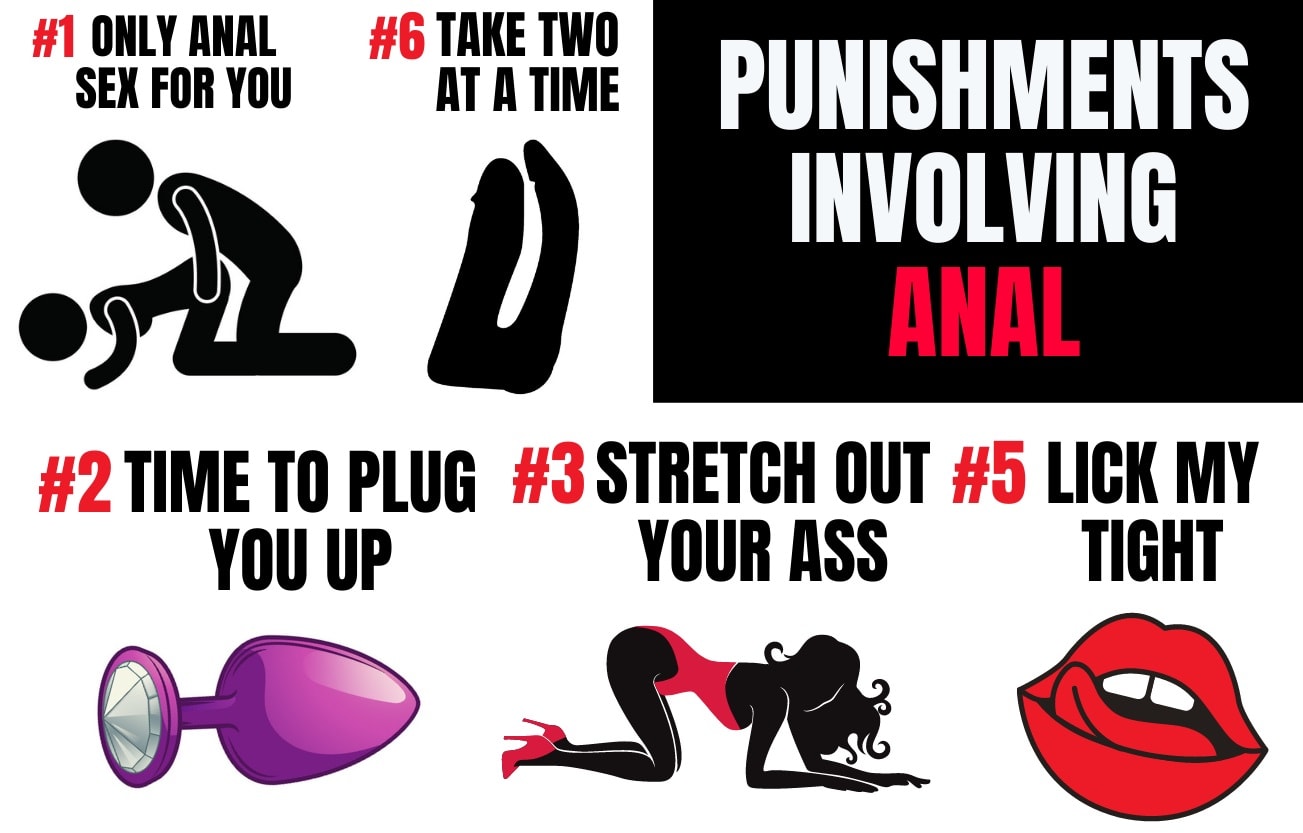 These punishments are all about anal and using the anus as a place where punishments are placed. You can try these whether you're an anal novice or used to taking it in the backdoor, just remember to use lots of this lube and listen to your sub.
1. Only Anal For You
From this point on all sex will only be using your ass, no ifs, and no buts. Using a lube shooter makes this a lot more manageable so I highly recommend that. Treat their ass as their only hole, ignore their pussy or their cock, and make everything about the backdoor.
2. Plugged Up
Your sub must wear a butt plug whenever and however long you say. To give them pleasure whilst wearing their plug have them wear this vibrating plug and if they dare cum or make a noise, which punishment will you give them?
3. You Must Learn To Take Bigger
For being naughty you make your sub stretch their ass out using this guide. This will help them pay back their naughtiness by opening up their ass to you and stretching themselves out to accommodate bigger sizes of your choice.
4. Inflatable butt plug
An inflatable plug gives you the pleasure of inflating and deflating whenever you see fit. Inflate the plug when they have been naughty and test their limits.
5. Rimming
It's time for your sub to learn to rim also known as analingus. They have probably put it off for a while, but after being naughty this is the perfect way to teach them that your pleasure comes first no matter what. Have them lick, kiss, caress and orally pleasure your anus whenever you so wish.
6. Double Penetration
It's time to stretch out your sub's ass and vagina at the same time and maybe even put their mouth to good use too. You can do this with a friend or just use dildos/vibrators to penetrate both of their holes at the same time.
Humiliation Punishments
These punishments are all about humiliation which is some subs favorite word. These tasks will have your sub feeling humiliated and all warm and fuzzy inside when they see what you have on offer for them.
1. Begging For Forgiveness
Have your sub humiliate themselves begging for your forgiveness, have them apologize as many times as you think is right whilst they are on their knees. Will you forgive your sub? or have them down there begging for hours?
2. Nudist Beach
Head on down to a nudist beach and set your punishment in motion there. These are a few of the classic things you can do to humiliate your sub on the beach:
Writing: Write what you did wrong on your naked body for everyone to see.
Chastity: Let everyone see your little cock cage on the beach or wear it under some tight shorts.
Collar: Be completely naked with your sub collar so everyone knows your dynamic.
On All Fours: Sit on all fours so everyone can see exactly what you look like.
3. Post A Pic
Go on Reddit or head to our membership, anywhere you can post a picture securely and tell everyone what your sub did wrong and have them humiliate them too.
It's a good idea to crop the face out of the pictures for your and your subs privacy.
4. Spit Play
Spit in their face, mouth, body, or, on their clothes, just spit at them. Treat them like trash and the ground you walk on.
5. Ask For Permission (even with friends)
Have them ask permission for drinks, to go to the toilet, to sleep, and have them do this even with friends, you could even make them ask your friends for permission as well depending on the kind of friends that you have.
6. No Name For You
Change their name to slave, hole, pussy, toy, or something sexual. Lose their birth name and just call them by a name of your choosing, the more derogatory the better.
7. Facial
Facial her or have him give himself a facial with his own cum. Rub it all in like a face mask and tell them how pretty they look.
8. Name Calling
Call your submissive partner derogatory names whenever you feel like it, especially when they have been bad so if they want their normal name back they better behave.
9. You've Got Such A Small…
Humiliate your sub about how small their cock is, their tits are or even their ass is. Laugh at it, refuse to play with such a small thing, and compare theirs to others, even if the other ones are smaller.
10. Whore/Sex Shaming
You're a little slut aren't you, look at how much you're enjoying this big dick. I bet you want me to cum all over you, don't you? Treat them like a whore, as if they are dirty and desperate for fucking you.
11. Ignore Their Advances
Have them walk around naked and pay them no attention, don't look at their body, avoid all complements, nothing, when they try to seduce just brush them off and act as if they are completely unimportant to your life. Continue doing this until the punishment is over.
12. Show Them What A Good Fuck Looks Like
Go on a porn site and show them what a good cock, pussy, or ass looks like, then show them how you wish they fucked you.
13. Start A Twitter/Reddit
Have your sub start a Twitter or Reddit page dedicated to being your submissive, you can post pictures when they are naughty and use it to get more ideas on how to play with them. You can also set rules like you can only orgasm once you hit a certain number of views/followers.
14. Showing Off Love Bites & Spank Marks
Mark your sub with love bites and spanking marks and have them show them off by wearing short skirts/shorts, low-cut shirts, and their hair up if the love bites are on their neck.
15. Cross Dressing (Make him wear your panties)
Have him wear your panties and maybe your bra if you feel like it. He must keep them on all day long and only remove your panties when you say.
Cuckold Punishments
If your partner enjoys being a cuck (having your partner sleep/flirt with other people), these punishments are for you. Even if you are not a cuckold couple you can still use these punishments and put your own twist on them using your imagination and maybe a little roleplay.
1. Deny All Contact
No seeing you naked, no touching, no sexual contact at all. Deny all contact at all times, but feel free to masturbate and let him know what you're doing, just don't join him in.
2. Small Dick Picture To My Bull
You can either roleplay this or do it for real if you are in a cuckold relationship. Send pictures of his small cock to your bull, have your bull compare it to his, and humiliate your partner's cock right in front of him.
3. Talk About Him
Go on Tinder and find someone to mock your husband with. Can be any random guy or some you may have hooked up with. Afterward, show your partner what has been said and even read your texts out loud so that he can hear just how you see him.
4. How Easy It Is For You To Get Dick
Go on adultfriendfinder or another dating site and show him how easy it is for you to replace him in the bedroom. This is my real experience with being a hotwife for the first time.
5. Flirt With Someone He Doesn't Like
Flirt in real life or over text with a bull he doesn't like. Show him how easy it is for you to do that and how much that person enjoys it.
6. Film A Special Video
Film a video of you with another man (or sex toy if you are roleplaying), make sure to moan louder, cum harder, and then make him watch it later with you while you edge him.
7. Clean Up After My Bull
Have your partner clean you up after your bull is done with you, punish him by making him clean your cum filled pussy or glistening cummy skin. Similarly, if you are roleplaying this use the fake cum lube for added effect.
8. Cummy
Have your bull cum on your partner to show him his place and just what a naughty sub that he is. Your bull's cum is worth its weight in gold whereas your husband's…now that's useless.
9. Compliments…
Tell him how hot his friend is and how much you would like to fuck him and all of the bad things you would try with him.
Swinger/Group Play Punishments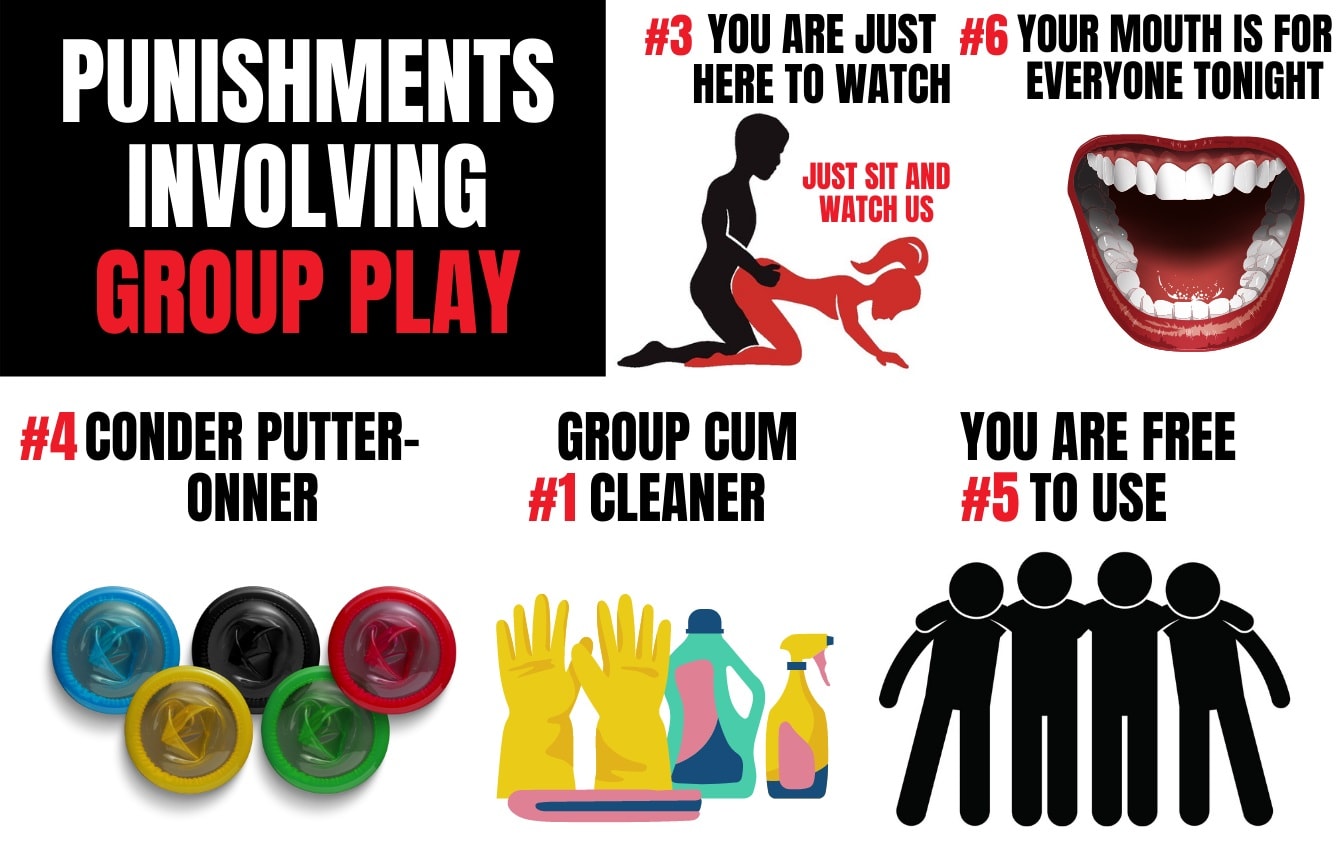 If you're a couple that's into swinging/group play you're going to love these punishments. Remember they can be switched depending on who is the sub/who is the dom and you can roleplay these if you aren't into swinging or group play, you just have to custom these enticing punishments to your relationship.
1. Cum Cleaner Upper
You have to clean up all the cum, no matter who it is or where it lands, your job is to be on clean-up. Yummy.
2 .Group Cum Dump
Pick a place on your subs body, stomach, face… And tell everyone that your sub was naughty, so feel free to put all your cum in the marked area. Your sub must not move and just receive all cum that comes their way.
3. Sit and watch
They have to sit and watch, they can't talk or join in they just have to watch you and others have fun. Have fun here incorporating a chastity device (more on that below).
4. Condom Putter-Onner
It's not an official title but it's close enough, have your sub put on all of the condoms. People can call them over to open up their condoms, discard used ones with them and ask for their assistance in putting the condom on.
5. Free For All To Use
Have them be a toy for everyone in the club/swinger party. You can blindfold, gag, and even use restraints on them to make them more accessible and submissive.
6. Your Mouth Is All You Can Share
For the next month, your sub can only use their mouth during swinging. You could also change this to butt or hand, whatever you think fits the punishment best.
Chastity Punishments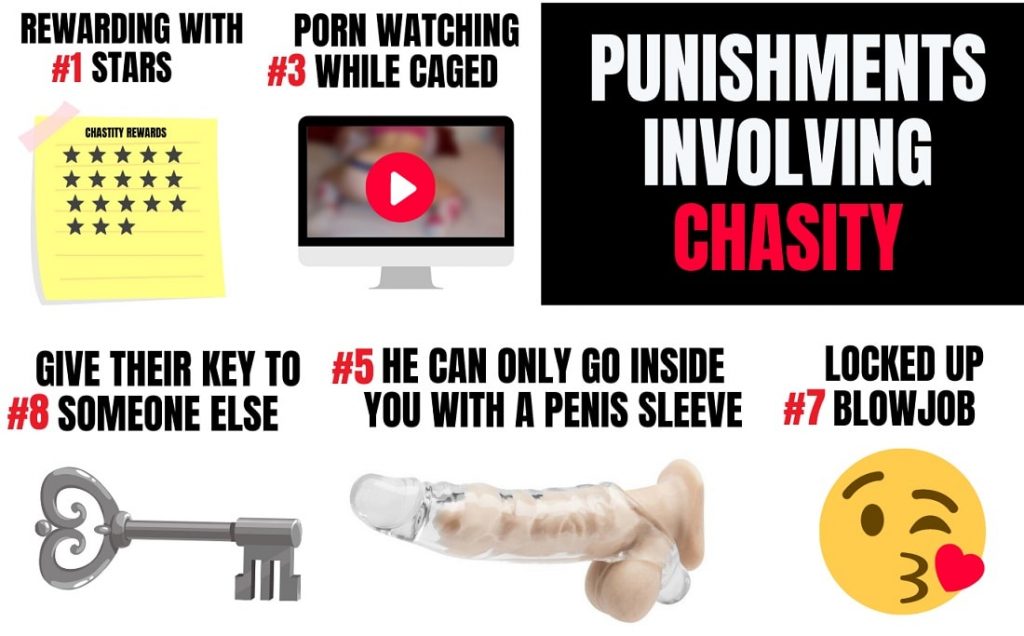 These punishments are all to do with chastity! Locking your partner up for a prolonged amount of time, teasing them, and making them ache between the legs.
1. Reward System
Hang a star bored in your house and when he is good take days off of his chastity-wearing time and when he is bad add days on, have various things he can do to get out early or earn an orgasm.
2. Cage Teasing
Hold a magic wand vibrator on the cage and enjoy teasing his cock as it pulsates and throbs, desperate to escape but as this is a punishment, an escape is probably unlikely.
3. Caged Up Porn Watching
Make them watch their favorite porn while caged up, masturbate to it yourself, but don't let them touch themselves.
4. Naked Spoon
Because you're naughty you have to be caged up and you can't go inside me, however, we can naked spoon with your caged cock nestled in my ass cheeks. This is torture not being able to get relief while this is happening.
5. Penis Sleeve
Just because they have lost the right to cum doesn't mean you should. Get a penis sleeve (read our sensational experience) and place it over their cock, so you can still have penetration, but they can't feel a thing nor are they allowed to cum.
6. What Will You Do To Try…
Promise that you will try a new sex toy or something kinky that he has always wanted to do (for example, anal), but to get that reward, he has the punishment of adding massive amounts of time to his chastity lock up. Is it worth it?
7. Cage Blowjob
Give him the option to add another 5 days to his chastity but he gets a caged blowjob. Slide your tongue through the cage and bring him to orgasm, hopefully, that sweet release is worth an extra few days.
8. Give His Key To Someone Else For The Day
If he has been bad, give his key to a friend, someone online, maybe someone you found on Tinder, let them decide what he does for the day. You could also wear his key around your neck and tell people what it is when he needs humiliation.
What Punishment Do You Think You Deserve?
Have them pick a punishment that they deserve, tell them if it's not enough you'll make it way worse, so choose wisely.
Connecting The Punishment To The Crime
We try to keep punishments in line with the crime:
If you cum without permission = no cumming for you for a week.
If you spit instead of swallow = You swallow every day for a week.
If you refuse a spanking = You will be spanked every day for a week.
---
I hope you enjoyed my huge list of BDSM punishments!
Jess <3
I'm Jess and I'm a woman in my twenties. I created this blog to share my sexual experiences along with the experiences of people from all walks of life. I am actually quite introverted, but my boyfriend and I have a semi-open relationship and it's really helped me open up and experience things I never thought I would and that's one of the biggest reasons I created this. I hope you enjoy my blog as much as I enjoy writing for it. Read more about me.