Ruining an orgasm is a task that should be not handled lightly, it takes patience, skill, trust, and respect to do it properly. Ruining an orgasm can be hard as the timing can be off and sometimes they don't actually want you to ruin it without actually communicating that to you. It takes a lot of teasing and a lot of anticipation and I am here to give you the rundown on how you can ruin your partner's orgasm too.
My Name Is Jess And I Love Ruining My Boyfriends Orgasms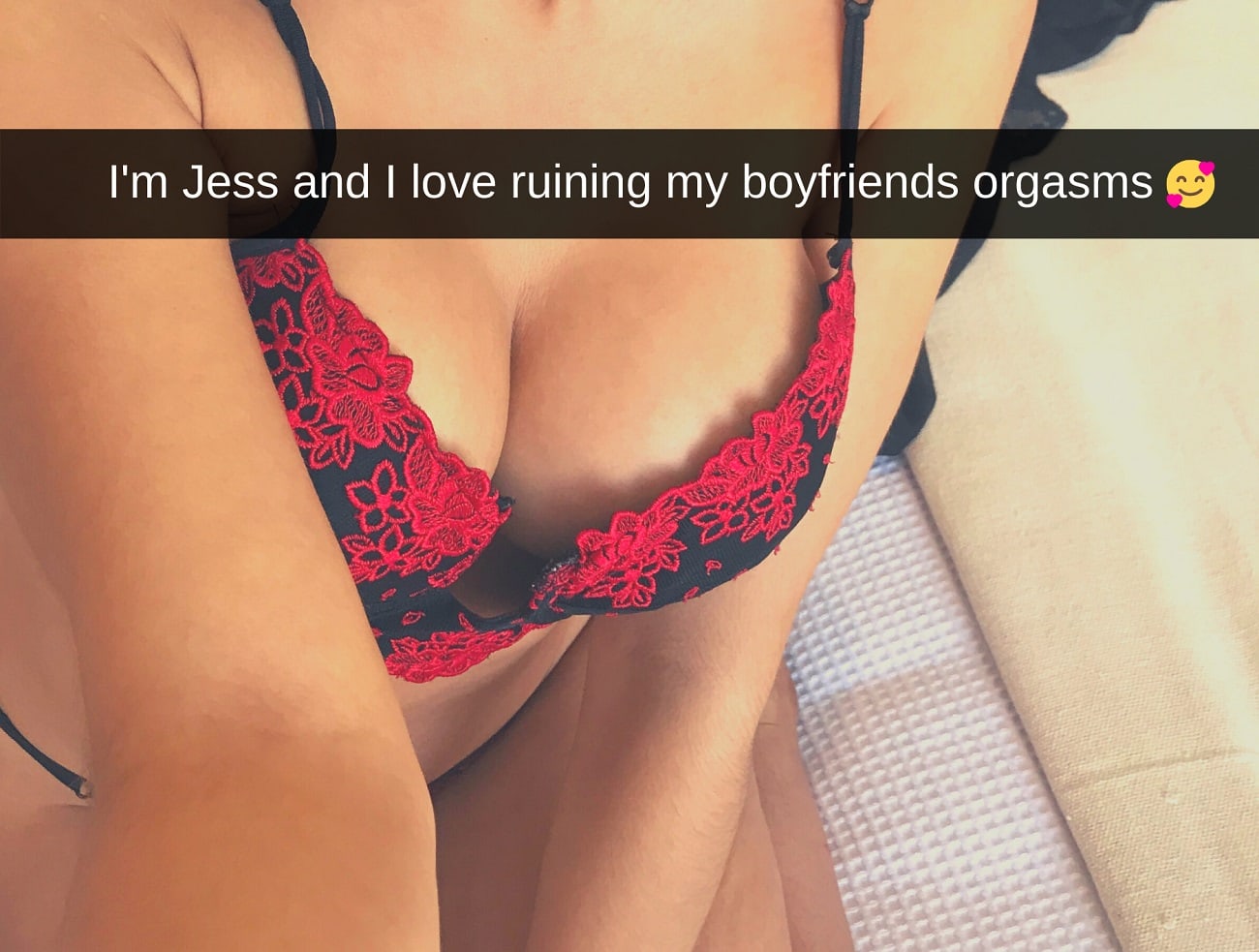 It looks so beautiful and just seeing his cock throbbing, pulsating and oozing with cum is a big turn on for me. Getting him to the point of orgasm, stopping and watching him moan and squirt his load as I just sit back and watch, is magnificent.
When he first told me he wanted to try it I was against it, I didn't think he was being serious and I couldn't possibly imagine that feeling good but once I did my research and we did it for the first time I saw the rush of pleasure it gave my boyfriend and it changed my opinion entirely. Seeing him moan and wriggle, his cock begging for mercy, it's all so exciting and seeing him being so bowled over by the pleasure of me ruining his orgasm, it's incredibly arousing.
You May Think I'm Being Harsh, Don't You?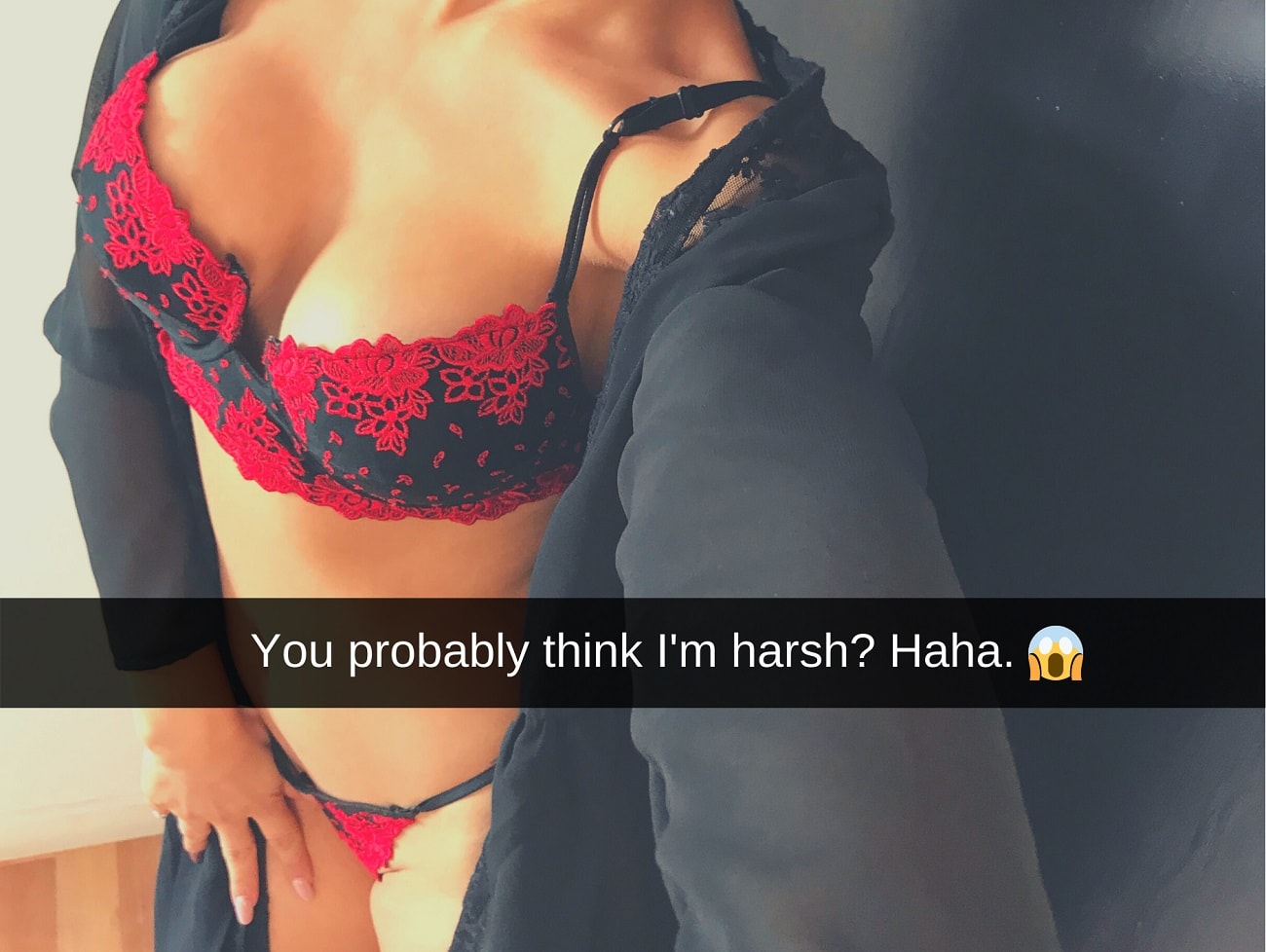 I would have been confused hearing how good it was to ruin an orgasm at first, but trust me, don't knock it till you try it. I did, initially, I was against it but once I learned about it and tried it out, I was converted.
Try It Yourself, Then Judge Me
My boyfriend loves it, he asks me to do it, he practically begs me to ruin it. It doesn't mean he isn't getting sexually frustrated, it doesn't hurt him, it's a different type of orgasm where you still cum but it's a hands-off orgasm and the intensity and sensation is a lot different. If you want to try it, communicate what you want and then do it, once you see how good it is for both people, you will thank me.
Ruining Your Boyfriends First Orgasm (Ruined Orgasm 101)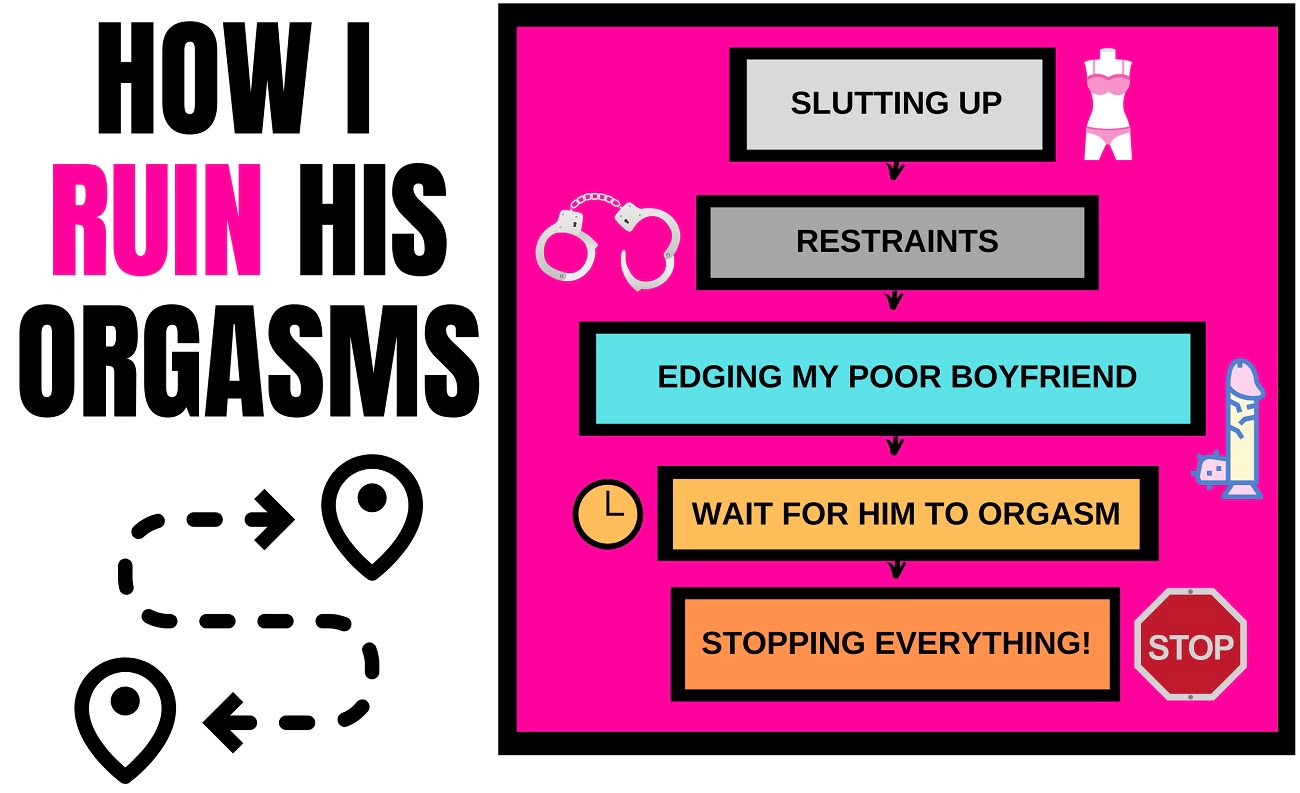 Okay, so you want to ruin your boyfriend's orgasm for the first time?
This is how you do it.
Follow my guide and you will learn exactly how to ruin his orgasm like a professional. It can be a learning process but once you let go and just relax and trust your abilities, it's going to be great and you're going to be able to ruin his orgasm like a pro. Read on and follow my steps and learn to be the best orgasm ruiner there ever was.
Picking My Outfit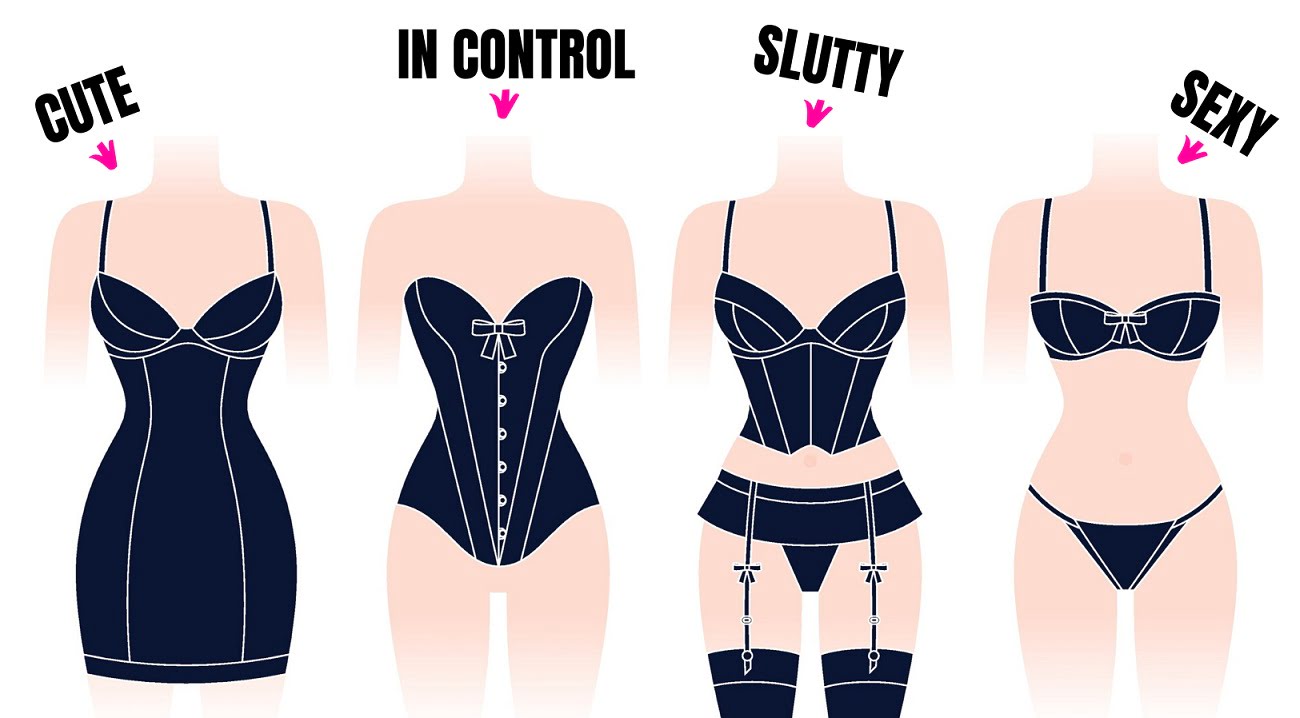 Choosing the outfit I want to wear is all dependent on how I am feeling and the type of mood he is in. If it's a date night, a slutty, kinky outfit is going to be my best choice, if it's a spontaneous moment then something casual like whatever I am wearing.
Sometimes to really turn him on and tease him I will be naked or wearing my favorite lingerie, it's all dependent on that day and how we are feeling.
Don't think too much about what outfit you're going to be wearing, just choose whatever he likes seeing you in the most, whether that's your best lingerie or in your pajamas. If it's a scheduled event, that's when I like to dress up and make it an occasion.
Restraining Him On The Bed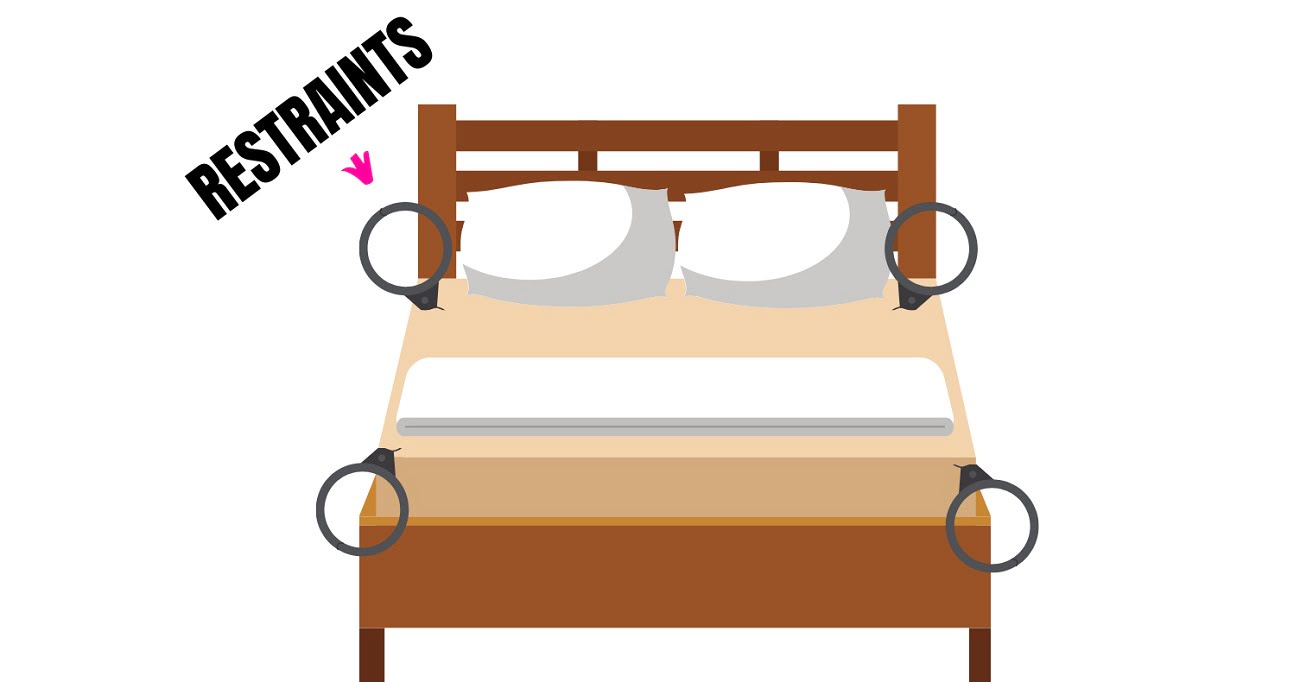 I want to make sure he is helpless and does as I say, so I restrain him using these bed restraints. When he can't use his hands to touch himself or stop me, it adds a whole new dimension to ruining his orgasm.
By restraining him it makes him even more helpless and when it comes to ruining his orgasm he is unable to touch himself for that sweet release or do anything to control me, such as moving back head back to his cock. That added restraint adds a new twist on things, heightening his senses, his vulnerability, and giving me even more control over him and his pleasure.
We don't use the restraints every time but we do use them a lot and they do really make the whole thing a lot more fun. Being able to totally control his orgasm and he literally cannot do a thing apart from wriggle, now that's power and that is very exciting for us both.
Edging Him All The Way To Orgasm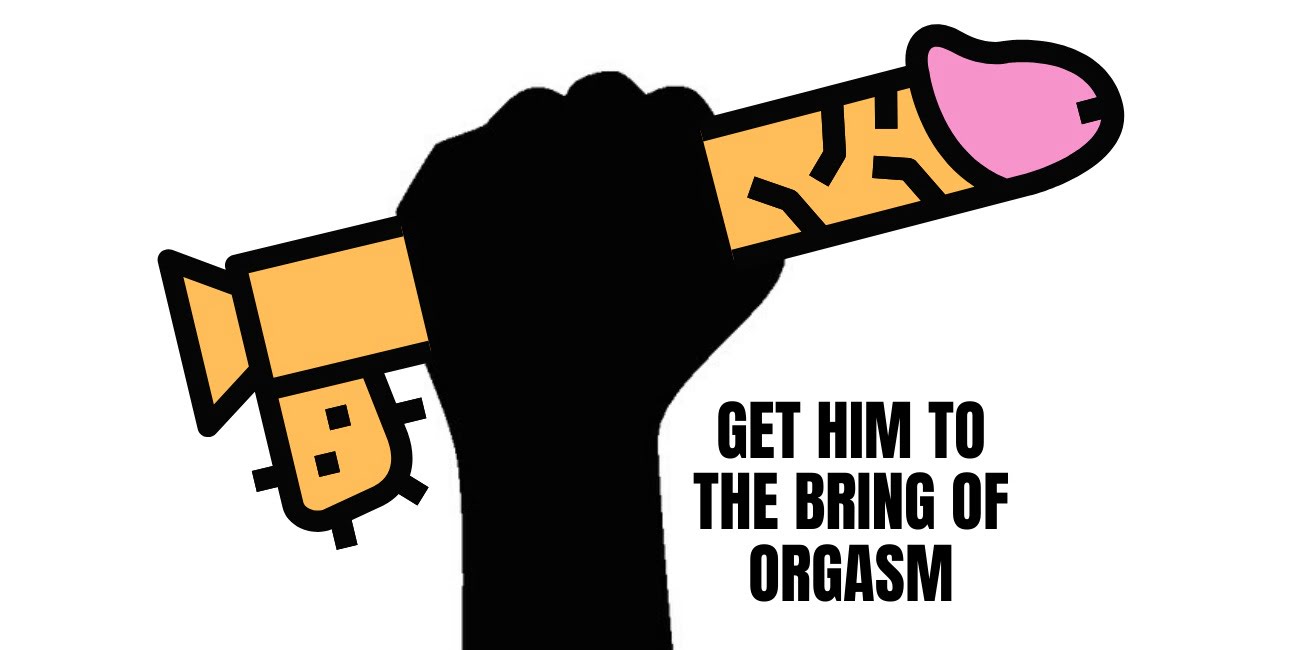 I did a whole article/story on edging, start there. It will give you more insight into edging and if you know nothing about it, it's also a great place to start. Once you have brushed up on your knowledge of edging, come back here.
Edging is KEY for me and ruining my boyfriend's orgasm, it's what makes it for me and I find the edging process to be so sensual and it does make the ruined orgasm more memorable. Edging is a type of control, it means bringing someone to the point of orgasm, building them up and up before bringing them back down again, this type of sexual technique ensures the orgasm is powerful and needed, so when you ruin the orgasm, it's even better.
You want to take your time with edging, use all of your body, use him for your pleasure, but don't let him cum. Ride him, blow him, let him taste you, touch yourself, touch him, but do not let him cum, not once. It may feel wrong but it is essential to not let him cum, no matter how much he begs.
You want to get him to the point where his cock is covered in pre-cum. It's throbbing and begging for an orgasm, that's when you know it's time to ruin his orgasm. Edging him to the point of no return before finally letting him cum and then whoops, you let go.
I'm going to talk about some of the sex toys I use below to really allow you to ruin his pleasure with an added and much-appreciated twist.
You Stop Everything

Once you have edged him to the point of explosion, you want to finally give in, use your hand, mouth, or pu*sy to bring him to orgasm, and just as he is about to cum (it's ideal to have a code word or motion where he can indicate to you that he is about to cum), once he is there, just stop, stop everything.
Let his cum explode out of his cock, you can point his cock up, you can keep his cock in your mouth or pu*sy, the only rule is that you just can't move a muscle. Let his cum come oozing out of his cock but don't give it a helping hand, just stop. You can gently stroke it once he has cum but as he cums, just stop.
Extra: I sometimes squeeze his cock, give little kisses to his cock while he cums, just nothing that would really satisfy him. Nothing stimulating. I find these little gestures actually drive him insane with pleasure because of how sensitive and at the mercy of me his cock is.
The Second He Has Cum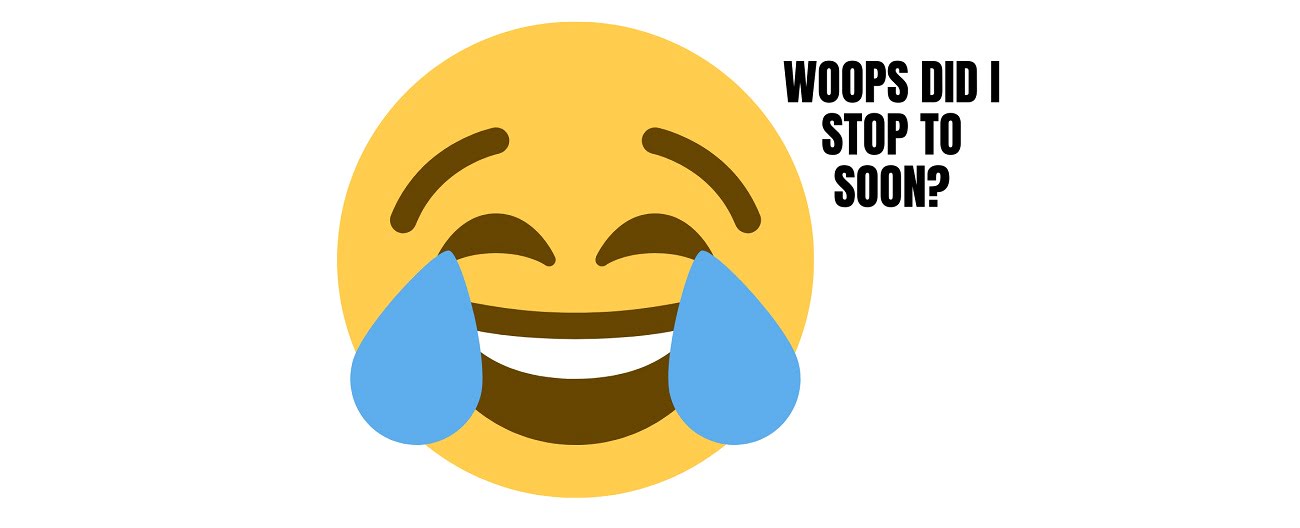 Once every drop is out, start playing with him again as if nothing happened. I like to giggle and smile, he always is left panting and his cock twitching.
I put my boyfriend in my mouth clean him up with my tongue and give him a few beautiful strokes with my hand.
Sometimes they can have multiple orgasms with this technique. I have had it happen multiple times, especially when my pu*sy is involved. He will pull out and then go back in again once he has had his orgasm ruined and it often happens instantly afterward again.
Putting It All Together With My Boyfriend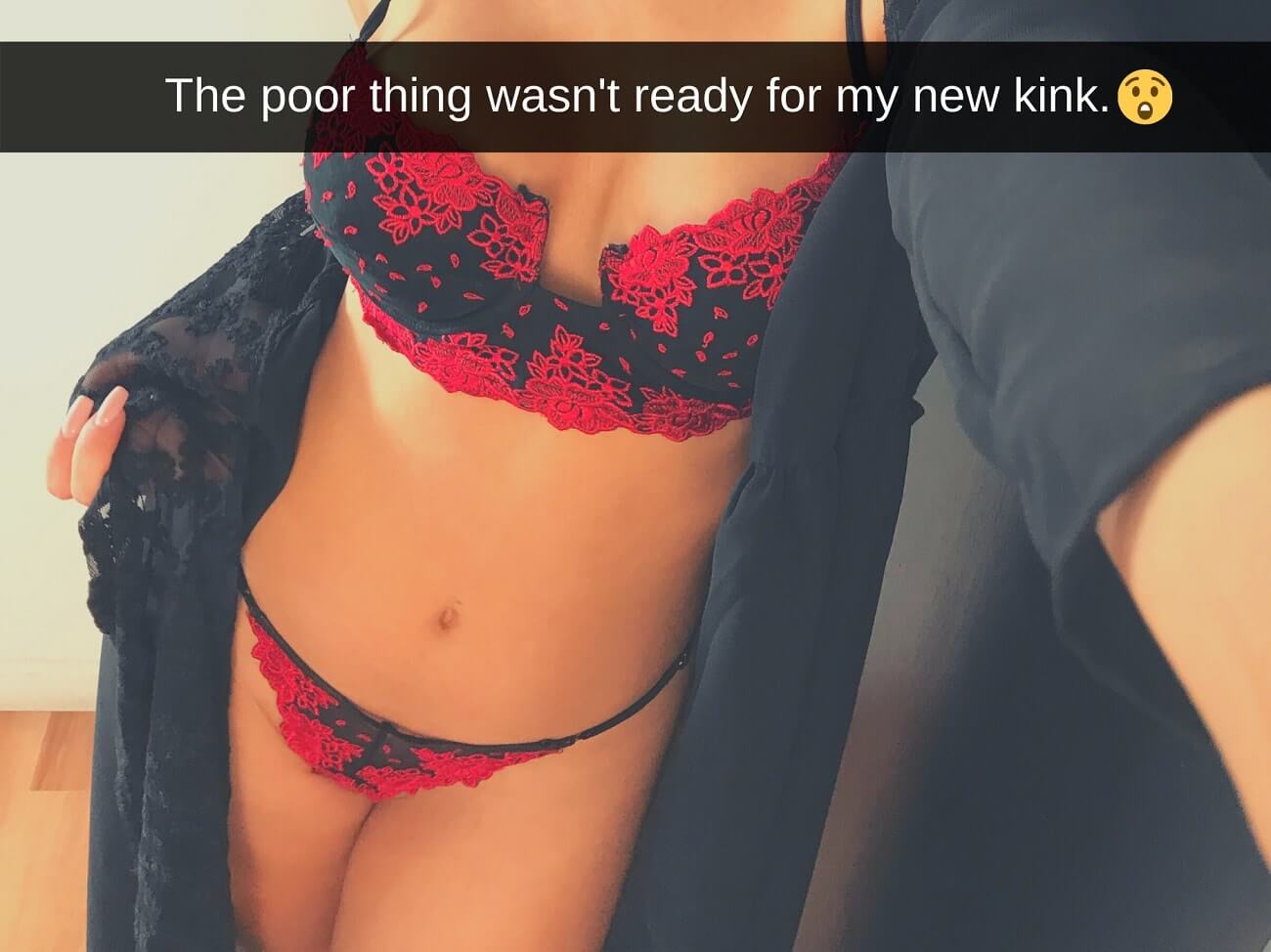 This is how it goes down. My boyfriend will lay down, I get him nice and hard, which usually he already is. I use my mouth to tease him, using my tongue to stimulate every nerve ending, squeezing his balls to make him weak at the knees. Pushing his shaft down my throat and teasing the very tip of his penis with my tongue. When I have had enough I will straddle him, entering him inside of me and riding him slowly, building up the motion and getting myself off.
Once I am ready and satisfied, I will use my mouth again to tease him again, bringing him to the brink of orgasm again and again, making him moan and beg me for a release. When I am ready I will let him cum, he gives me the signal by shouting out that he is going to cum and just as he is about to explode, I stop. I stop moving my hands and I remove my mouth from his penis and I just watch it shoot out his cum, coating his stomach with his own spunk. Sometimes I squeeze the shaft a little or run one single finger up and down the shaft as he cums, but it's always the same as I always stop what I am doing and ruin everything.
He is always left breathless, panting and moaning, my job here is done.
My Next Fantasy
When we next have a threesome, I want to play a game where I give them both handjobs at the same time (maybe blowjobs too) and whoever cums first gets a ruined orgasm. It's just a little game I want to play, I think it will be really hot. If you have ever done anything like that, please give me your tips in the comment section below, I want to know everything.
What I Use To Ruin My Boyfriends Orgasm (Toy Collection)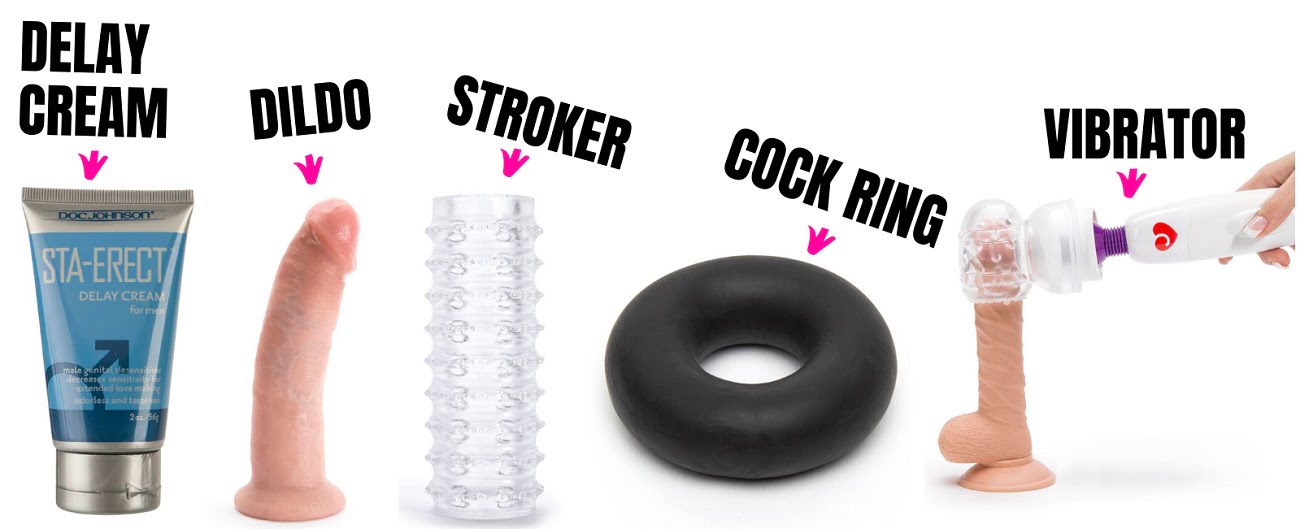 When I want to make it extra special I will use sex toys to ruin his orgasm, I don't use these all of the time but they do help to increase the sensations, make the ruined orgasm better and they are just overall incredibly fun to use.
My Ultra Realistic Dildo
With this ultra-realistic dildo, I let him watch me give him and the dildo a handjob, it's very sensual and arousing, however, I stop touching him the second he cums, but continue to use the dildo, it's beautiful. His pleasure stops whilst that of a dildo continues, it sparks jealousy and all sorts of other thoughts and feelings, it's also really hot. Also, if you're new to threesomes and experimenting with a third party, this can be a great way to arouse you and see if having a 'third person' to pleasure does turn you on.
Magic wand with special attachment (everyone uses this trick)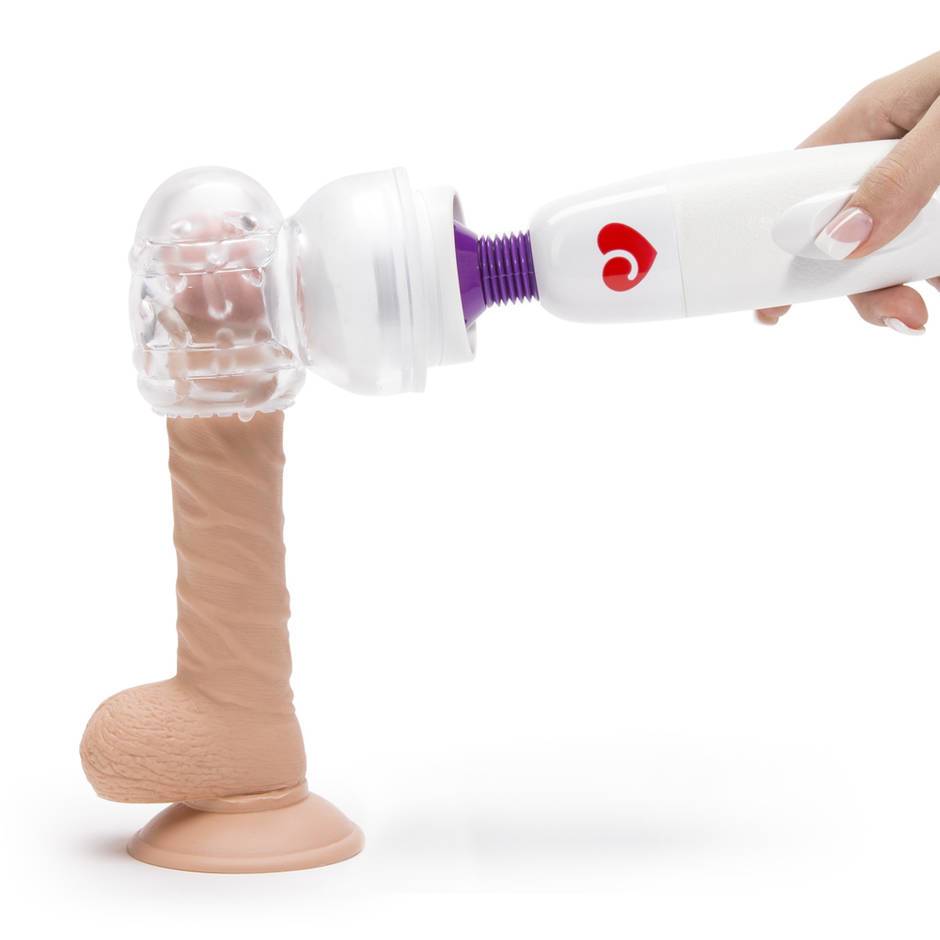 To use this attachment you need this magic wand, I use it all of the time, it makes me cum so hard, again and again, however, you can also use it on his shaft and balls and during sex which makes it a great toy. This attachment is amazing when used for edging and ruining his orgasm, it slips over the wand and therefore the vibrations are transferred into this attachment and over the entirety of the penis. Keep this vibration on as he cums and does not move or remove it right as he orgasms, it's a guaranteed win and it is so much fun to use.
Delay Spray/Cream (if you're cruel)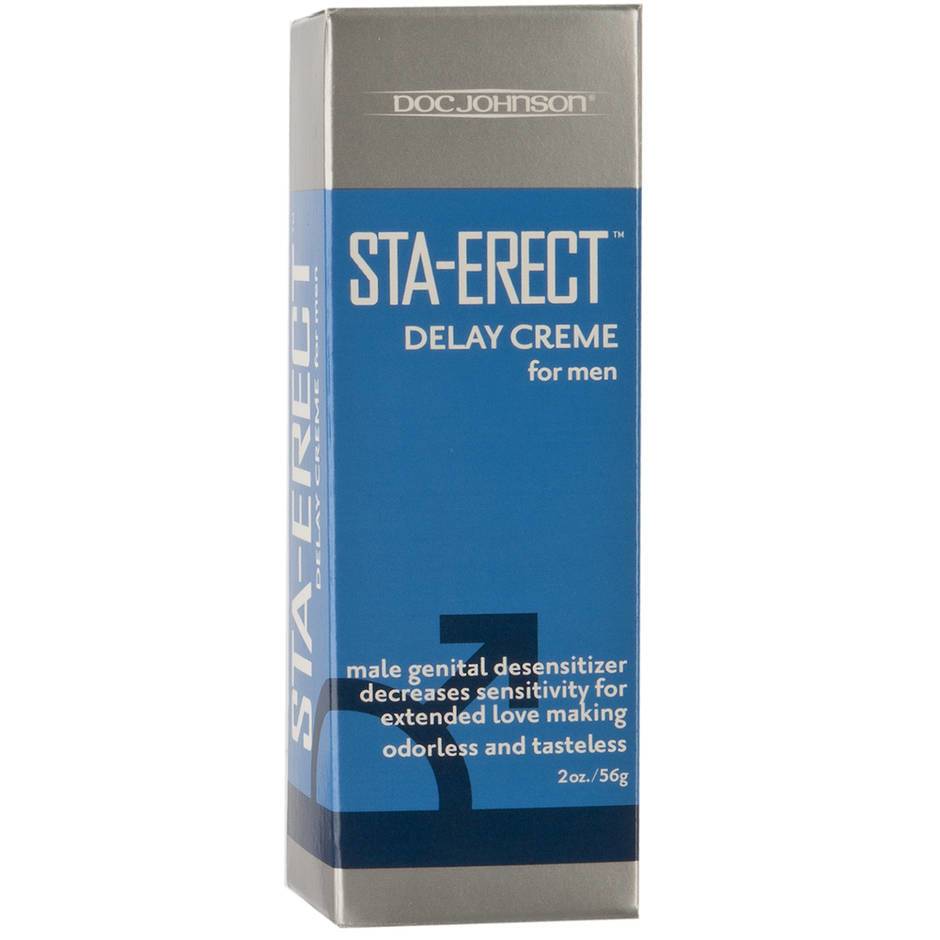 If you're really feeling quite mean, this delay cream is ideal as it desensitizes his penis slightly and allows him to last longer in bed. By removing the sensitivity you can tease him for longer, get yourself off, and still have him available to cum. By making the tease last longer, you're drawing out his pleasure which in turn makes him so desperate to cum. You don't need a lot of it and even when you're not using it to draw out your teasing abilities, it's ideal for use in the bedroom, especially if your man is prone to finishing quite quickly.
I Keep Him Hard With This Cock Ring
This simple cock ring can do wonders to a ruined orgasm. Slip it over the shaft and watch as it draws the blood in and allows it to stay, promoting more erect penises and longer-lasting power. Using a cock ring makes sure his cock is nice and juicy and it allows him to last a little bit longer, meaning just like with the delay cream you can draw out your teasing for as long as you please.
He Cums When I Want Him Too When I Use This Masturbator
This is a reversible stroker, it has raised nodules on one side and stimulating bumps on the other, you can switch sensations up whilst using it and feel new nerve endings being stimulated. I like to slip it over my boyfriend's cock and from there you just give your partner a handjob as you would normally. It's also a great sex toy as it can be used solo too, so if he wants it when you're not home, it will give him great stimulation.
Ruined Orgasms Games
You have 20 seconds to cum if you don't cum I ruin it.
If you cum in the next 5 minutes of constant blowjob/handjob/sex toy I'll ruin it (only men who can last deserve a real orgasm).
Every 30 seconds I change body part (pussy, mouth, hand) if you don't cum by the last part then it's a ruined orgasm for you.
Last 30 minutes of on and off play and you can cum like a man, cum before and I'll ruin it.
Threesome fun (the first guy to cum gets a ruined orgasm and gets to watch the over guy get a full complete orgasm.
You Can Even Ruin Your Own Orgasm
If you don't have a partner with you right now to ruin your orgasm you can use my jerk off instructions and see if you have the control to ruin your own orgasm after all that beautiful build-up.
I'm Jess and I'm a woman in my twenties. I created this blog to share my sexual experiences along with the experiences of people from all walks of life. I am actually quite introverted, but my boyfriend and I have a semi-open relationship and it's really helped me open up and experience things I never thought I would and that's one of the biggest reasons I created this. I hope you enjoy my blog as much as I enjoy writing for it. Read more about me.