Updated: 14/08/2023
I had been with my boyfriend for a while when it happened, we decided we wanted to both try something new and my boyfriend sharing me with another man was something we had both talked about and something we had both fantasized about.
A fantasy I am sure a lot of us have had.
We had been waiting for the perfect moment to live out this fantasy and then one day it just 'happened' and it was so intense for me, getting fuc**d by two guys, one of whom is my boyfriend.
I had always got off on the idea of my boyfriend seeing me getting kinky with someone in front of him, him getting jealous, and then us all joining in together and for me, it actually happened.
We did also reverse the roles and I shared my boyfriend with another woman, and read my cuckquean story to see what happened. You can also join my erotic membership for more erotic stories, user-submitted pictures, rates, advice, and more. See you in there.
How I Got F**ked By Two Men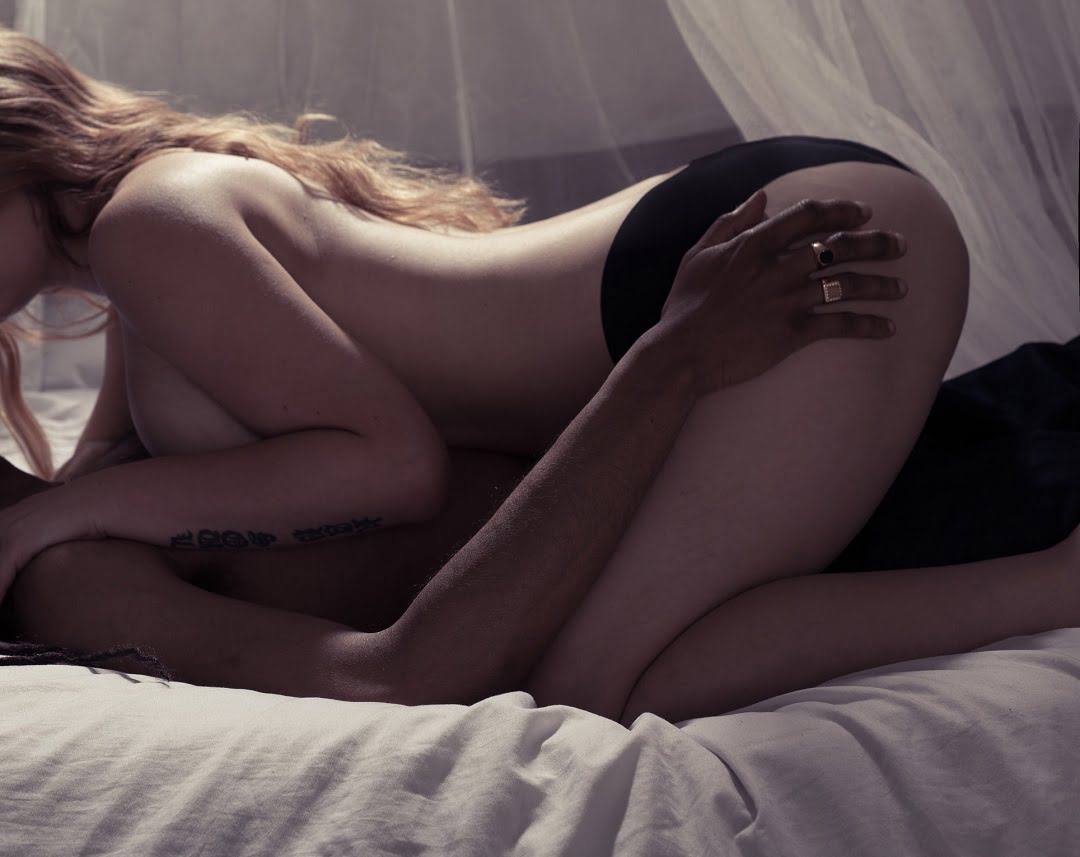 It had always been a fantasy of mine and when I brought it up with my boyfriend I found that it was also a big fantasy of his two.
I thought my boyfriend would just laugh but he was actually serious when he said we should try it. Luckily, we are both very openly sexual people and this wouldn't have been our first threesome but it was our first threesome as a real serious couple, and as soon as I knew he was up for sharing me with another man I became two things. Horny and nervous.
However, it wasn't all smooth sailing we actually ran into some issues that we needed to work our way around.
Biggest Issues with a Threesome:
Just like in the time I shared my boyfriend with another woman there was the same kind of issues:
It needed to be someone I actually wanted to have sex with, who is open and respectful and not a douche. My boyfriend also needed to like him, so we had our work cut out for us but it wasn't going to be impossible. Actually here's the text with the guy I ended up having sex with: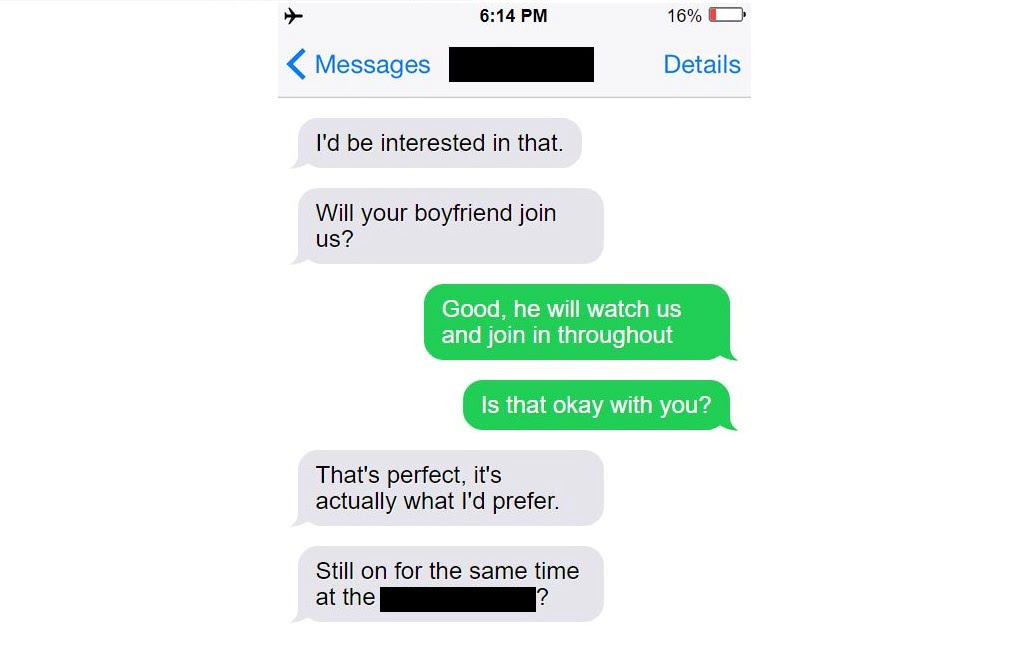 Picking The Place And The Scene I Want To Have Sex
Do I want to stay in a hotel? do I want to go out for drinks with both of them first, would I prefer blindfolding and having him come to the hotel room?
It was a difficult decision but I finally decided on a hotel room where we all go for drinks first to loosen up a bit.
Making Sure It Wasn't Going To Destroy My Relationship
Myself and my boyfriend talked it over again and again and double-checked we were both OK with it and before long it became absolutely crystal clear to both of us that we both wanted this and we would never allow it to ruin our relationship afterward.
The Night I Was Shared With Two HOT Men (my full sharing experience)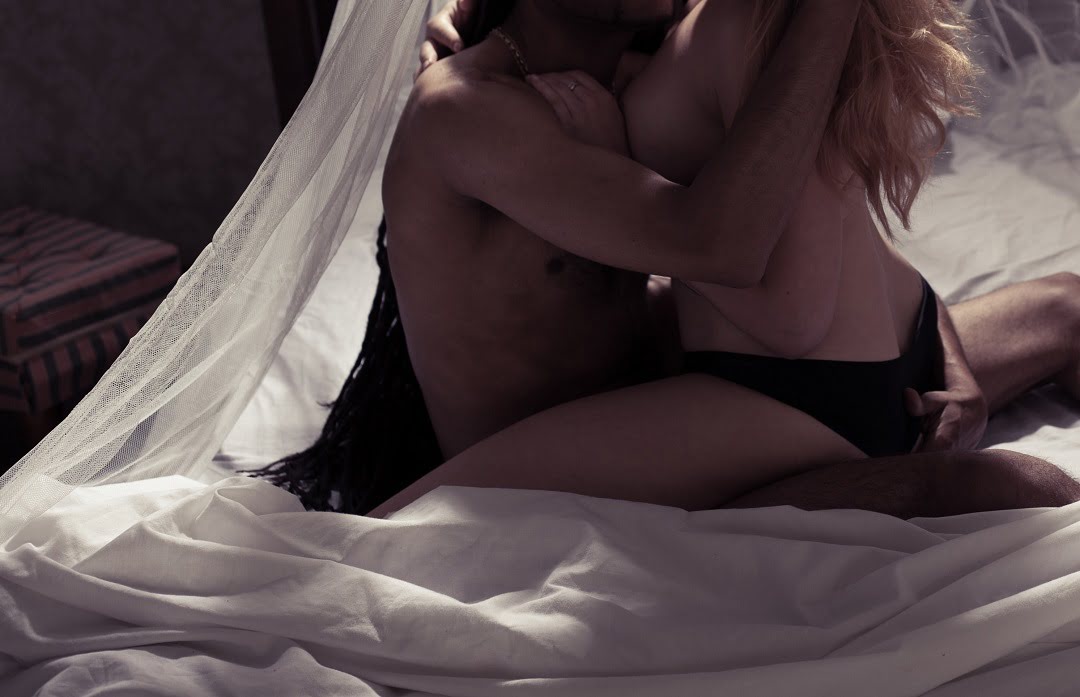 I won't lie I was nervous, I spent the day getting myself ready for the evening. Finding the perfect underwear, although I did suspect they wouldn't stay on for too long, shaving my legs, loosening up a little, and packed a small overnight bag.
We decided on the hotel, there is no connection to a hotel and any of us can leave at any time. It's also easier as you can just shower when you want.
We arrived and checked into our hotel room and headed to the hotel bar where we waited. I was wearing a very short skirt and a tight tank top, my boyfriend in a casual suit and we both just waited, talking amongst ourselves and drinking probably too much.
He arrived promptly and looked amazing, he was just perfect. He came up to me first and kissed both of my cheeks whilst his hand was placed firmly on the small of my back and then he shook my boyfriend's hand, before quickly turning his eyes and attention back to me.
We all talked for about an hour, drank, and flirted. He kept putting his hand on my knee and when I stood up to go to the loo he watched me leave. I could see he was desperate to unpeel my tight clothes, the lust in his eyes was such a turn-on.
We got back to our hotel room and things heated up pretty quickly. My boyfriend sat in the corner and watched as me and this man made out on the bed. He pulled off my top, unhooked my bra, and put his hand up my skirt. I found myself grabbing his hard cock through his trousers and we were both panting and desperate to feel each other. The thought of my boyfriend watching us was turning me on even more and when I saw he was masturbating to the site of us I practically came there and then.
My boyfriend joined us when he was going down on me, made his way to my breasts, and sucked and licked my nipples as the other man was sucking my clit, I was in heaven.
The pleasure both of these men were giving me was indescribable I felt so sexy and so wanted. Before I knew it this man was entering my pussy and exclaiming at how good it felt whilst my boyfriend smiled at me.
He then lay on his back and told me to ride him reverse cowgirl and from this position, I sucked my boyfriend's cock.
The whole scenario wasn't awkward, we all just fell into our places.
I came so hard, the man came hard across my face, back, and even in my ass. My boyfriend came hard once by just watching us and another time in my mouth.
One of my favorite moments was when we tried double penetration, I felt so full and both of these men wanted me so much. The feelings that rippled through my body were sensational.
After hours of fu**ing me and this man showered together (fuck**g again) and he left whilst zipping up his trousers.
Me and my boyfriend fell asleep and woke up in each other's arms.
The whole experience was so hot and one I would LOVE to try again.
Warning:

Don't Try Sharing Your Girlfriend If You're:
Easily Jealous
If you've thought about breaking up
It's not your fantasy
If your partner would get jealous of you sharing with someone
You need to have equal rules, if you can have sex with a man, he should be able to do the same with a girl under the right circumstances. You really need to make sure you talk everything through beforehand.
Must-Know Advice While Sharing Your Partner
I wanted to share some of the advice that I was given as it really helped us make sure that this threesome was one of the best ever and put us all in a place of comfort and boundaries we all understood.
Have RULES you follow (no exceptions)
Have a list of rules that you must follow, and decide beforehand what you are both happy with and things you wouldn't want your partner to do. Here is just a list of rules I thought of, I didn't follow every rule on this list but every relationship is different.
List of good rules:
– No kissing (We allowed for kissing)
– No cuddling
– No texting or communicating without both of you present
– Use condoms
– No anal sex or any specific sex positions or acts you'd like to keep private. (We had anal sex)
Tell the man about your rules: Make sure to let the third person in on the rules and make sure they understand your boundaries, this will help your two men one woman's threesome go as smoothly as possible.
Use condoms and practice safe sex
Make sure to use condoms, it's really important, especially if you don't really know the third person in the threesome.
Don't start with sex
Let your partner kiss someone at a club with you there, and see how it makes you feel. Do this especially if you are both unsure about the threesome.
If it's not for you, you can simulate a threesome by faking a threesome with sex toys.
Do it with other couples
Lowers the risk of bunny boilers but this does spread the risk of jealousy among all people. However, by doing it with other couples you know the person and it could help you relax a little bit more but do keep in mind that your friendship may never be the same again if you don't lay down the rules and stick to them.
Have a "let's wrap this up" safe word
When there are three of you, one of you is always going to be done with the threesome before the other two. Make sure to have a word that means 'OK, I am tired now, and let's take a break'.
Have a rough plan of action
Have sex, then say goodbye straight away?
Have sex multiple times and then send them on their way?
Let them stay the night in the hotel with you?
Our plan was to meet him for a drink, head to our hotel room, have fun, and then when we are all done he was just going to leave me and my boyfriend were going to spend the night in the hotel.
Book a hotel & go to a different city
You don't want them knowing where you live and bumping into them while doing your grocery shopping isn't going to be fun at all. If you're staying in a hotel make sure it's out of town and no risk of running into someone you know.
Let the man you're going to be having sex with know it's just SEX
Make sure everyone involved knows that this is a one-time thing, this isn't a relationship. Make your rules and stick to them and make everyone aware.
Get loads of sexual lubrication!
I always say this but no matter how horny you are, make sure you use lube. It makes everything feel so much better and stops any friction, especially during anal. This is my favorite lube.
Create a sexual playlist (trust me)
Music helps fill the silence, without some sort of background noise it can feel a little bit awkward so make sure to create a 1hr + playlist to drown out your moans and any silence you may have while you're having sex.
Create a scenario that works for you
Using dating apps you can find someone who's into the same kinky stuff you are, this allows you to brief them.
For example, meet me at this hotel (text room number when you know), coming in, the lights will be low, and without saying a word let's get down to it.
That way you can decide whether you drink and chat before or have them come in, do the job, and go without saying too many things.
You ask you get.
Q & A About Girlfriend Sharing
My boyfriend is going to answer this part for all of you curious kinky readers. He, after all, was the one sharing me!
Was it awkward with your partner after the man left?
No, not at all. He left, I had a shower and me and my girlfriend sat in bed watching TV. We didn't really talk about it for a while because we were both so exhausted but I knew how much of a good time she had and vice versa. I don't think it was until much later in the evening that we started talking about it and got horny all over again.
Have you tried sharing with another man again?
No, not yet but it is something we both want to try again. It went so well.
How can I find a man to share my girlfriend with?
Try dating apps, go to clubs, ask your girlfriend to help you, use dating websites like Plenty of Fish, or even hire a male escort, there are plenty of ways to find someone who is safe and looking for the same things as you. You may have to browse through a few people you don't want to share with before finding someone who is perfect.
What are some of the risks of girlfriend/wife sharing?
A huge risk is suffering from jealousy and that's why it's so important to talk about it beforehand and really understand that your relationship could change after it's all said and done. Another risk is STD so always make sure to use protection and ensure the person is clean.
Would you recommend other relationships try it?
I would say talk about it and really imagine it happening and what your life would be like after. If you get jealous easily then I wouldn't recommend it.
I'm Jess and I'm a woman in my twenties. I created this blog to share my sexual experiences along with the experiences of people from all walks of life. I am actually quite introverted, but my boyfriend and I have a semi-open relationship and it's really helped me open up and experience things I never thought I would and that's one of the biggest reasons I created this. I hope you enjoy my blog as much as I enjoy writing for it. Read more about me.