BDSM body writing is hugely popular amongst kinksters and when you have never done it before it can be daunting to know where to even start. Writing 'SLUT' across your tits in pen gets old and so today I want you to immerse yourself in my very own body-writing ideas, words, and phrases that will turn heads, make you feel like an actual slut, and let everyone know what you are up too and the type of person that you are.
Markers For Body Writing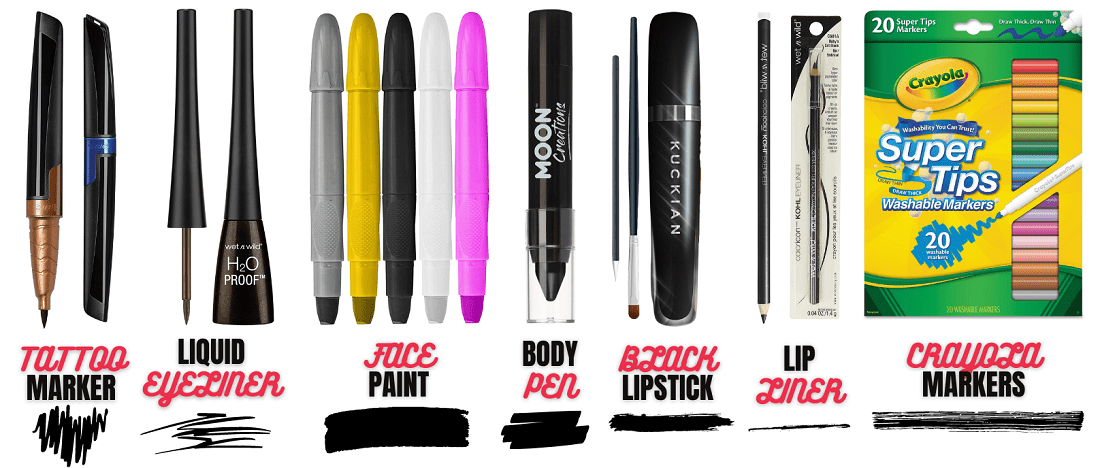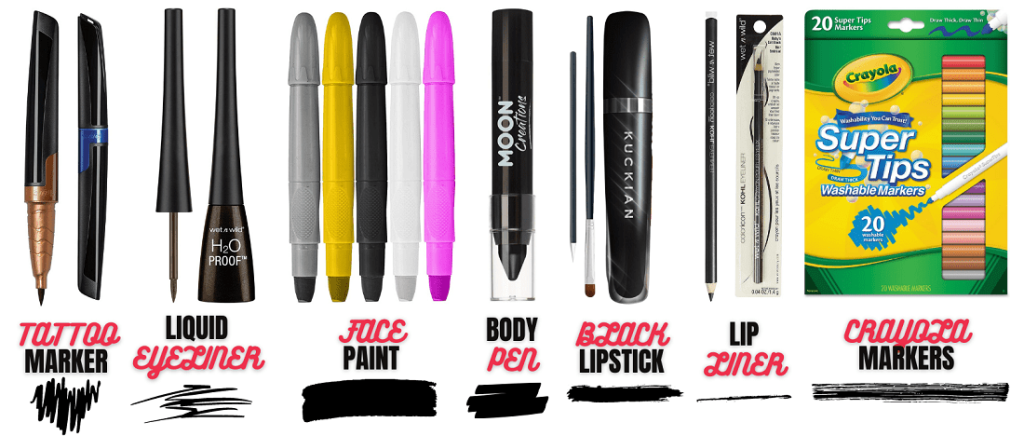 With body writing, you need to be careful what you're using to draw on your body. It's all fun and games until the stuff you write won't come off (unless that's what you're going for) or it leaves a rash because it started irritating your skin.
Below I have left the things that I and other people use to create temporary BDSM body markings, I have had no issues with any of them but obviously don't use any of these markers internally. Once we have chosen our marker it's time to move on to the actual BDSM words and phrases that you can write on yourself further on below.
Liquid (not cream) Waterproof eyeliner: This stays on pretty well, most of us have it, and wet and wilds h20 proof eyeliner is my go-to, it's really cheap as well as being body-safe.
Lip Liner: Same rule as above, it's soft, easy to apply and you can use makeup remover to get rid of it, it also stays on pretty well too, and looks so erotically visually pleasing when it does smudge a little (same goes for the eyeliner).
Black Waterproof Lipstick: Lipstick is great for temporary words, however, I have found that it smudges, stains, and goes everywhere if you're not careful. I am not a massive fan but it can be hot when nothing else is around and you need a quick fix.
Temporary Tattoo Marker: My favorite, if you have a few bucks to spend these are the best option, they are skin safe, cosmetic grade and they stay on the skin. They are easy to write with and come in multiple colors or plain black, it does take a bit of elbow grease to get off, but that's better because I want this type of pen to last a good, sweaty sex session and this is more important when you're in a group setting.
Henna: Henna is a great option for those who want to enjoy BDSM body art for longer. It's amazing for longer lifestyle events and for those who like to keep their BDSM 'tattoo' for a few days however it takes time to dry and takes skill to apply, so I don't usually use it.
Face Paint: Really easy to get, you can get it from most dress-up stores, it's harder to draw as the tips are large, but is safe, cheap, and easy to find. I've tried this one and this assortment pack the only downside is that it smudges a lot easier than the temporary tattoo marker that I mentioned above.
Crayola Markers: I've seen some BDSM temporary tattoo enthusiasts recommend them, I have not tried them myself, but they are non-toxic and come off of the skin well, but they are not meant for skin, so personally I wouldn't use them. They do wash off easily and wash out of clothes which is useful. They are also easy to find. But, I would use one of the other options personally.
Temporary BDSM Tattoos: You can use Etsy or ink box to have a bulk order of different BDSM words and sentences made as temporary tattoos. You can even buy your own temp tattoo maker, but they are quite expensive, so I recommend you try out the pre-made designs before you commit to this.
What I Use BDSM Writing and Art For
I use it at lifestyle parties to show everyone there what I am there for. I use it as a punishment to scrawl over my partner's body exactly why they are being punished, I like to use it to show who owns you, to humiliate you or myself with unique and telling words all over my body, I use BDSM writing for my own fun, to be slutty and to label different parts of the body and highlight their function (ie my pussy is your cum box).
People use it for different reasons, I mainly use it with my boyfriend to spice things up, he may write 'cum dump' above my pussy or 'cum slut' on my breasts, 'cum here' on my ass, 'free to breed' on my thigh with an arrow to my pussy or ass and whatever he writes on my body is what goes.
He wrote this on me at a sex party

I love bdsm art, it's so erotic and it really turns me on to be degraded with a marker. I love to do it to my partner and others too but when I have it happen to me, I love it.
We went to a sex party and as usual, we were all naked and having a great time when my boyfriend got the marker from my bag and began writing all over me and when I glanced down and saw that he had written on my chest:
"Free to use whore"
I felt on fire with desire and excitement. I got on my knees and all night long I had my mouth, ass, and pussy used up by anybody that wanted me, just as my writing had said. I was free to use and those party-goers made sure to take full advantage of that. It was an incredible evening and one I will never forget. I have lots of my own and other people's erotic tales, picture submissions, and videos if you want to join my membership.
BDSM Writing Ideas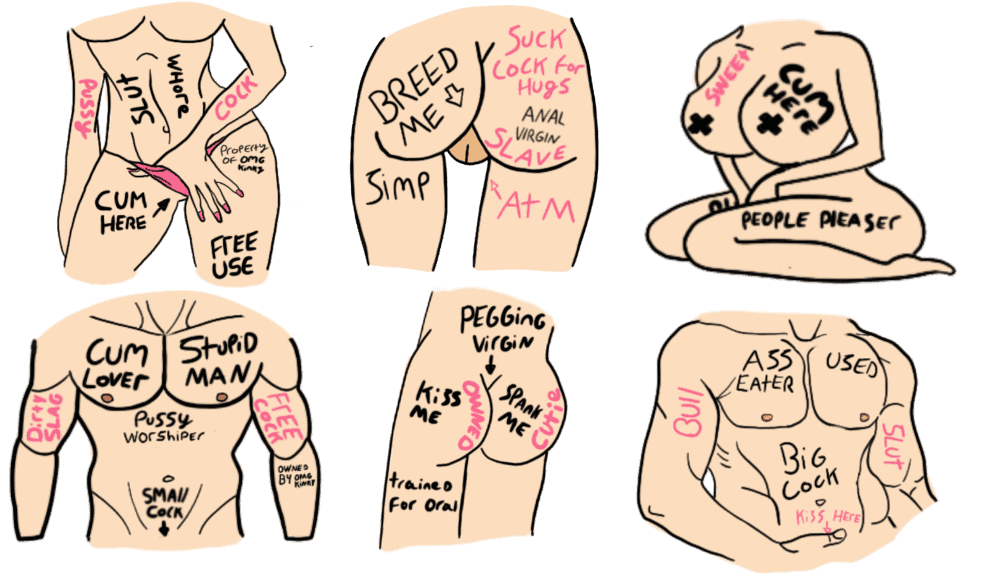 Now it's time for me to share with you my favorite bdsm writing ideas, words, and phrases that look extra slutty and hardcore sprawled across your or your lover's body.
Take these ideas and enjoy them, get creative and make them yours. If you want to share any of your phrases or words that you use, feel free to leave them in the comments down below for everyone to see.
Breed With Me
Like cum? Want to breed your pussy, ass, or mouth? Write this: 'breed here' and an arrow where you want the cream and prepared to be filled just as you requested.
Slut Shame/Guilt
Write any of these slut-shaming words on your body: slut, whore, skank, hussy, ho, streetwalker, man-eater, nympho, tart, tramp, skank, loose, or puta. These words slut-shame and invoke guilt and feelings of degradation, which is what some bdsm enthusiasts like to go for during play.
However, we don't slut-shame or have any guilt here, unless it's a kink or for fun. These words are for consenting, happy adults to enjoy not to be used by those looking to put down others outside of the bedroom.
Pay Pig
A pay pig is a person who gets sexual gratification from being exploited financially. These types of people get off on having their wallets used and abused and feeling powerless and dominated financially. For these types of people feel free to use these words as you ink them up:
Paypig
Brat
ATM
Perfect Sissy
Cuck
Pig
Cash Slave
Simp
Micropenis
Human ATM
Wallet slave
Property Of…
A master writes the property of [insert name] on the sub.
You can even have different people/masters assigned to different holes. Just write which hole is property of who and 'TBA' if you're in the process of picking, which usually involves a lot of testing to see who fits best where, which is a lot of fun.
Cocks Must Be…
Have a cock size written on you for entering your holes. These are my favorites but feel free to adjust to your needs:
Must be over 7 inches to enter my pussy: 7 inches and above to enter (arrow to pussy).
Must be under 5 inches for anal: 5 inches and above (arrow to asshole).
Must be 5 inches for blowjob : 5 inches and above for BJ (arrow to mouth).
You can even draw a measurement ruler for guys to measure their junk on, so they can measure before they enter. I like to draw mine on my ass cheek and I never do it to exact size, I just guess and sometimes make it a lot smaller so that everyone gets to enjoy my holes!
Free To Use
Writing 'free to use' on yourself or your sub and going to a party means exactly as it states, that you're free to use. Put this sentence with an arrow to the area you want to be used, or on all holes for an extra slutty experience. This is my FAVORITE bdsm sentence.
The same obviously goes for men, write this about your cock, your mouth, or ass. Using this for fun at home too is great, if want your partner to use your holes whenever they feel like it? Write 'free use' and they will be able to use it as they please.
Make sure to also check out my DIY bdsm ideas to turn bdsm writing into a whole evening of sexual fun.
Trainer For…
Make yourself or your partner a trainee. Have them practice their skills with others or with yourself by marking them as an amateur at anything you choose. These are the best:
Dick sucking trainee
Anal Amaetur
Newbie Pussy Eater
Pussy Virgin
Sucks At Riding
Training To Take Cum
Sperm Bank
Put an arrow to where you want to store all the cum. Maybe you make a target on your body or keep it nice and warm inside you? Choose a location and let others know your goal by writing it on yourself.
Wife/Husband Only
Mark a spot on your body that is for your partner only. This makes it sacred and a lot of fun to avoid. You can even do this just the two of you and render somewhere on your body completely useless, it could be your pussy, ass, titties, or even your lips or butt cheeks. Will there be bdsm punishments if you break the rules? You decide.
Orders:
Writing strict orders on yourself or your partner is a sure way to get exactly what you want. This is an order my boyfriend likes to give me, leaving the steps across my back as I wait on all fours:
Step one: remove butt plug.
Step two: insert cock.
Step three: cum inside my ass.
Stupid, dumb…
Humiliating and colorful words that portray you as a lesser being and someone unlikeable is where a lot of bdsm writing lovers start. It can be the simplest of words that have a great effect on a sub. These are some of my favorites:
Dick
Bimbo (Himbo – male bimbo equivalent)
Stupid
Cum dump
Clown
Fool
Doofus
Moron
Idiot
Imbecile
Floozie
Cum Dump Location
Draw a big circle somewhere on your body and write cum dump, where all the cum should be dumped. This could be everyone present who wishes to deposit their cum on/into you or it could be just the person or people you are with who can use your cum dump circle.
Owned
Asserting your status over your sub is a very popular writing idea. Letting everyone know just who is in charge and what that person means to you get heads turning. These are some of the things you can write on yourself or your partner to let them know their position and status:
Owned slave
Owned fuck toy
Owned slut
Owned pussy
Owned whore
Owned
Property Of
If you want to, add arrows pointing to your holes or cock for extra spice.
Return too…
For emergencies at lifestyle/sex parties, events, and bondage nights, or even just for a bit of fun in your own home, make sure anyone who finds you knows who to return you to but labeling your return address correctly using these power play words.
With the sentence: "Please Return To…" Add:
Daddy
Master
'Name'
Chief
Dom
Mistress
Alpha
Sir/Ma'am
My Love
Prince/Princess/King/Queen
My Lord/Lady
Papi
Highness
Small cock
This is for those who enjoy small cock humiliation, even if your cock is average or huge. Your chosen word or words are usually painted across your stomach, pubic bone, or thighs to let everyone know how your cock should be addressed and used as.
Tiny cock.
Small cock alrert.
How big do you think my cock is – Have people write what they think.
Shrimp cock.
Clit with an arrow to your cock.
Pee Pee.
Winkie.
Micropenis.
Teeny Weeny.
1-Incher.
Microscopic Cock.
Open Until (Enter time)
You may be one all night long or just a few hours, but make sure to let your partners know what time you're closed for business. Write your closing time in clear ink so your partner can get good use out of you.
Use The Butt As An 'O'
Use your actual asshole as the 'O' in a word so that when you bend over the word is completed. For example:
Wh [butt hole] re
L[butt hole]ve
Your h[butt hole]le
C[butt hole]ck Lover
[O]wned By …
Daddies/Mommies Toy
For mommy/daddy kinksters use your role all over your subs body. Make sure you both know the rules and roles at play here by painting them all over their body. Here are some ways you can mark your territory using the daddy/mommy kink:
Daddies use only
Daddies toy
Mommies Cock
Daddies cum dump
Daddies holes
Mommies angel
Service your… here
Become a service engineer by using your holes to maintain and 'repair' tired sexual organs and holes. Make sure it's clear what service you specialize in by using clear writing and markings. Write your specialized service over your hole, mouth, cock, pussy, or even hands:
Service your cock
Service your pussy
Service your ass
Service your mouth
Service your balls
Service your tongue
Kind Words
BDSM doesn't have to be all-dominating and intense, sometimes people like to use kind and softer words on their sub to make them feel loved and special. This can be part of aftercare or just to make them feel like they have been good. These are some of the best kind words you can use on their body:
Cutie
Beauty
Sweetie
Hottie
My little whore
My dirty slut
Sexy
Kind holes
Loving sub
Loving cock
Soft touch
People pleaser
Sex Kitten
Kind hearted
Kind
Good Sub
Friendly
Hard-working Sub
Ratings
Have a rating for each hole/cock or mouth and rate your score out of ten each time you use it. If you're at a party don't forget to leave a pen nearby so others can also rate the hole/cock out of 10 too.
Make sure if there's a group you sign your score so that everyone can know who rated what and the sub can be praised/punished accordingly.
Fill Me Up
We are not talking about gas tanks here, no, this is asking to be filled up with lovely cum. Asked to be filled using your marker pen or even make rules like the ones below:
Return once filled
Return when full
Pick a hole and have an amount of cum that hole has to take to close.
3 ass creampies (tick them off as you do them or keep a mental note, maybe you forget and have to do 3 more).
Fill my mouth
Make My Pussy Drool
Pussy Fuel Dump
Degrade Me
Words and sentences stemming from degradation are also hugely popular at the parties I attend and between subs and doms. It makes the sub and dom dynamic more apparent and it's very exciting when you're teasing your partner using such extreme words
People like to ask to be degraded by simply writing: "Degrade me", on their body which gives others free rein to see what they play.
If you would rather use some degrading words here are my top:
Lousy
Troublesome
Slutty
Stinky
Whore
Witch
Bitch
Disgrace
Cunt
Son Of A Bitch
Twat
Cleaner
Label yourself as the cleaner-upper of the party as you politely let everybody know from the bdsm ink on your skin that you are prepared to clean up any spillages. Put something open to interpretation:
"Here for clean up" with an arrow to your mouth
or use more specific and direct phrases on your body:
Cum cleaner
Open for clean up duty
Can clean cock, pussy, cum, ass, etc.
My holes can clean
Cock, ass or pussy washer
Masters cleaner-upper
Cum rag
Free cleaner
Cum maid
Trained for…
Let your partner or the people at your get-together know what you're trained for. You must show off your particular skills in your chosen category all day long as you show what you're made of. Trained for…
…total pleasure
…anal
…cum
…group sex
…spanking
…cum guzzling
…blowjobs
…submisiveness
…ass licking
Body image slur
A controversial body marking but one many subs and doms like to play with when engaging in bdsm practices. This is the art of bdsm body image slurs, making the inked coated in terminology that is less than appealing. Here are some of the bdsm body slurs used most:
Fat
Fatty
Porky
overweight
pig
Overweight pig (do not cum)
Overweight pig (don't let him cum)
Ugly
Useless
Fishy/Stinky
Fat Ass
Bitch…
Using the word bitch to degrade a sub is acceptable and I wanted to share the best ways to use the word whilst incorporating it into your bdsm lifestyle.
Slutty bitch
Cum bitch
Daddy's bitch
Cum loving bitch
Sub bitch
Begging Bitch
Bratty Bitch
Cum Guzzling Bitch
Cock loving bitch
Premature Ejaculator
This is for the male subs who wish to be marked with a bdsm pen tattoo. This is the marking for the premature ejaculator, a man who can't control his cock.
He is labeled with: "Premature Ejaculator". He is then timed to see just how quickly he cums and those times recorded all over his body. Another way you can label him as a quick 'cummer' is by using these phrases on his body:
I have premature ejaculation
I cum too quick
Watch how quick I cum
Jizz Master
Mr 10 seconds
Cock under…
Write down the size of their cock on their body with an arrow pointing to it. Some doms like to make it a lot smaller than it actually is just an FYI.
Will Perform
You will perform for cum, pussy, cock, etc.
How you perform is up to you, do you beg for pussy? bark for cum? Let everyone know by writing it on yourself or you can also pick a performance (ie will blow cock for cum) and what your partner needs more of (discipline) and write it on their body for them so that there is no confusion.
I like…
Write a short list of favorite things or your favorite thing to do on your sub's back (you can fit more on the back than anywhere else). This is to remind you and anyone else of what your little sub enjoys the most. For instance write:
I like being choked
Fucked hard
Restrained
Creampied
Spanked
Write whatever it is that you like best, then you won't even have to speak and if you have a bull gag in you can just point to your back as a reminder.
Service
Write the service you are there for somewhere on your body. This could be:
Personal foot stall
Free to use seat
Cock cleaner
Pussy cleaner
Free to use foot rest
Free to use fan,
Make me your bitch
Drinks provider
Spankee
Nickname
Write their kink name on them so they don't forget it and can be addressed by it by anyone who may see it.
Punishment
Write what they did wrong on your sub and their respective punishment.
This is one I get often:
Slut punishment: Suck Dick To Learn Manners
Another way to do this is the sub has to write what they think they did wrong on their own body.
Insulting
Write a long list of insulting, degrading, and horrible words on your/their whole body.
This can be a punishment if you want to be. These are some of my favorite insults:
Airhead
Asshole
Fat
Dweeb
Scum
Jerk
Chad
Bonehead
Douche
List Of BDSM Words To Write:
This is just a random assortment list of BDSM-inspired words that you can write on your sub. These don't have to relate to anything specific just words that we love to use when writing on one another. Enjoy!
Fist Hole
Sit here
Plug and play
Free Entry Here
Pussy eater
Squirter
Insert cum here
Pathetic
Sit on my face
I'm desperate
Bunny
Fuck My Tits
I love cock
BBC Only
Big Dick Only
I love pussy
I'm a stupid slut
Addicted to cock
Addicted to being used
I'm a dirty slut, I'm the dirtiest slut
No condoms
No condom zone
Condom only zone
Condom cleaner
Condom Dump
Choke here
Ready to use
Spank Here
Cum Here
Fuck Me
Fuck me soft
Fuck me hard
Use me
Put It In My Ass
Slag
I Swallow
Cunt
Anal Slut
Sissy
Fuck here
Cuck
Cuckold
Cum bucket
Cock holder
Cock warmers
Butt plug, with arrow to small cock
Kitten
Lick me
Anal queen
What Words Do You Like?

Let me know your favorite thing to write on yourself or your partner, I love hearing from you all.
Jess ❤
I'm Jess and I'm a woman in my twenties. I created this blog to share my sexual experiences along with the experiences of people from all walks of life. I am actually quite introverted, but my boyfriend and I have a semi-open relationship and it's really helped me open up and experience things I never thought I would and that's one of the biggest reasons I created this. I hope you enjoy my blog as much as I enjoy writing for it. Read more about me.