If you read my blog you know that my boyfriend and I don't even have a third person in the bedroom…anymore. There was a time that we did frequently share partners and lately, I have been pondering on this thought and I wanted to share it with my readers.
It isn't for everyone, some people couldn't bear to share their partner, some just love the idea of such an exciting fantasy and others get off on the idea and today I wanted to help all three of those people by going into detail on what happened when I tried sharing my boyfriend with another woman.
I want to share how my boyfriend fu**ed another woman right in front of my eyes and how I got off on that, seeing him thrust inside of someone that wasn't me drove me wild.
This article is going to be totally NSFW so if you're at work, I would save this one for later and be sure to check out my membership for even more like this.
How Did My Cuckquean Fantasy Become A Reality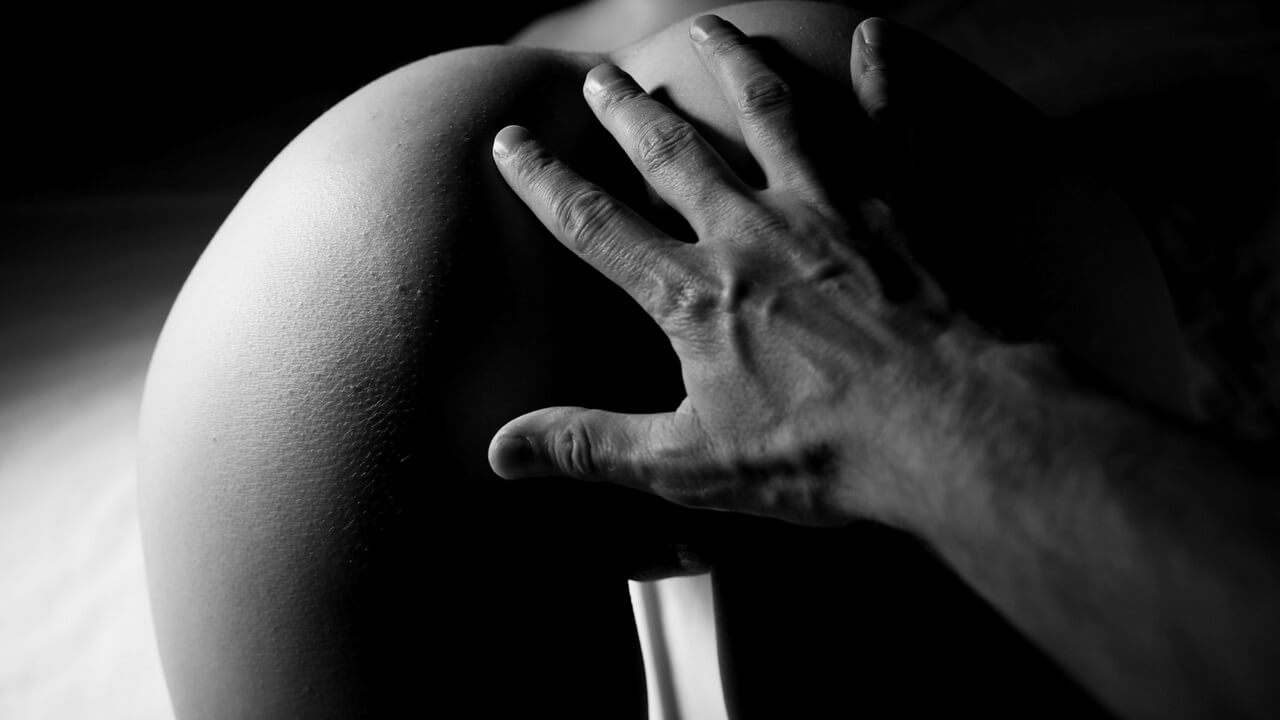 When me and my boyfriend first got together we were fuelled by fantasy and lust. Every touch, every kiss, and even sweet little slide glance used to drive me wild, we were both besotted by one another and we both wanted more.
We were both completely open with one another, nothing was off-limits. I found that when he was getting me off I would often fantasize about another woman being in the room, I would find myself cumming to the idea of him fu**ing someone when I was there. It wasn't long before I knew I had to make this fantasy a reality.
We had simulated a threesome before with sex toys but this was going to be for real.
I found myself eyeing up women when we went out, wondering if she would be good enough for us. She needed to be perfect, open to everything, wild but also a little innocent, the apprehensiveness is what always turned me on in my fantasies. Him taking her into our room, going down on her sweetly and fu**ing her like he was trying to make me jealous, I don't know what it was about this whole fantasy that turned me on so much but it did and I knew once I put my mind to it, it was going to happen.
If you aren't sure what a cuckquean is here is the ideal cuckquean terminology.
Three Issues:
I found small hurdles along the way, we were in a new relationship and I didn't want to scare him off or think I wasn't interested but I did have a sneaky suspicion that he was going to be totally cool with it.
Getting my boyfriend to agree (easy, as our relationship is kinky)
Getting him to agree was a lot easier than I thought, one day when I was blowing him I just casually brought it up, he asked a few questions, I made him lye back and gave him an outstanding blowjob, after that he agreed with ease. It was really turned on by the thought and kept bringing it p every time we had sex after that.
Finding a girl who would agree to share my boyfriend
Finding the right girl was one of my hardest tasks, I didn't want her to think that I wanted my boyfriend to cheat on me with her, I needed her to know that I wanted to share my boyfriend with her and that I would be present. It took time to find this kind of girl but I found her and she was totally up for the sharing thing and she even told me that she was going to make me cum before she even touched my boyfriend and that was when I knew I had found the perfect girl for this threesome.
Making sure I didn't explode my wonderful relationship with a lust-filled idea
As I mentioned before, me and my boyfriend were in a brand new relationship and I didn't want to ruin anything. I was worried that it would mean we always had threesomes and always had to share each other (in fact that opposite happened, not because of the threesome. That is a memory we hold close to our hearts).
We had to set a lot of ground rules, what we were both comfortable with, what we both wanted to get out of this, and as it turned out we were both on level ground with what we wanted, which was perfect, thrilling and so kinky.
The Place and Setting For Their Sex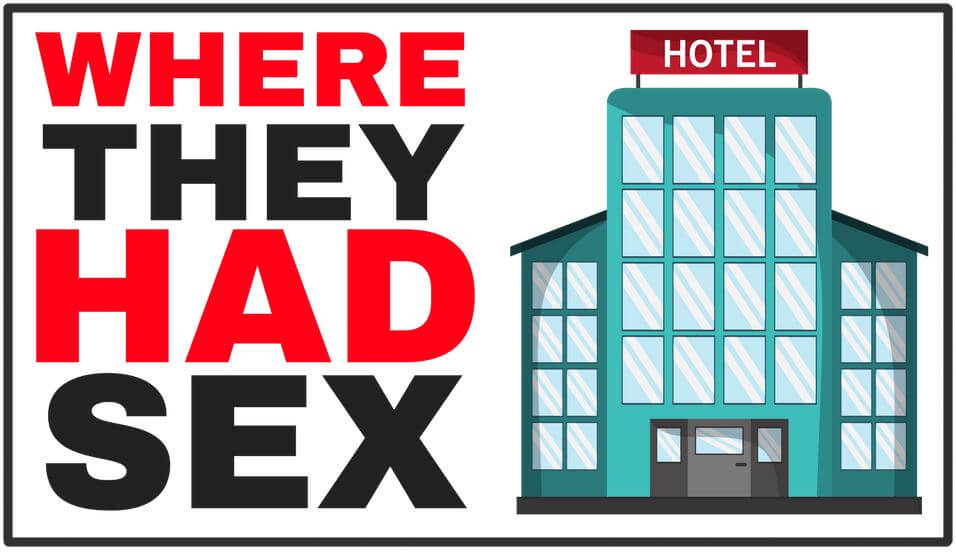 We needed a good setting, both of us agreed that we weren't sold on the idea of having her in our bed. We both wanted somewhere that we had no relation to, that when the door shut and we all left, we could leave it behind us.
Hotel far away from our house
We opted for a hotel that was far from home, it was far enough away that the chances of running into anyone we knew would be nearly impossible.
Even to this day (a few years on) we still enjoy keeping our fantasies and everyday life away from each other.
Keep small talk to a minimum
We spoke to our three-way partner over text and phone calls and agreed on everything we did and want to do. We made sure we were all comfortable and understood the rules. She was so up for it and when the hotel was booked, we gave her the dates, gave her the room number, and just waited for her arrival. When she came in we didn't talk, just said hello and undressed her.
Hit the music, light the candles and get your body under the covers
We didn't want things to get awkward so I undressed her in the hotel room that was lit by candlelight and we made sure that no lights were on. We wanted everyone to just let themselves go and the best way to do this is to hit the lights, light one candle, and play a little music for background noise.
What Rules Did We Give Each Other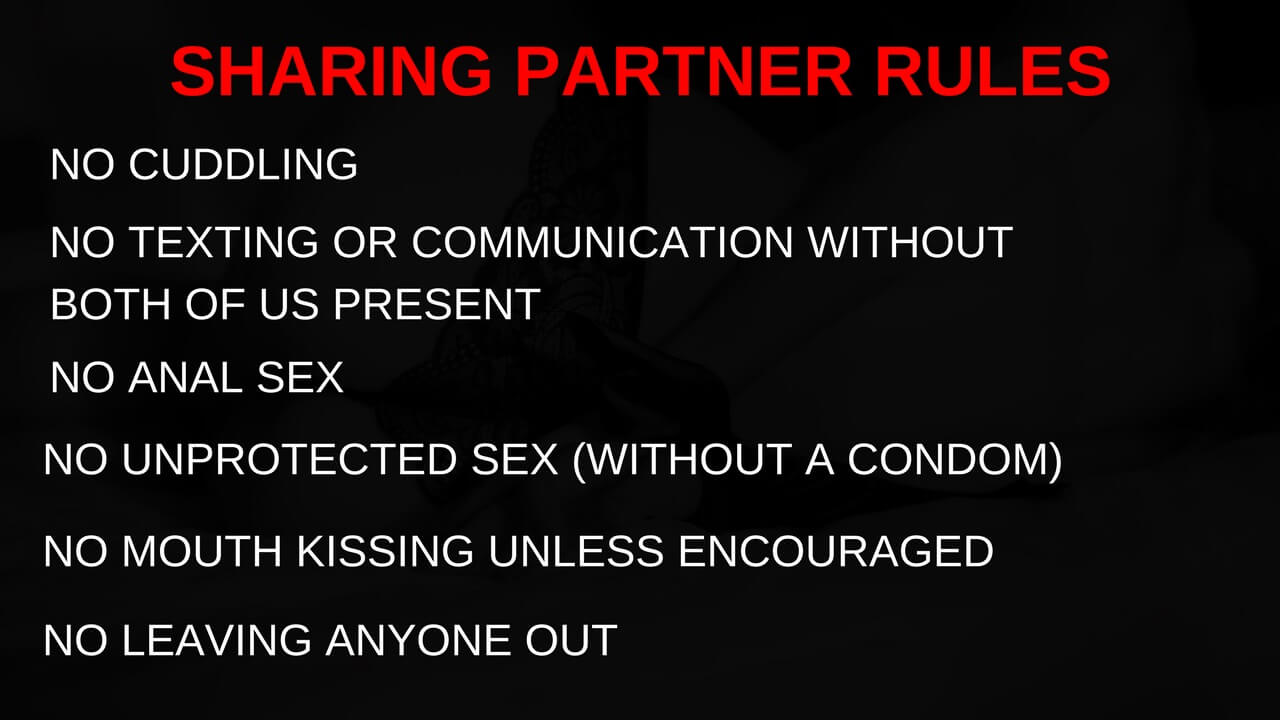 I wanted to highlight some of the rules that we gave to one another, we all had our specific needs and wants and by laying down some ground rules we got an amazing perspective on what we all wanted and needed from this.
No Cuddling
No Texting or Communication without both of us present
No Anal Sex
No Unprotected sex (without a condom)
No mouth kissing unless encouraged
No leaving anyone out
The Day of The Threesome (My Threesome Story)
On the day of the threesome, we found we were both nervous, neither of us knew why we just were. We ate a HUGE breakfast and made our way to the hotel.
We both showered and even had a little foreplay, making sure not to cum. I blew my boyfriend on the bed after our shower and when we got back in the shower he slid himself inside of me.
It wasn't long before we heard that little knock on the door.
As she came in I felt my pu**y become instantly wet, my boyfriend was in the bedroom, draped in the duvet, he was rock hard.
She came in, dropped her bag, and made her way over to me. She was perfect. Innocent looking but wild under all of that shell, she was slimmer than me and her boobs were bigger but she turned me on so much.
I slid her top over her head to discover she wasn't wearing a bra and pulled down her skirt to reveal her pantyless crotch that looked so damn inviting. I had a few lesbian experiences before this but this woman drove me wild. She smiled and my boyfriend and licked my nipples and pushed me onto the bed and that's when she went down on me. It felt totally different from what I was used to, her mouth was soft, there was no stubble, she knew exactly what would feel good and I found I was moaning way too loudly.
My boyfriend made his way over to me and gave me one of the most passionate kisses before taking my nipples in his mouth and doing that thing I love with his tongue.
I must admit, although it felt incredible I wasn't sure how to move on to the next bit. If I made her stop it would be awkward but I wanted to see my boyfriend go down on her.
I slowly shifted my weight so that I was sucking off my boyfriend and she came up and began to kiss my boyfriend's neck, I moved out of the way as he moved to go down on her and I kept my head with hers so that I could touch her clit and nipples.
I have always loved being submissive and this was the ultimate fantasy, read my BDSM story to hear all about what I like in the bedroom.
Seeing my boyfriend going down on her made me lose control, it was so sexual and she knew it was driving me wild and made me sit on her face. With that, my boyfriend eased himself into her tight pu**y and he pulled his head back in pleasure. She began to moan and that tipped my boyfriend over the edge, he came virtually straight after that and apologized.
He went off to take a shower and we left awkwardly giggling but that's when she went down on me again, put her butt in the air, and licked me like an utter professional.
When my boyfriend came out the sight of us made him rock hard again and he slid himself back into her, this time lasting slightly longer.
Watching him pumping away at her tight pu**y was thrilling and seeing the pleasure it gave him made me want in.
Me and this woman lay next to one another as he thrust inside of me and then her as if perfectly coordinated, we were both dripping wet and him sharing us was breathtaking.
What Did It Feel Like After He Cum Inside Her?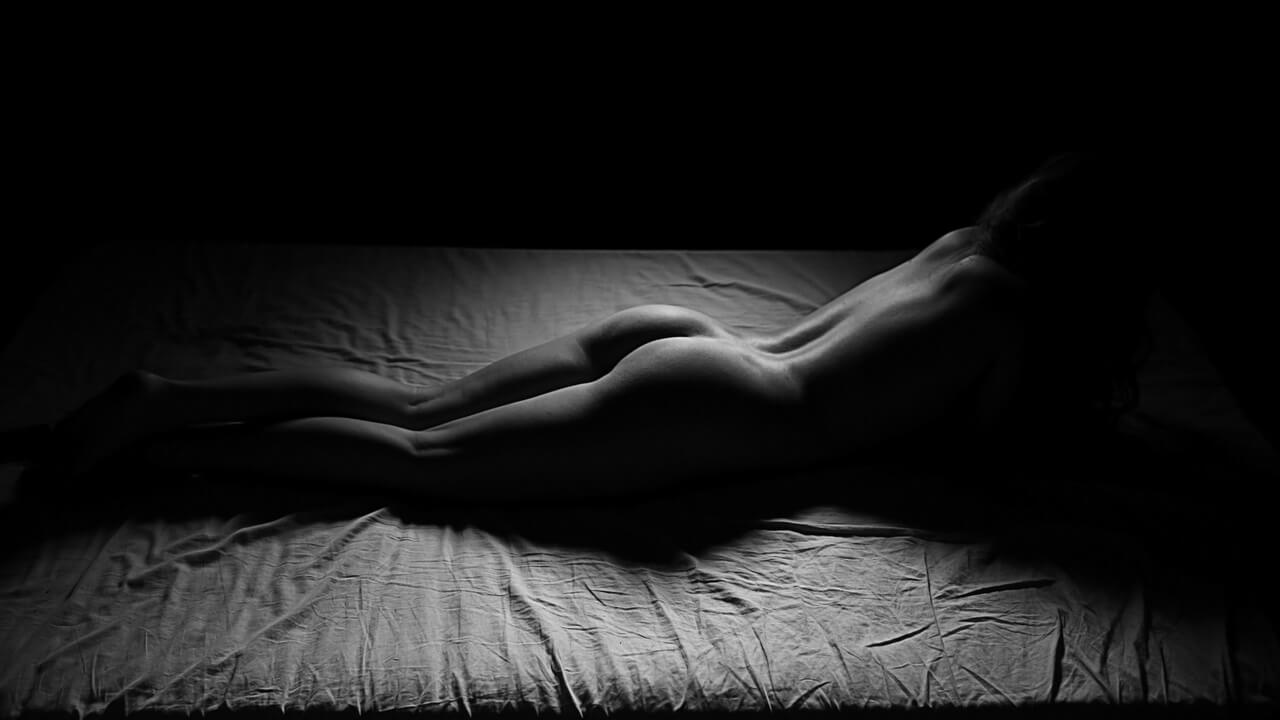 I thought this bit would bother me the most but it didn't, when I saw him climaxing he looked like he was in utter ecstasy and he always made sure to smile or wink at me, leaving me weak.
After he came he would take a break and shower or just nap for a while and we all did the same. Early evening we ordered takeout and watched TV like friends but once we had all finished a wave of lust and pleasure came over us and with filled bellies we found ourselves to be extremely horny all over again and it all started again.
Around 11 pm we were all exhausted, she jumped in the shower whilst we both lay on the bed, she got dressed, kissed me passionately and left. It was perfect and so hot.
Q & A About Sharing Your Partner (Is it worth it?)
I wanted to do a small Q&A about sharing your partner and what it entails, if there's anything I haven't answered and you want to know, let me know in the comments below and I will be happy to answer anything.
Should you share your partner?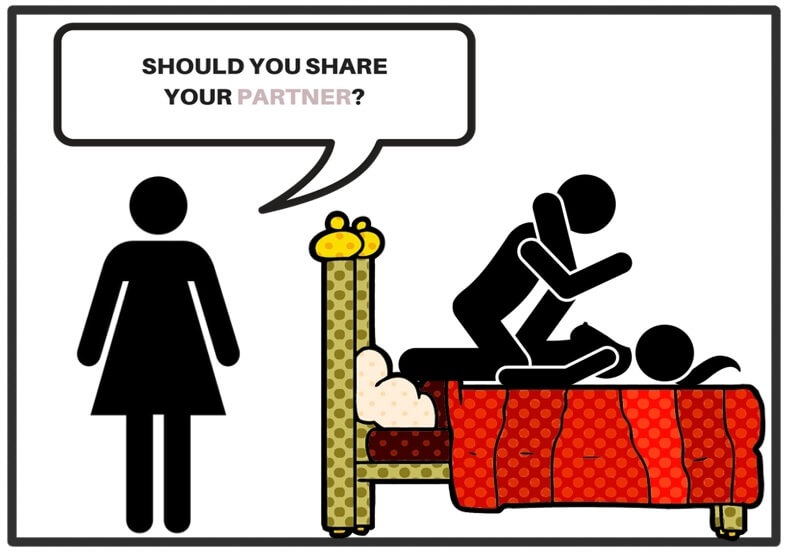 Sharing your partner is something that really needs to be talked about between you both, you both need to think long and hard about how you will feel after.
The dangers of sharing your partner are that you will change your mind beforehand or during the threesome. You really need to be sold on the idea and both aware that this could change your relationship. I was lucky because we had only just started being an item so both of us could have lived with it ruining us as an item, luckily it didn't but it was something we took into consideration.
Another danger is not practicing safe sex, hopefully, the person you pick to share your partner will be clean and happy to use other forms of contraception but it is a risk you have to be willing to take. Make sure to learn about safe sex.
Where jealousy will come from:
– Your partner being more aroused with them
– Them being better in bed/hotter than you
– The day after when you realize it wasn't what you wanted
– If the person you're sharing them with gets a deep attraction to them
All of these things need to be taken into consideration and talked about, if you have concerns about any of these things before you have your threesome there may be issues later on.
How can I avoid threesome problems?
These problems arise only if you haven't discussed every possible detail with your partner, ensure you can tick all of these things off of your list.
Trust your partner
Make sure you, your partner, and the third person understand every rule
Are you and your partner on the same page?
Both experience the same things
Don't one-up each other
CREATE RULES! (Most Important)
Talk about your feelings (if you can't do this with your partner now, then don't have a threesome)
Practice safe sex
Ensure you are both 100% up to it and understand the risks
How do you find a person to have sex with?
Finding people for a threesome:
Tinder/Dating sites and apps
Clubs/Sex Clubs
Sex Parties
Friends
Specialized websites
Ensure the person is right for you, talk to this person over the phone, text, and even meet with them beforehand if you need to. The only bullet point I would be the wariest of is trying to have a threesome with one of your friends, this can change not just your relationship with them but with your partner too as this person is going to be in your life for a long time. With the woman we had our threesome with, she was out of our lives as soon as she shut the door.
Has it changed your relationship and would you do it again?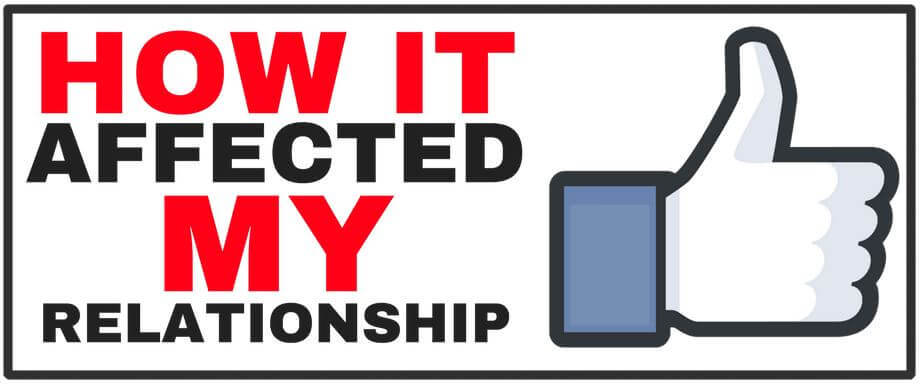 It didn't change our relationship at all, in fact for days all we could do was talk about it and how good it was. It still is stored in my brain for when I really want to get off and masturbate and I assume that also goes for my boyfriend.
However, if you read my blog you will know that we did actually make a pact to not have any more threeways, this wasn't because we had a bad experience but because we wanted to see if we could be 100% committed to one another and so far it has been a wonderful ride. Nevertheless, after swirling up old memories from writing this article I do have a sneaky suspicion we will probably do it again soon.
How can I get my partner to try it?
A lot of discussions is important, bring it up with your partner and see their reaction. All you need to do is get the conversation rolling to see what your partner's thoughts are.
There's also this awesome website that is like a sexual fantasy test that both you and your partner take and then it compares your fantasies so you can see where you both are in terms of sex and fantasies.
I'm Jess and I'm a woman in my twenties. I created this blog to share my sexual experiences along with the experiences of people from all walks of life. I am actually quite introverted, but my boyfriend and I have a semi-open relationship and it's really helped me open up and experience things I never thought I would and that's one of the biggest reasons I created this. I hope you enjoy my blog as much as I enjoy writing for it. Read more about me.