I too used to shy away from glass sex toys, thinking of splinters, shattered glass and all kinds of other things. However, when I started reading up on them I realized that actually none of this was true and if you buy high-quality glass sex toys you will never have a shattered glass dildo and all of the glass sex toys that I bought that are below are made from skin-safe glass and high-quality materials.
I just wanted to mention that if you're into sex stories, I have my very own sex storybook that you should check out.
There's something that turns me on so much thinking of the clear sex toys coated in my own personal lubrication and being able to see straight through them, it is incredibly sensual and turns me on just handling them and imagining what they look like thrusting inside of me. I also love the hardness and rigid feel of a glass sex toy, I find them incredibly alluring.
Not only do glass sex toys look SO incredible thrusting in and out of you or your partner, they also feel amazing to handle and can pass off as being a lot more expensive than they actually are.
Something else that I love about glass sex toys is that you can experiment with temperature play and they feel amazing to roll over your skin and thrust inside of you when they are in differing temperatures. Below I talk about my experiences with temperature play and why you should try it too.
Anyway,
glass sex toys quickly became a huge kink of mine and something that really turned me on and thus began my collection of them. Some are so pretty that I just want to leave them on my mantlepiece but once you give them a try inside of you, keeping them away from you is the last thing you want.
I have tested everything from plain dildos all the way to bumped and ridged anal probes and below you can read all about how they felt inside of me and why I recommend them.
The Best Glass Dildo I've Ever Used
This is my ribbed G-spot glass dildo (best place to buy in Europe), it glides inside of you and firmly pushes your G-spot with military precision. It feels amazing and really sensual to play with, I experimented with some temperature play with this glass dildo and found it does make the whole experience a lot more satisfying.  Something else to note is that it is pretty versatile as you can turn it around and experiment with the ribbed side, I did coat myself and this glass dildo in water-based lube before doing this but Oh My God it made me CUM insanely hard.
It's so pretty to look at and really not intimidating to use, if you enjoy G-spot stimulation, this glass dildo is outstanding.
This Glass Sex Toy Kit Is Amazing!
Created by Tracey Cox (who I LOVE!), this set of glass dildos are perfectly designed for those looking to experience and stimulate either their P-spot or G-spot.
Both are shaped differently so there are so many variants of fun to be had with this dynamic duo. The bulbs and ridges on each of these dildos do different things to your body and both can be dipped in warm water or stuck in the fridge so you can experience different levels of pleasure.
Tracey Cox has designed these sex toys knowing precisely where each ridge and bump should sit inside of you and it's done with absolute perfection. They are made with extremely high-quality materials and even when you handle them they feel expensive.
I loved this set as it meant two for the price of one (who doesn't love a good deal) and it also meant me that my boyfriend could both experience with different shapes and sizes.
Thick Glass Dildo
This next glass sex toy is this realistic textured glass dildo, it has some of the best stimulation I have ever felt from a dildo, grinding up against it when it's inside of you just stimulates all sorts of things inside of you and I can't even explain the sensations.
You can use it anally or vaginally (I prefer vaginally but I have experimented anally with it) and something that makes it feel breathtaking is letting it soak in some warm or cold water (I prefer warm) for a few minutes and basque in the realistic sensations.
As I am sure you can see from the photo, it is one of the most realistic glass dildos we have come across so far. If you're into realistic sensations, a realistic-looking dildo, and added stimulation on top of all of that this textured glass dildo is definitely one for you.
Something I would recommend is using water-based lube with any glass sex toy as they can be a little rigid and lube makes them a lot more enjoyable and slippery.
One Of My Beautiful Glass Sex Toys
One of the most beautiful sex toys I own is this wavy glass dildo. When I say you can feel every inch as it slips inside of you I am not exaggerating, you can literally feel each 'wave' making its way inside of you and pushing up against your G or P spot.
The finish of this dildo makes it look as if it could literally be part of the furniture, it is so beautiful and actually quite hard to get messy as it looks so stunning in the sunlight.
I do love having completely clear glass dildos as there is something so sensual to me about seeing everything that's going on but this wavy dildo was too beautiful to go unnoticed.
I have had some great times with all of my glass dildos but this one makes me smile at my keyboard as the insertion process is one of a kind and makes me feel all of these old sensations all over again.
This One Is Ribbed For My Pleasure
A beaded 8-inch glass dildo is not something I thought I would ever be talking about on the internet.
This dildo was one I never thought would be for me, I love ridges and bumps and something that can really push my G-spot to its limits but this dildo always seemed a little intimidating, until I tried it.
It's unisex so if my boyfriend is feeling kinky we do look to test out what we can on him but if he isn't in the mood, I can take it all in me, which I love.
Looking at it it can be daunting but as soon as you're all lubed up, in the mood, and relaxed, it just glides inside of you and the large bumps feel spectacular as they push and press all of your buttons.
Like most glass sex toys you can submerge this in cool or warm water and experience temperature play which is something I highly recommend with this particular glass dildo (especially if you are planning on using it anally!).
The Tentacle Dildo (Don't Judge Till You Try)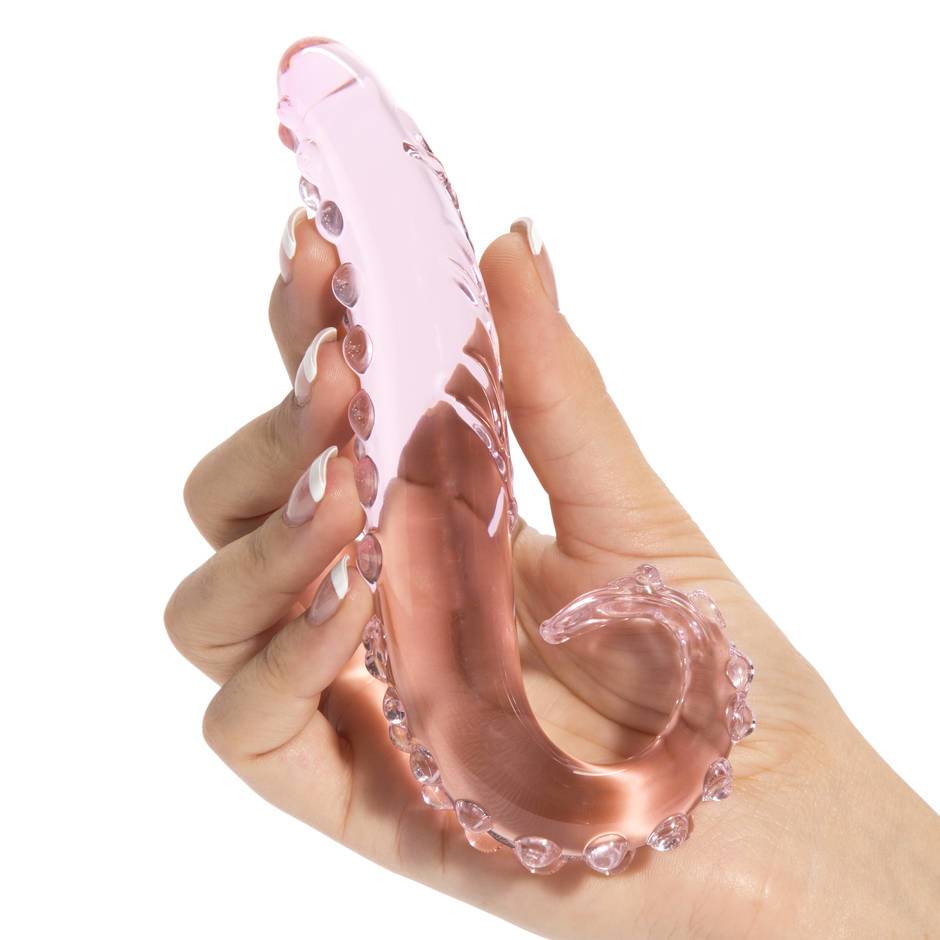 I know this tentacle 6-inch glass dildo looks a little strange, especially if you aren't used to sex toys like this one but give it a chance.
The rows of bumps, nodules, and 'veins' feel out of this world when they're inside of you, they stimulate things that you didn't know could be stimulated, it's also really easy to hold and use despite its deceiving appearance.
It stimulates you with ease and makes G-spot orgasms come to life, just make sure to use some water-based lube to make it extremely slippery down there.
I also loved how easy it was to conceal. The clear pink outer demeanor, nodules, and shape of this glass sex toy stop it from looking like something that you would insert inside of you and makes it look more like an ornament.
How To Use Your Glass Dildo
1. Unpack your dildo from the discreet packaging (if you buy them from LoveHoney where I buy all of mine from the packages always come discreetly). Carefully read through all of the advice and care tips for your glass dildo, you want to make sure you are taking care of your new sex toys to prolong their life and ensure you know what to do and not to do.
2. Experiment with temperature play by popping your glass sex toy either in the fridge for 10 minutes or in a bowl of warm water for 10 minutes. This also feels great if you're going to use your glass sex toy for a massage. I really recommend testing out with temperature play, it's something not a lot of people experience because they are not sure it will feel any different and they usually can't be bothered but it's really worth the few minutes as it takes your experience from a 10 out of 10 to a 20 out of 10.
3. Lube up! This will make your glass sex toy feel amazing and help it glide inside of you. I say this way too much but lube is essential when using any sex toys, it stops wear and tear, aids them in feeling amazing, and stops any friction.
4. Enjoy! enjoy your glass sex toy to your heart's content, whether that's vaginally, anally, or even as a massage accessory. Get the most out of your sex toy but doing what feels right, reading up on guides, and even just fooling around and testing out new techniques.
5. Wash your sex toy with some warm water, dry it properly, and store it away. The great thing about most glass sex toys (especially mine) is that they are pretty enough to leave out on the side and I don't have to worry about anyone finding them.
Tips For Using Your Glass Sex Toys
I wanted to share some of my tips on things that I do for my glass sex toys that make using them even better and maximize every ounce of pleasure that I can experience with them.
All of my glass sex toys are made from this special glass that makes them skin-safe and allows you to not worry about splinters and smashing your dildo, so if you go for a dildo that isn't mine and is from a completely different store just make sure its skin safe.
I know it is said so much but using water-based lube is a must with any sex. We all love the rigidity of glass sex toys and is one of the reasons that I do buy them but using just a quick squeeze of lube makes them so much easier to use and they feel so much better.
If you're new to the glass sex toy world and you are planning on using them with your partner, try using your new sex toy solo first to get used to how it feels and the different sensations. They do feel unique to other kinds of dildos and you might want to take them for a trial run on your own first. I recommend this with any new sex toy, give it a test run, see how it works, see if it needs charging or if it needs new batteries, and familiarize yourself with it first. This goes for if you are alone or with a partner, you don't want a mood killer.
Try and keep your glass sex toys in individual little bags or spaces, even if that means they each have their own little satin pouch. Of course, your glass sex toy won't smash after bumping into others but it will help it to maintain it to its highest quality and stop any damage.
Most of my glass sex toys come with their own little pouch or storage bag but you can pick these up anywhere. If you really want to save on costs you can use spare pillowcases to store them in to stop them from becoming damaged.
I'm Jess and I'm a woman in my twenties. I created this blog to share my sexual experiences along with the experiences of people from all walks of life. I am actually quite introverted, but my boyfriend and I have a semi-open relationship and it's really helped me open up and experience things I never thought I would and that's one of the biggest reasons I created this. I hope you enjoy my blog as much as I enjoy writing for it. Read more about me.