We all have kinks, right? I have a lot, which you will know if you read my blog. One I don't think I have spoken about much is my kink for edging my boyfriend and controlling his orgasm. It gets me off in ways you wouldn't even imagine and it makes me so happy at the same time. Whether you want to learn how to do it or just how I do it, read on. If you have any questions about orgasm control, just leave them in the comment section below.
---
Make sure to also check out my VIP membership where you will find erotic stories submitted by real people, indecent and uncensored images, raunchy videos, and a community of like-minded people.
I Have A Kink For Controlling My Boyfriends Orgasm
Why does it get me off? That is usually the question on people's lips. How can it be that making my boyfriend essentially suffer makes me happy? Well, it's not as complicated as that.
I love building him up, having full control when he cums, playing with different toys, and teasing him so that he is practically leaking cum when I am finished with him and then I play with myself and get myself to the point of orgasm and have us both cum together.
I love to see him explode, I have a bit of a cum fetish, so it's so hot seeing how much and how hard he cums.
I also love ruining his orgasms (but that's a whole other story).
The Most Intense Orgasm Of His Life

A few weeks ago I felt like a being a little slut for my boyfriend, I got on my favorite lace lingerie and I asked him to come to the bedroom with me.
I asked him to get fully naked and put a blindfold on and I restrained him with my bed restraints. He was already fully erect, he loves it when I come onto him like this. He had no idea what to expect or what I was planning, he just knew I was very horny and wanted to have my way with him. He didn't know this was going to be the hardest he had ever cum in his life.
I started with just my mouth (edging blowjob)
He was restrained, laying down and I started by using my mouth. I did what is called 'an edging blowjob', I teased his penis using my mouth. By kissing, sucking, and licking his cock, I was stimulating him in all the right ways, bringing him to the point of orgasm and then stopping, kissing his body, and going back down again.
By bringing him to the point of orgasm a few times and back down again, it makes him desperate and it makes for every touch to be way more sensitive than it was. The constant teasing drives him wild and I love making him feel utterly powerless.
Tasting His Precum
When I started tasting his pre-cum after a few times of building him up with my mouth, I knew it was time and that he was on the brink of a crazy orgasm.
This time the pre-cum came far too early for me, I had much more playing to do so I knew I had to stop with the edging blowjob or he would blow his load, I wasn't done with him yet.
Time To Stop The Fun
Once I had tasted his pre-cum it really was time to stop so I left him there, tied up, blindfolded, and went and got myself a drink.
He needed to cool down, his boner needed a rest and I guess the power of having so much control over his pleasure went to my head :O
Time To Use My Hands (Edging handjob)
Once he had time to cool off and reset his erection back to 'not about to blow' it was time to edge him with my hands. I lubed him up, using my favorite lube and my spit, and gripped his penis, I moved so slow and once I got to the tip I'd just lightly pulsate/grip the tip of his cock.
I did this for about 10 long minutes. The lube wasn't needed towards the end of the ten minutes as his cock was dripping with pre-cum once again. Each stroke made him moan louder, I had never, ever seen him lose control like this before and it was hot.
Going To My Toy Box (He needed another cooldown)
He was on the brink of coming from me just moving once again so I needed to cool him down. I went off and left him, heading towards my toy box to see what I could use to get him off this time.
Mmmm, what should I use?
I got

my vibrator

, I love this thing I use it all the time.
A

cock ring

(I needed him to stay fully solid).
I headed back to the bedroom, I had been gone for around 10-15 minutes and he had cooled down again, being left alone with his thoughts, not being able to touch himself had helped. I took my vibrator and I just held it on his frenulum and the tip of his penis.
The vibrations trickled through him, his cock was throbbing and he wanted to cum so bad.
I then moved the vibrations to his balls and his cock was pulsating. I could see the veins pumping, he was in agony internally trying not to cum but I told him to hold it.
He was so close…
Guess, It Was Time I Masturbated
I sat next to him and used my magic wand, got myself close to orgasm and then stopped.
He was enjoying my moans too much and I thought it might push him over the edge.
His cock was leaking at this point
I've never seen it before, it was just a constant stream of precum dripping from his cock, I'd worked him up so much. I felt so powerful and I was soaking wet myself.
Letting Him Inside Me
I straddled him, slipping my wet pu*sy down his shaft, and began to ride him, and the second I could feel him about to cum I would just stop.
I wouldn't move a muscle and I would tell him that if you cum before I'm ready, I'll stop everything and ruin it and you won't be cumming at all.
I can be cruel when I'm this horny. I didn't really know I had the power to be that dominating.
Do I Let Him Finish Inside Me?
Eventually, I was so horny and worked up myself I just couldn't take it anymore, I told him not to cum whilst I got myself off on his cock, he was groaning in desperation, gritting his teeth in frustration. I got myself off, cumming all over his cock and as soon as I had finished I told him it was his turn and began riding him again, moaning out loud. He gripped my legs and began to cum, he shouted out as he filled me with his hot jizz, his orgasm seemed to go on forever, as he gripped me and rocked back and forth inside of me. My pu*sy was dripping with his cum, his eyes were squeezed firmly shut and he slept for hours once I climbed off him. He could barely speak afterward, he was in awe.
Tool I Use To For Orgasm Control And Edging
My Trusty Vibrator

– This is the vibrator I use all of the time, it gets me off so easily and it's a lot of fun to also use on my boyfriend in times like these and just when I want to stimulate him in a different way. It's very powerful but easy to use and the vibrations radiate throughout the head of the sex toy, meaning it has a great surface area and it makes sure to send vibrations around the entirety of your pussy and or penis.
A stroker filled with textures

(Amazing) – This stroker is ideal for using when teasing your boyfriend, it is reversible and on each side is a different pattern for versatile stimulation. You slide the penis inside and use it as you would your hand on the penis, the nubs and raised textures provide the penis with a different kind of stimulation to send it over the edge.
Magic Wand Attachment

(This makes him tremble) – This attachment slips onto the wand vibrator that I mentioned first, it is specially designed to slide over the head of the penis and send with it sensational vibrations, the concentrated pleasure gives the penis incredible stimulation and its enough to either make them cum or bring them to the brink again and again.
Cock Ring

– It may seem simple but this cock ring is a great companion in the bedroom. You slip it down the shaft and it allows for a stronger erection by maintaining the blood inside of the shaft. I like to leave the cock ring on when I leave the room to ensure his penis stays erect. It also allows him to last a little bit longer, which when edging, is ideal.
Delay Spray/Cream

(Extra Torture) – This delay cream is for those looking to really test their partner. It desensitizes the penis a little bit for a while meaning they can last longer, however when you are desperate to cum and on the edge, the last thing you want is for your body to be holding you back. It's cruel but kinky to use and I love it.
My Edging Instructions/Challenge (JOI)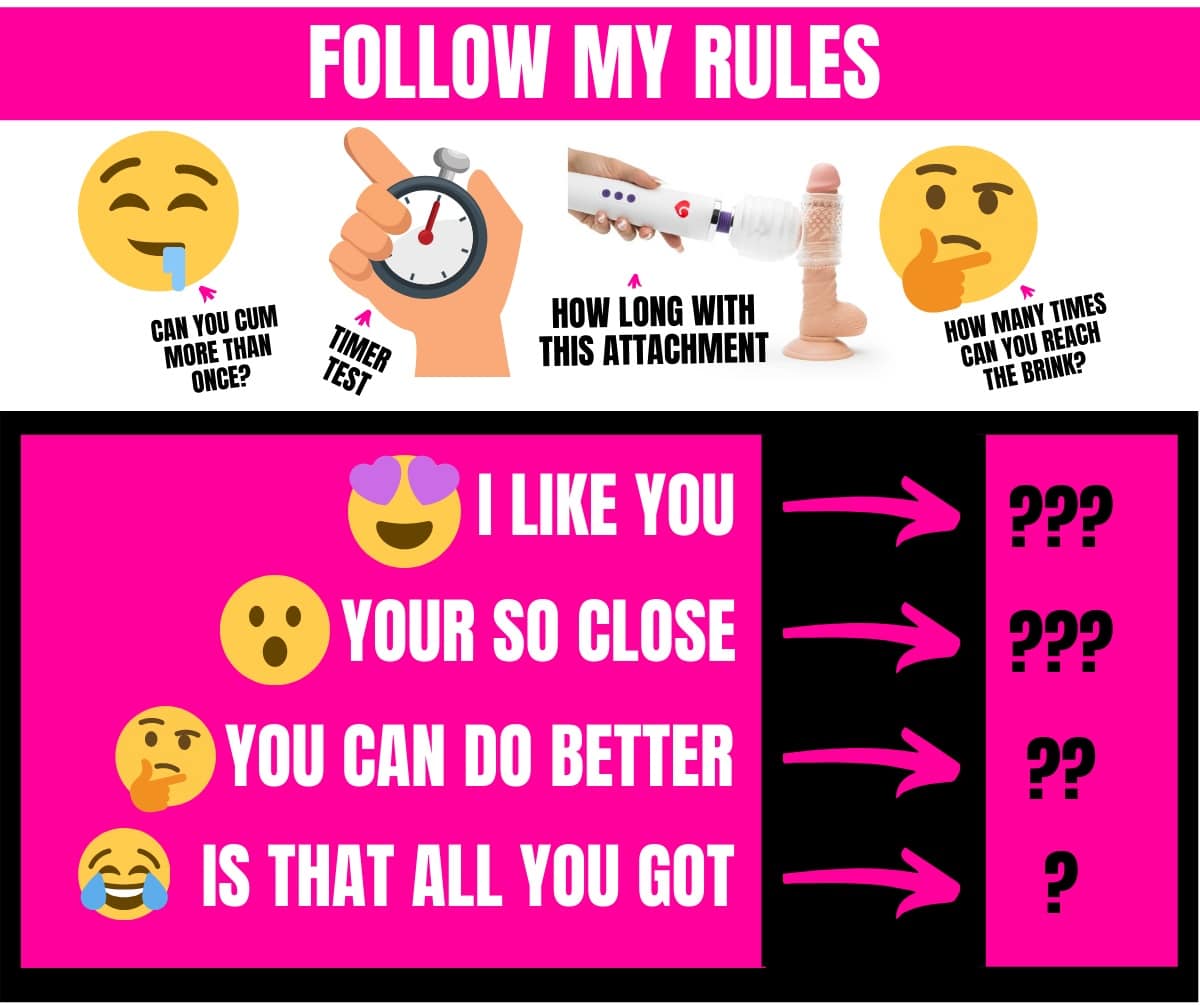 I did a jerk off instruction challenge ( Head there if you want a real challenge) the other day and thought I might give you guys and girls a little game at the end of this article.
I Want You To Comment Below:
How many times to can you get to the brink of orgasm before coming
How Long Can You Edge For (Get A Timer)
How long could you use the vibrator and attachment (mentioned above) constantly before cumming, if you're a woman then how long can you last with just the wand vibrator?
How many orgasms can you have without moving the magic wand, you're not allowed to move it, even after you cum, can you go for number two or three? How about four?
How good was your orgasm on a scale of ten? 10 being the best ever.
I'll comment in the comment section below the answers me and my boyfriend got. I wonder if you can beat us?
Jess xoxo
I'm Jess and I'm a woman in my twenties. I created this blog to share my sexual experiences along with the experiences of people from all walks of life. I am actually quite introverted, but my boyfriend and I have a semi-open relationship and it's really helped me open up and experience things I never thought I would and that's one of the biggest reasons I created this. I hope you enjoy my blog as much as I enjoy writing for it. Read more about me.