Some people couldn't leave their home without their phone, their handbag or maybe even a packet of cigarettes. But I am a little different and once you read all about how I went on holiday and found a sex toy that I now guard with my life, you will be different too.
OK, so I may have exaggerated ever so slightly in the title of this article, my bullet doesn't come with me EVERYWHERE (I don't tend to get too horny on the bus) but trips away with my husband, trips overseas, nights alone and even most nights in the bedroom my bullet is always by my side, like an annoying itch that just won't go away but one I NEVER want to go away.
Truthfully it all started a few years ago when I realized just how easy clitoral orgasms were with a sex toy, yes it's great to sometimes work away with your fingers or have your partner perform sexual acts upon your person but using a sex toy was just EASY. I bought myself a bullet vibrator and the rest was history!
Easy to pack away in any bag and easy to slide out during any occasion, it allowed me to de-stress no matter where I was in the world and it allowed me to get instant pleasure at the flick of a button, something that was never really possible for a girl growing up in the 80's in a reserved and conservative family.
I also quickly want to remind you that I do have my own erotic book if you want to read some of my most true erotic stories.
This Bullet Vibrator Made Me Cum

HARD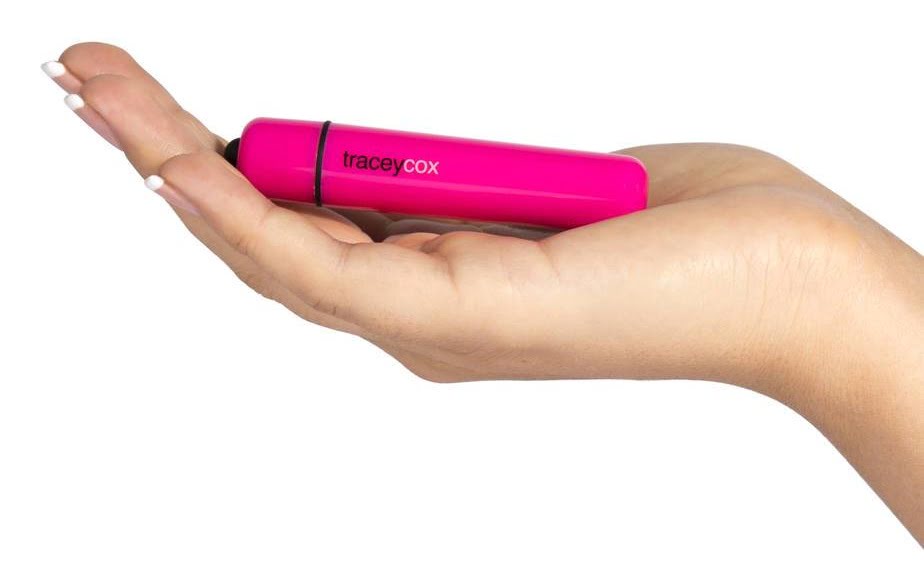 The little piece of happiness I am talking about is this bullet vibrator. It's slim enough to put into most handbags, suitcases or even pocket and although its small, it's mighty powerful.
You know sometimes people look at small women and say ' she's small but mighty'? well, that's this bullet vibrator. It's a little firecracker that hides a well-hidden secret of making any woman succumb to its vibrations, just looking at the photo is taking me back to last night.
I just slide on to my clitoris, get myself comfy and wait for the orgasm that ensues. You can also use it across your nipples, thighs, his shaft, balls and even stimulate around your butt.
This bullet vibrator also seems to always run out of stock really quickly so if you did want to try it out I would recommend buying it whenever it is in stock because it is hard to get your hands on!
Taking This Bullet Vibrator On Holiday (STRESSFUL!)
I don't know who's with me here but I find when I go on holiday it can go one of two ways, I get way too horny sitting on the beach and find myself wanting to find the nearest nude beach and just pounce on my husband at any given chance. I don't know if it's the mixture of sun, jetlag, alcohol or what that makes me like this but going on holiday can awaken a sexy untamed BDSM master within me and there are no complaints from my husband's end.
or,
It can go the other way. I am way too stressed about the accommodation, location, holiday in general that I can't seem to relax and no amount of neck kissing, foreplay or sweet nothings from my husband can turn me on and I sit sulking for the duration of my stay.
I found holidays moved on from 2-hour plane flights filled with hen dos and cheap plane tickets and everyone just suddenly started lusting over the latest islands, the more remote the better. The more expensive the better, the more complex to find the better and that's when my holiday sex drive dwindled.
I don't like to be one of those writers that has a cute epiphany half way through their dialogue but for the purpose of this article and to be oh so ironic, buying this bullet vibrator stopped this sulky sex drive.
I know how cliche it sounds but you don't know joy until you can orgasm as many times as you want in any position and in any hotel room.
Getting it abroad for the first time was hilarious. I felt like a nervous schoolgirl again concealing cigarettes in my backpack but this time it was a bullet vibrator and heaven forbid the angry customs officers would find it.
My husband kept telling me to calm down but of course, that made things worse. The shame of getting caught with this 'thing' inside my hand luggage was too much to bear but when they waved me on through with nothing but a quick glance over my body and I was walking around duty-free just minutes later, I felt powerful. Nobody could have imagined the weapon I had in my hand luggage and by that, I, of course, mean, this powerful bullet vibrator capable of turning even the most uptight librarian into a SEX SLAVE.
Did This Bullet Vibrator Make Me Orgasm?
I was, of course, my usual stressed, sweating mess when we arrived at our holiday destination and although triumphant over my earlier victory, I still wasn't in the mood. No amount of suncream, sea, sweaty bodies or tanned skin was winning me round.
Until I decided to just give my bullet vibrator a go and try and get in the mood solo and in the shower.
That my friends is where I must be careful because this is NOT A PORN BLOG, it's a sexually empowering blog and to put it bluntly, I came so hard not once, not twice but three times that I actually lay down in the shower.
After that point when myself and my husband did make our way to the beach, it was because we absolutely had to and even then all I could think about was pressing that little button and getting myself off again.
I also have been really getting into this small beginner dildo that every woman and man should own. It can be placed on any hard surface and allows me to really go deep and in any position, I need at that moment. Mix this with the bullet vibrator and the orgasms are so powerful for me that sometimes my legs forget how to walk afterwards.
My Partner Used This While He Was

Inside Me
I wanted to share my pleasure with my husband, he could see all of the fun I was having on our holiday and he wanted in on it.
We are an extremely sexually liberated couple but there was nowhere I could think of on his body that would make him squirm with pleasure like I did by using my vibrator.
At first, we just used it on me, I lay back whilst he made me cum again and again.
He then teased me with it, sent it gliding over my nipples, down my torso and lingering over my clitoris and again this made me convulse with pleasure.
However, I still wanted him to get in on the fun, we just couldn't work out how. After a lot of practice, we found that me holding it against my clit whilst he inserted his penis was the best way. He could feel the vibrations echoing through me and on to his shaft.
At first, the vibrations sent him over the edge and we collapsed into a ball of love after hours of endless fun.
However, after a bit of practice, we found we could mutually cum together when I was just about to climax he would let himself go and we found ourselves sharing outstanding orgasms. Other times I would hold the bullet on his balls whilst he thrust himself inside of me and other times I would rub the bullet along his shaft sending him over the edge time and time again.
We deduced that a bullet vibrator doesn't just have to be used in private and focused solely on the clitoris, in fact, it can be used all over the body and in unison to experience powerful orgasms mutually.
I know other sex toys have this ability but I never thought it possible with something as small as a bullet vibrator and nor did I think it possible with something that is geared towards women. Coming from someone who ignored her clit for far too long being able to use the very thing that brings me so much pleasure on my husband was not just a triumph but a turning point in our sex life.
Has My Clit Stopped Responding?
I grew up in a house where my siblings and I thought that even thinking about sex would make God come down from heaven and punish us.
So when I first started experimenting with sex toys I knew nothing about sex and I would avoid my clit like the plague because I assumed the worst, I had heard all of the horror stories from the girls in my school about dildo pregnancies, blowjob pregnancies, death by kissing and of course the dreaded inactive clitoris.
Avoiding my clitoris was the worst thing I did because I missed out on SO MUCH pleasure and never knew what was wrong with me and why I REALLY struggled to cum.
Once I did finally pluck up the courage to find my clit, it was like a ticking time bomb had gone off inside of me and nothing had ever felt so good. I still worried that sex toys would make my clitoris inactive and unusable but the more I got to know my body and knew how long I had to take to 'cool down' i realized just how wrong all of those girls were and how wrong a lot of people still are today.
Using sex toys DOESN'T make your clit un-sensitive, it doesn't make your clit unresponsive and everything feels just as good as it did on day one.
I have found I need to take little cooldowns between each clitoral session to really have the maximum effect from sex toys but never have I found my sensitivity has dwindled, in fact, that more I have used sex toys the more responsive my clit has actually become.
The key for me and a lot of other women is to take short breaks, use a vibrator for one day and not the next. It's as simple as that, don't let schoolgirls or other sex bloggers tell you otherwise.
Being able to come three, sometimes more times in a row certainly doesn't mean that my clitoris has lost any of its orgasm ability and the more you know of that the better.
How To Make A Bullet Vibrator The

Best Sex Toy EVER
I WISH I could have had some tips when I first started using clitoral sex toys because when I did pluck up the courage to find my clit I was so nervous about doing something wrong or not being able to orgasm that it affected my first experience. Because I am now such an expert (self-proclaimed of course) I am going to share some of my tips on getting the most out of your bullet.
As I said before this bullet vibrator is always out of stock so if it's in stock, I urge you to take advantage.
Power of this vibrator
It may feel a bit too powerful at first, you may even feel like moving it off your clit but trust me when I say persist and resist the urge to move it. Just breathe and relax, once you have overcome that first boundary it's all plain sailing from there.
Have some alone time
For the first time, do it alone. If you're with a partner you may feel the need to moan, you might feel obliged to hurry and you won't fully relax. Sit alone, turn on the bullet and let yourself succumb to the vibrations.
Cumming multiple times
Once you have orgasmed resist the urge to remove the vibrator, this may take you a few tries before you feel ready but keep that vibrator on your clitoris and experience what it's like to ride the wave of the orgasm and climax again and again.
Using it while he's inside you
If you're using your vibrator with your male partner (like I mentioned above), make sure you're on the brink of orgasm before he even thinks about climaxing. This will take time and some skill but you have to 'be there' before him.
Don't over think
Don't think too much, make sure your vibrator has full charge and remember to put a towel beneath you! Things can get pretty hot and sticky down there.
Where I Use This Bullet Vibrator Now I'm Home
– If I am away for work, it is of course with me at all times. How else are you meant to pass the time?
– My bullet is always in my bedside cabinet, myself and my husband use it during sex.
– Into the shower. If I am alone or even if I have a stressful day ahead I take my bullet into the shower and whilst I'm waiting for my conditioner to work its magic I get to work on my own issues.
– Absolutely any getaway myself and my husband go on, it comes with us. If it's not in the bag I will return home to get it.
– I use my bullet most days, whether I am alone or with my husband, it's with me and usually just lingering inside my handbag or bedside cabinet.
Update One Month Later…
One month on from writing this article and I still feel the same way about my bullet. Life has been stressful lately but at the end of a long working day, I can say that using this little charm makes everything better.
I still believe it's a good place to start for newbies and for women and couples who are used to sex toys, it allows for clitoral orgasms and mutual orgasms, it hasn't let me down yet and I wish I could share it with everybody.
I am truly not paid to say this but I did mention before in this article that this bullet vibrator goes in and out of stock dramatically quickly so if you are interested and it is in stock, take advantage because it won't be there for long.