My boyfriend was introduced to pegging a few years ago now. He was hesitant at first, unsure if anal play in such a way was his type of thing but once he tried it, he never looked back, and ever since it has been a rollercoaster of stimulation and mind-blowing orgasms. My boyfriend and I tried every scenario, we roleplayed everything we enjoyed and we found constant new and exciting ways to spice up pegging for us and it just kept on getting better.
The one thing though that both interested us was having a pegging threesome, it's not something that you will find a lot of advice about online, there aren't tutorials or many pegging guides, not many people open up about it but we both found it naturally and it was something that really turned us on. We just had no idea where to even start and kept the thought at the back of our minds until we decided to incorporate our favorite vice; adult toys.
---
Don't forget if you want premium uncensored erotic stories, pictures, and videos from real people come and join us inside of my sensual membership.
We Started By Simulating A Pegging Threesome
It happened all quite naturally, we found ways to make it work for us, and to simulate a threesome we introduced different sex toys to spice things up and imitate having someone else there in the bedroom with us.
It was a lot of trial and error, some sex toys don't do the trick but we found a few really amazing ways to give him mind-blowing orgasms and ways to replicate having a pegging threesome without actually having one, and below I wanted to share our methods with you:
#1 Male Masturbator Method
We tested lots of different masturbators (we have a whole trunk of them) and the two that worked very well during pegging were actually complete opposites in their operation, first up was the hot octopus, I'd just place it on his cock, turn it on and it would do all the work, simulating him in a unique and powerful way. This simulated and stroked his cock into a frenzy and with the added anal stimulation he was uncontrollable and it made him lose all inhibitions and cum so hard.
My boyfriend couldn't last for even a few minutes with it on constantly, so I'd switch it on and off, high and low, to build him up and stop it from being over too soon.
We also tried a stroker for when we're in doggy style or a position where I can reach around and jerk his cock or we also find he can jerk himself off whilst I concentrate on his ass. The nodules and textures arouse his entire shaft and leave him trembling and desperate for us to use it again and again.
#2 Sex Doll Method
This method is one of the most realistic ways that you can simulate a pegging threesome. We had a lot of fun using this ribbed pussy and ass, we placed her on her back and my boyfriend played with her pussy as I pounded his ass and then we would change positions and I would play with his ass as he penetrated hers. This sex doll visually is exotic and tantalizing and internally her textures feel just like the real thing.
There are so many scenarios that can be had with her, you can put your partner and her in doggy style and fuck them both one after the other, you can put her under your partner and have him penetrate her as you concentrate on his butt, you just have to use your imagination and it will take you to places you have never ever been before.
#3 – Suction Cup
We haven't actually used this method yet, but I know some couples are into simulating an fmm threesome by adding a suction cup dildo into play, you just continue your thrusts while your partner has to blow the dildo connected to the wall, bounce on the dildo as you make them blow your harnessed dildo or it can even be connected to a sex-machine for hands-free pleasure.
It Was Time To Try The Real Thing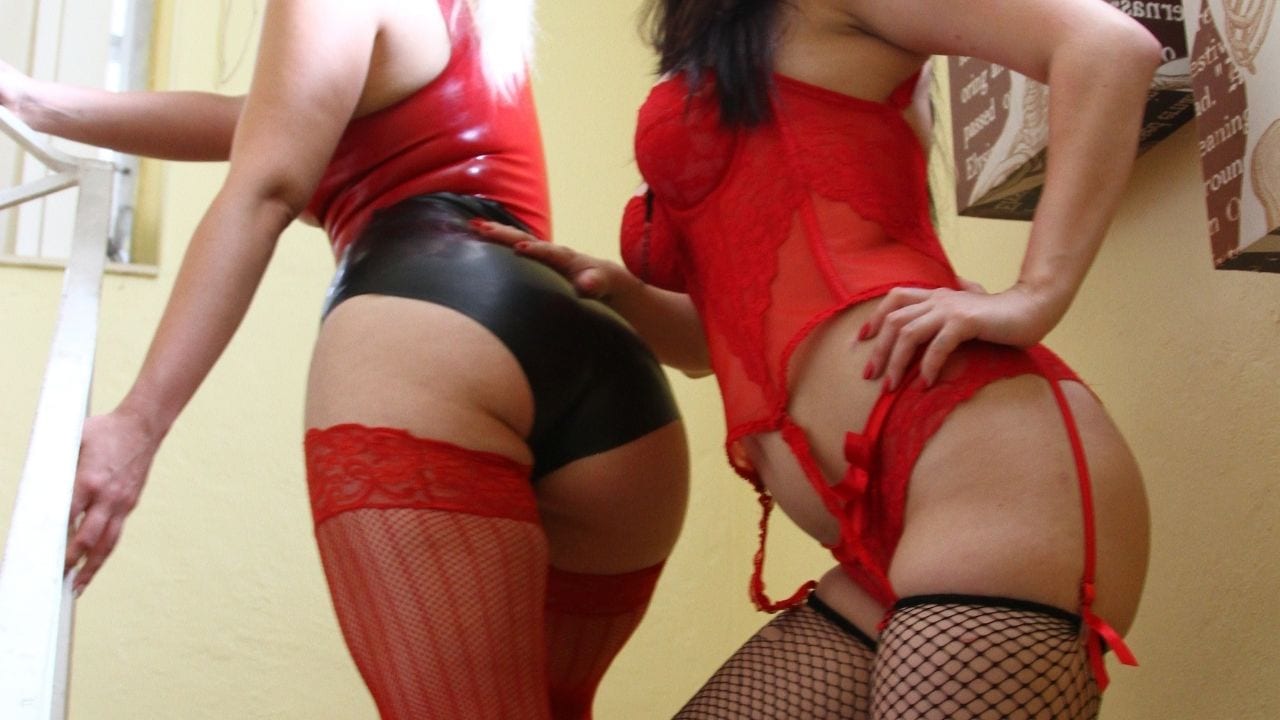 After fooling around with sex toys, re-educating myself on femdom pegging, and learning what we enjoyed when it came to simulating a pegging threesome, we both decided that it was absolutely the right time to try it for real. Obviously, a lot of couples don't go this far, using sex toys is a great way to live out these fantasies without committing to them but it's something we both wanted to try out and I figured it would be great content for my blog!
We play with a few couples, my boyfriend loves to share me and I love to share him as we've talked about many times. One of the women we play with quite often is really into pegging but had never done it with a real couple, so I offered up my boyfriend and we arranged to have a fun pegging threesome. I was nervous and then excited, my emotions consumed me but one thing I did know was how turned on I was at the idea and I knew my boyfriend was going to have the time of his life.
Our First Pegging Threesome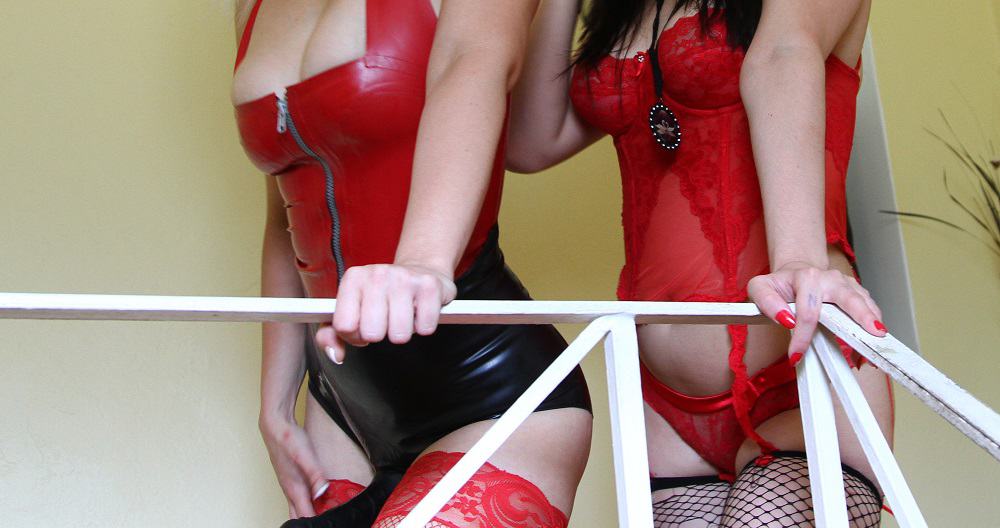 When the time came my boyfriend was really excited and so was I, it's so fun to play with someone who you're close to, there are fewer nerves when it actually comes down to it and when it's done right it's just adults having fun, getting off and making each other cum, plus for this kind of exploration you need someone you really trust as it's pretty intimate and involves a lot of trust on my boyfriend's side.
On the day my boyfriend prepared himself (shaving, cleaning, etc), I got all of my toys and anal lube ready to go and we had everything ready for her arrival. As the day turned to dusk she arrived, we had a few drinks had a catch-up, lots of flirting, and fun, and then it was time to begin. We are all really horny individuals so initiating sex is always easy.
We both started kissing, we then both took turns giving my boyfriend a blowjob, it was really hot, I let them play while I put on my strap-on. My boyfriend got into position and we all fooled around in different positions, she would give him a blowjob, while I was inside him, and then she would offer up her pussy as I explored his ass.
We found the best position for us to be in was with me standing, my boyfriend slightly bent over and his cock inside of her mouth worked the best, but something we all loved the most was a doggy style threesome with him inside her and me inside him.
She also had a try, putting on my harness and dildo she penetrated him, my boyfriend was an orgasmic mess at this point, I just squeezed and played with his cock, while she fucked him in missionary with his legs spread.
The big moment was when he had an amazing prostate orgasm whilst she was playing with him, his cock throbbed and squirted his cum as it was in my warm hands and his entire body trembled as his prostate took care of him, shuddering an orgasm throughout his body and making him cum harder than I had ever seen him cum.
The Aftermath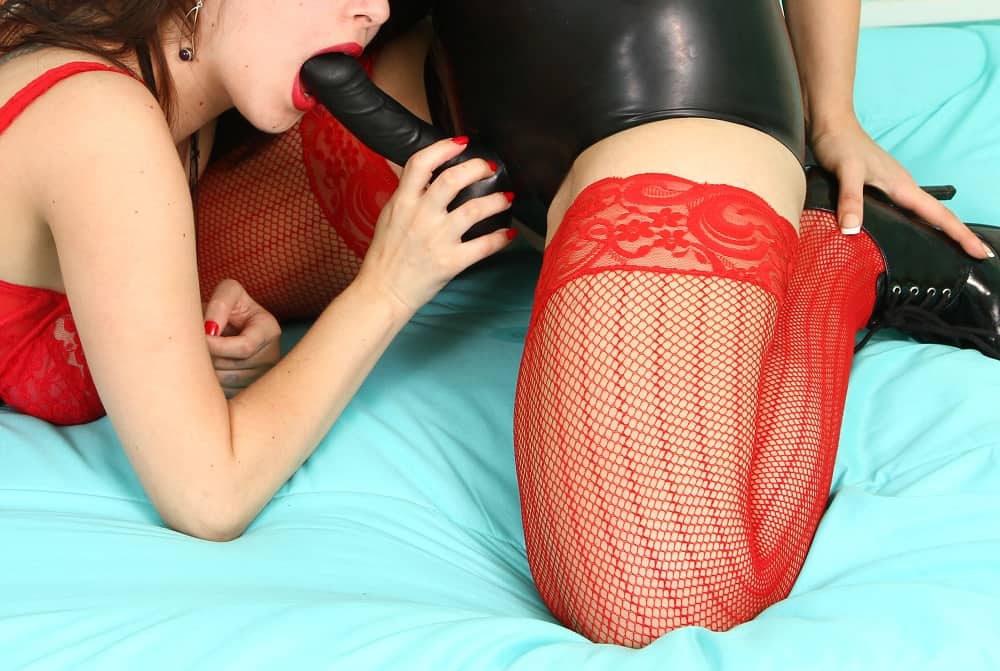 My boyfriend was a shaking mess, usually like I am after being shared. He could barely move his orgasm had been so intense, he just lay there in a state of euphoria. My friend and I were making out, we were both still so horny from what had just happened and although she had already come through penetration she wanted more and we got each other off as my boyfriend lay there watching us, his cock twitching.
Once it was all said and done my boyfriend mentioned his butt hurt from all of the stretching and rough penetration and he said his body felt drained of cum but in the best way possible. We both slept incredibly well that night and our friend said the same, she told us she would never forget her first time.
Would We Do It Again?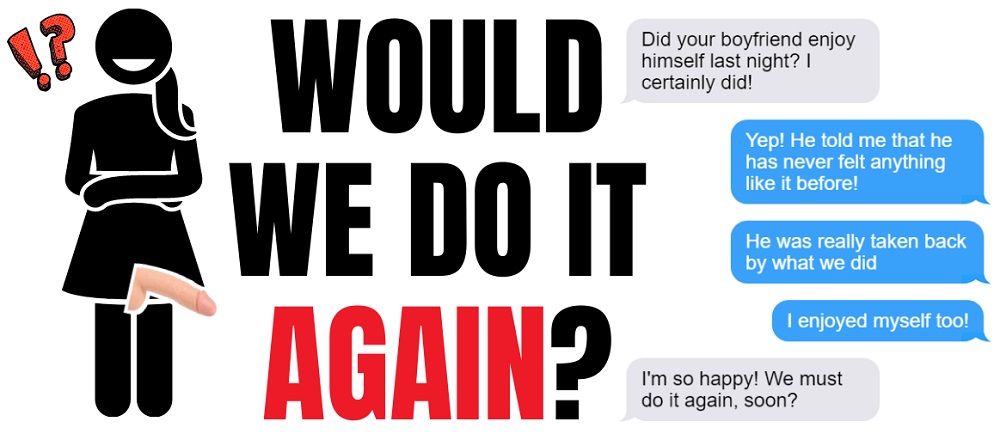 Actually, we have done it since! Our friend who joined us is single and incredibly curious about pegging and she really enjoyed herself the first time around so we started exploring it even more with her and it has been amazing.
The second and third time it just got better and better as we all felt more open and comfortable with the dildos and the harness. Our sessions lasted longer and longer as we all had multiple orgasms and didn't want our time together to end.
Trying it out for real has been wonderful for us and something we are both so glad that we did. If you have any questions feel free to leave them all down below!
Jess <3
I'm Jess and I'm a woman in my twenties. I created this blog to share my sexual experiences along with the experiences of people from all walks of life. I am actually quite introverted, but my boyfriend and I have a semi-open relationship and it's really helped me open up and experience things I never thought I would and that's one of the biggest reasons I created this. I hope you enjoy my blog as much as I enjoy writing for it. Read more about me.