All of us can be incredibly kinky, everyone has their turn on's, turn off's, kinks and fetishes, and loving the beautiful world of femdom is no exception to the rule of kinks. My husband and I happen to love the whole femdom fetish, we have been practicing it for quite a few years now and I feel it's time to finally share my story on how we do it and how we do it really well.
Why I Love Femdom?
Honestly, it's pretty simple. I love femdom because I love being adored, worshipped and most importantly I love being in charge.
Dominating my husband and making him do as I say as well as giving us both pleasure just works for us and we both really enjoy it. I love the aspect of punishment and humiliation on my husband's part, he's a big guy and being able to take control of him and remind me of who is in charge is a big turn on. He loves it too, having a small woman put him in his place and treat him like an unworthy slave makes his cock leap for joy.
My Femdom Story (Getting my husband to worship me)
Contrary to popular belief I wasn't always dominant and actually even now sometimes we switch things up and I become the submissive during sex. However, me being dominant is much more popular between us and since I first decided to do it we have never looked back.
It first started one night when my husband asked if I would like to switch roles, he told me he had seen some video where the woman was the dominant, in-charge, dominatrix kind of character. I was so unsure, I really didn't know where to begin or how I was going to do it but once I agreed, I really got into the character. I had my husband begging for mercy for me to let him cum, I had him on all fours being spanked and I had him eating me out after he had cum in me.
After that night it has been that way ever since but we have gone from strength to strength and finding the femdom community really helped us progress and learn new tricks.
Something I like to do frequently is come home from work, tired and aching from a day on my feet. I sit down on our couch and call my husband over, I tell him to clean up my pussy before I go and shower. I don't thank him, I don't acknowledge him and when I am satisfied I just stand up and leave him there on his knees. When I am all clean and out of the shower I make him sit on the floor until I am happy he can join me on the couch and then I might tease him, making his cock go hard and then letting it go soft again, building him up and if he moans just once I will stop for good until further notice (this can be days). I sometimes put his cock in my mouth, get him to the point of orgasm and stop, sometimes I will ride him, make myself cum and if he makes a noise or cums then there are major consequences and he knows he will be getting punished that night.
Treating my husband like a slave and having him worship my every move is thrilling and I am so happy I found this kink so early on.
Pegging My Husband Like The Little F**k Toy He Is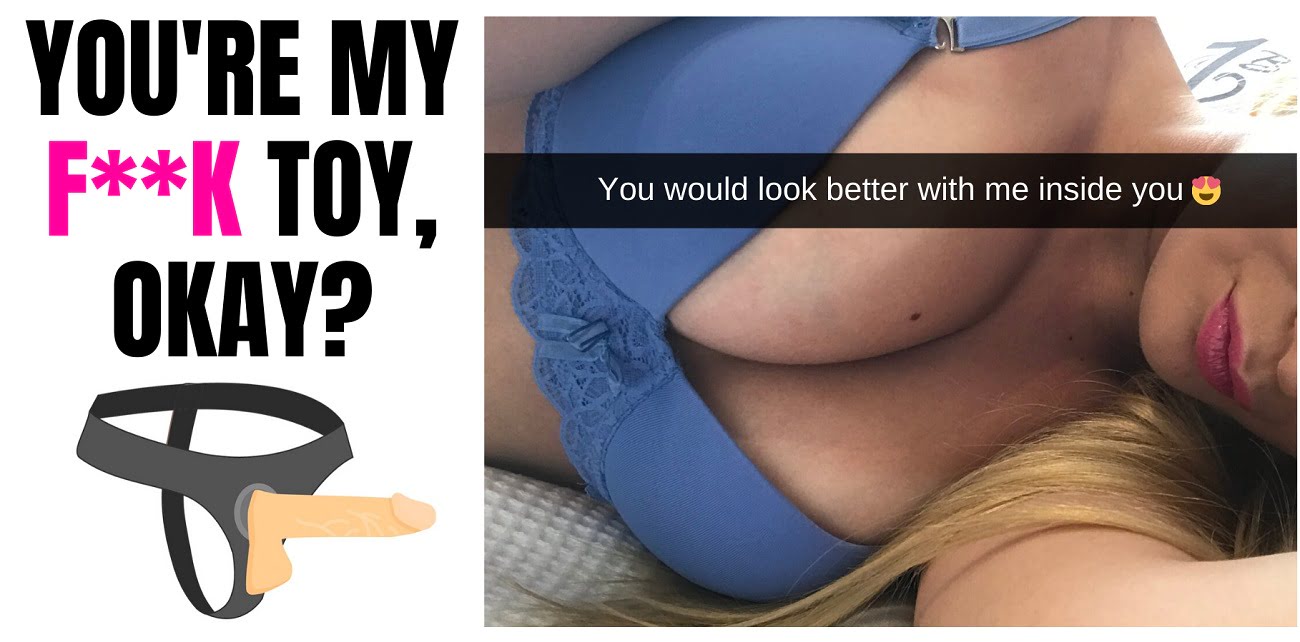 Something we have always enjoyed is anal play but since venturing into the world of femdom we have discovered just how much more fun it can be when I am in charge of my little slave.
One night I decided to take things a little further with my husband, I told him to get on all fours and do as I say. He did so and after I spanked him with a paddle he really began to conform to what I was saying much more willingly and obeying me like the little fuck toy he is.
I pulled out this small pegging strap on, secured it onto myself, and began teasing it into him. I told him to be quiet and I grabbed his cock as I began sliding myself inside of his ass. He was rock solid and I could feel the pre-cum dripping down my hand. I slowly penetrated him, smacking his ass with my paddle as I did so. He moaned a little but I let him get away with it this one time. I fucked him slowly and then I built up my speed, fucking him harder until my strap-on was covered in his milky juices. I told him to touch his cock whilst I penetrated him and he did so, he played with his cock and I told him he could cum if he understood he was my little bitch, he told me he understood and I let him cum, his orgasm was crazy, his cum was everywhere and it seemed to last for ages.
Since he is so good with my small pegging toy we have now we have moved onto this larger pegging sex toy, he takes it all like a good boy, it stretches him out nice and wide and there's always a little squeeze as I first push myself inside but he always takes it. I love fucking him and teasing him, using him up like the little bitch that he is, I may be fucking him but I get so much pleasure from seeing him be at the mercy of me and not being able to cum until I say so. I like stroking his cock whilst I fuck his ass, he can barely string a sentence together but he knows if he disobeys me I will stop and all of the pleasure will stop so he always makes sure I am being adored as I give him this pleasure. Spanking him as I fuck him, keeping him in check, stopping midway to make him lick my pussy, and even stopping altogether until further notice whenever I feel like it is just part of the deal and if he complains, he's going to be punished.
If you want to read more on pegging check out this step-by-step pegging guide and this for more on femdom pegging ideas.
I Started Milking Him Too (Not Letting Him Cum Till I'm Ready)
As a form of punishment, I like to milk my husband. He hates being teased so when he steps out of line, it's exactly what I do. I tease him for hours, I stretch and fuck his ass, suck his cock, ride him, get him to the brink of orgasm and then stop and I even put his cock inside of a chastity device when he has really stepped out of line.
Milking my husband is one of my favorite things to do if you don't know what that is it's basically not letting him cum until I say so and in turn, you get drips of cum and pre-cum. I love keeping him on the edge of an orgasm, driving him wild but not letting him blow. This can sometimes go on for days if I feel like it, it doesn't matter how much he begs he will not be allowed an orgasm until I say so and if he is about to cum and I suddenly change my mind I can ruin it for him and he can't say anything, he just has to thank me for the pleasure before.
I am in total control, I decide how much pleasure he gets when he gets it and how he gets it. Milking him is fun for me, seeing his cock turn red with desperation and rock-solid just makes it even better for me and there's nothing that he can say that will change my mind. It's over when I want it to be and that's the rules.
Facesitting and Pussy/Ass Worship
I love my husband to worship my pussy, my pleasure is the most important thing to him and he has to please me whenever I ask.
I like to come home from work and have him clean up my pussy from the stresses of the day before showering, he is my human pussy cleaner and he can't stop until I am satisfied. I also like to sometimes sit on his face whilst I watch TV, he has to make me cum and then clean up my pussy juices, it all has to be gone, he has to lick my pussy and my ass, ensuring there is none of my cum left and once I am satisfied I sometimes let him get himself off, I won't touch him, he just has to sit there and touch himself, I even sometimes let him know how much of a little bitch he is.
My pussy is to be worshipped at all times, he must treat it with respect and make it feel pleasure whenever he is near it otherwise he will be punished.
My Femdom Toy Collection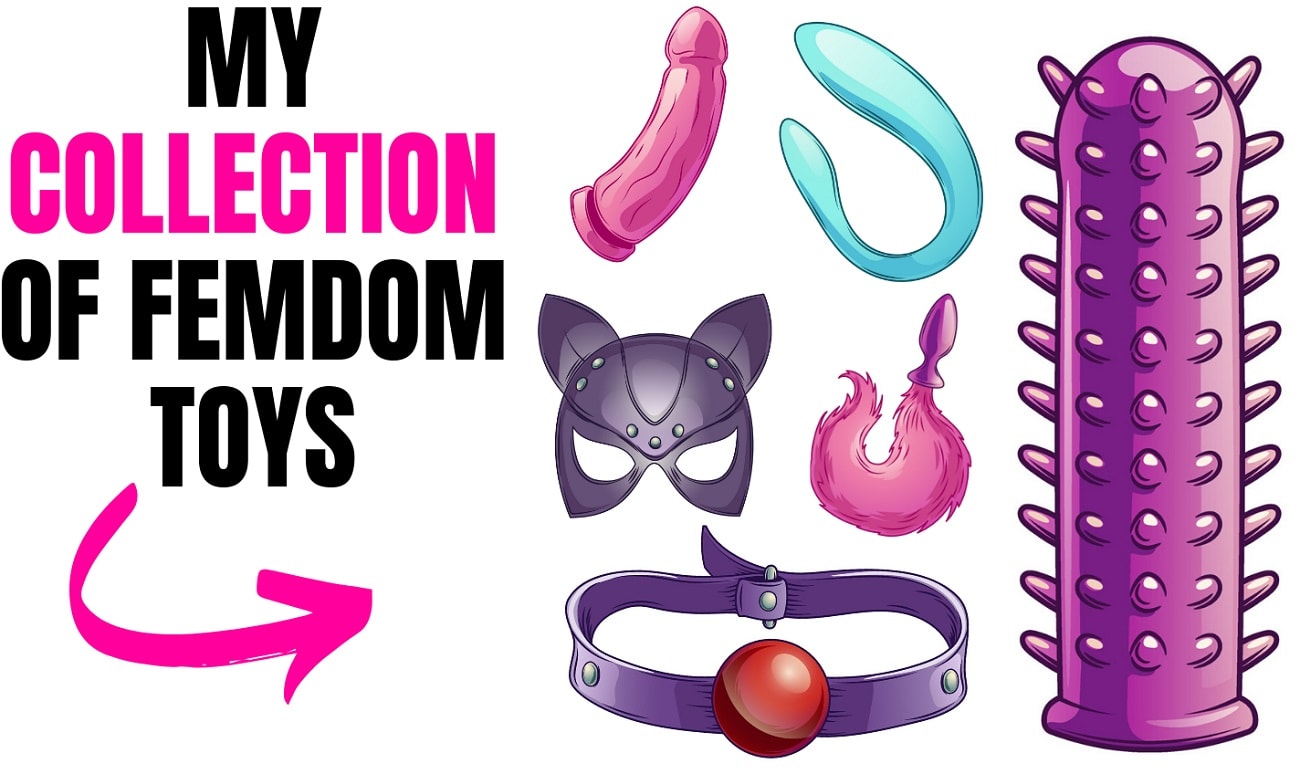 I wanted to share with you the sex toys I like to use on my husband, I love using these toys and they have definitely made our femdom adventure much more fun as I now have a sex toy for whatever mood I am in and for whatever purpose I need it for.
The Strap-On I Use
This strap-on is unisex so it is ideal for those who do like to switch things up from time to time and for us it's perfect, I only ever use it on my husband but it's easy to use, he loves the size of it and it isn't too intimidating for those just getting into to the femdom world. The shape of the dildo is what really counts as it nestles perfectly inside my husband's ass and up against his P-spot which always leaves him shaking with pleasure. The actual harness itself is perfect as it comes with three different O-rings which allow you to try out different dildos, which is great for those who like to experiment and provide different types of pleasure to their little slave.
The Strap-on Dildos I Use (From Small To Big)
I initially bought a strap-on so that I could feel what it felt like to be my husband, being able to dominate someone and actually fuck them was totally mind-blowing and it really appealed to both me and my husband. We started off small and worked our way up and now my little bitch takes my dildos like a good boy and he knows where his place is.
Sex Toy Seat + Prostate massager

One of my ultimate punishments is making my husband sit on this seat whilst I masturbate and he has to watch me without touching himself or getting off in any way. If he so much as moves to get himself off then he will be punished and he knows it'll be bad.
Another one of my lesser punishments is making him use this prostate massager (which is literally virtually impossible to use without cumming), I then make him eat me out whilst I sit on his face and he isn't allowed to enjoy one second of pleasure before I have cum and if my orgasm isn't good enough I will let himself get to orgasm with the sex toy and then stop the prostate massager and walk away from him until he has learned his lesson.
The Only Anal Lube I Use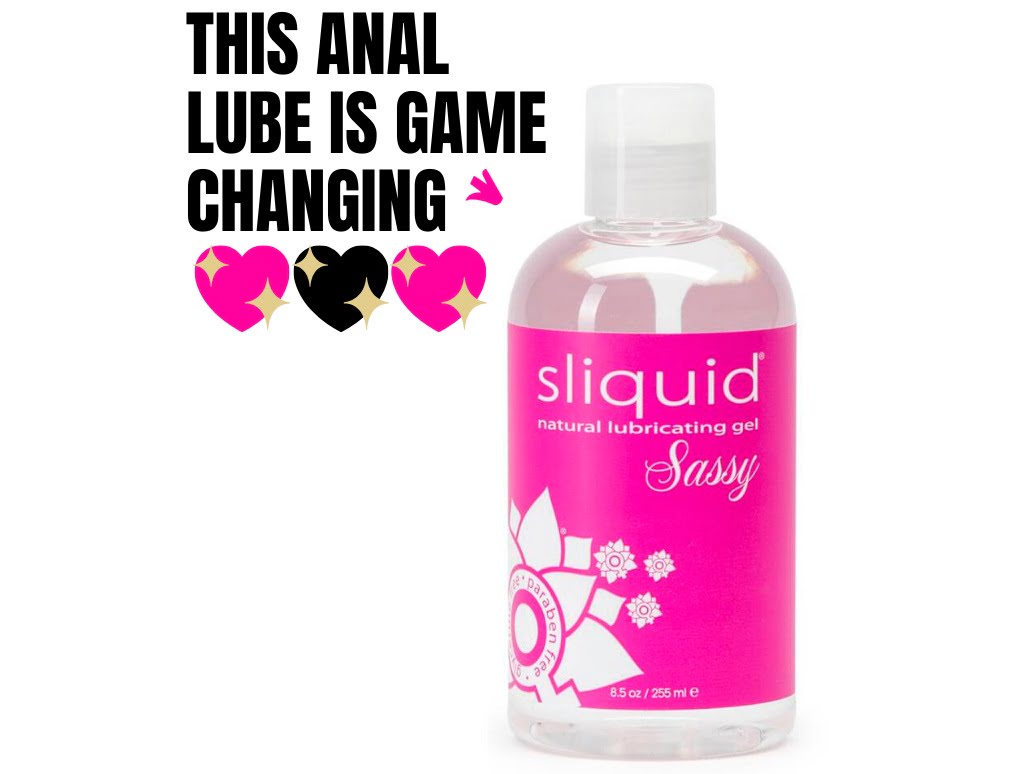 As we all know anal lubrication is so important, even if you are the most frequent anal connoisseur, everyone uses it and I have found where my husbands ass and my sex toys are concerned this anal lube lasts the longest. A little goes such a long way and there very rarely is any need to re-apply. It's the best I have come across and we always have great fun with his ass.
The Lube I Use On His Cock
I like something a little more 'watery' on his cock, something that resembles pussy juices and spit and I love this lube. It's watery, slippery, it lasts for a long time and it always makes his cock super wet and slippery. He loves it when I tease him with lube, using my hand to rub his shaft whilst applying lube and getting him all hot and bothered.
Other toys in my collection:
Femdom Roles I Play
I like to switch things up and be the time of Femdom mistress I am feeling on that particular day.
Gentle Femdom: Being gentle is just as sexy, letting my husband know how grateful I am to use his body as my sex toy, to cuddle him and praise him and make him cum when I want to. Gentle femdom isn't all about being dominant and aggressive it's about taking charge and having your partner worship you in different ways just as you worship them too. Fucking them gently, kindly telling them you are in charge and being soft and kind whilst still being in total control is so much fun.
Hardcore Femdom: Hardcore femdom is much more aggressive, telling him how I want him when I get home from work and how I am going to fuck him hard and just how I want to with the strap-on of my choosing is all part of it. Punishing him for misbehaving, spanking him, and denying him his orgasm, humiliating him and degrading him are all tactics I use, you can see all in my full femdom training program.
I'm Now Looking For Another Sub Guy To Play With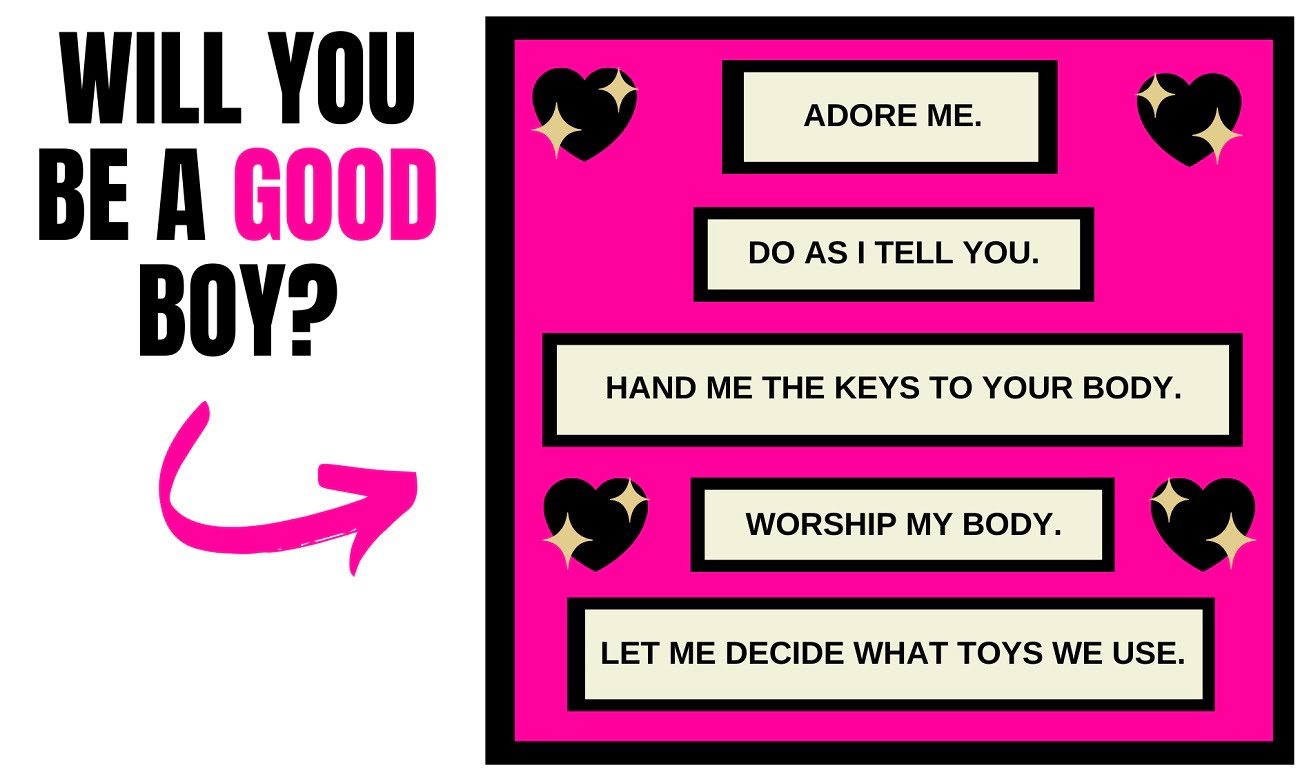 We have been talking about this for a while but we are now totally ready to add another submissive into our relationship. We are in the USA, actively looking for someone to join us.
I want to have full control of, I want my husband and my submissive to play together and with me, following my every rule and every order that I put out. My new sub has to be clean, extremely submissive, and happy to engage in male on male fun.
I plan to test a lot of these femdom ideas, to give you an idea of what it will take and maybe even a pegging threesome, for some extra fun.
If this is something you may be interested in letting me know in the comments below and I will get back to you.
I'm Jess and I'm a woman in my twenties. I created this blog to share my sexual experiences along with the experiences of people from all walks of life. I am actually quite introverted, but my boyfriend and I have a semi-open relationship and it's really helped me open up and experience things I never thought I would and that's one of the biggest reasons I created this. I hope you enjoy my blog as much as I enjoy writing for it. Read more about me.