This is an 'everything you need to know' training guide for people who want to submit to female domination and to also give you female dominants some amazingly cruel ways to train your sub into the perfect little obeyer.
In this guide you're going to find EVERYTHING there is to know about femdom training, whether you're the dom or the sub reading this or you are reading it both together it's going to give you female domination insight, answer your questions, and leave you educated and very well informed on what it means to practice the femdom kink as a dom or as a sub. As always, if you have any questions feel free to leave them down below and I will get back to you instantly! ❤
What This Femdom Training Is For
It's to teach you how to train your sub, how to embrace this kink, and how to find the parts of this kink that work for both you and your partner.
This is a guide for people just starting out and for the seasoned femdom queen and her well-rehearsed sub. You can read this from both sides, as a sub who wants to try this stuff alone or show his dom what he likes and as a dom who wants to find out how to blow their sub's mind and assert their dominance.
What This Guide Involves
This guide starts with the basics and evolves into the hardcore side of femdom, the important thing is that you take what you need from it and make it work for your dom/sub relationship. Every female dominant is different but when it comes to playing with my sub, the core of my femdom training is the following:
Gentle and Soft Play – Being kind and encouraging, gentle with how I dominate and treat my sub with love and nurture.

Pegging

: Making my sub learn how to take my dildos in their ass is a must for me.
Edging and ruining Orgasms: This part is so much fun, learning how to edge and run a subs orgasm, it calls for a lot of moans and pleas.
Submission: Teaching a sub how to fully submit is powerful and takes a lot of trust and respect but it can be done.
Punishments: The punishments are important to know, you need to always have one at the back of your mind to use on a misbehaving sub.
Obedience: Making sure a sub obeys your commands and orders.
Humiliation: I love this part but not all subs are into it. Humiliating them with words, acts, and punishments is all part of making a great femdom queen.
Owning Your Orgasm: A dom owns their subs orgasm, this is crucial.
Worshiping: I make my sub worship every part of me, I want them to think I am the best thing to ever live and breathe.
Chores: Making my sub do chores is one of my punishments but it's also a way they show me how grateful and obedient they are too.
What it sometimes involves:
Femdom involves a lot of different things, some guys don't enjoy everything, so the above are a must for me but the pointers you will find below are something I work in when it feels right. Which is usually most of the time:
Chastity
Sissifying
Cuckolding
Bi inducing
Slave training
CBT
CFNM
Fisting
Dog
Brat
This is a master guide to femdom training for doms and submissives alike.
What This Took To Make: I created this femdom training guide and it took over 50 hours to put everything together, I'm super passionate about this subject. I hope you can see it. It's completely free, if you enjoyed it then please let me know in the comments.
Take What You Need
This kink has so many angles you don't have to like it all, I want you to find what excites you and your sub/dom and roll with that, so if you aren't into sissifying, chastity, and fisting, don't fear, just skip to the next part and find what you do like and most importantly what turns you on too.
This is needed as this really is a master guide with everything you need to know to enjoy and become comfortable and more confident with this kink, even if you are history, this guide will fill you with pointers, fresh ideas, and lots to take away.
Let's Start With A Femdom Contract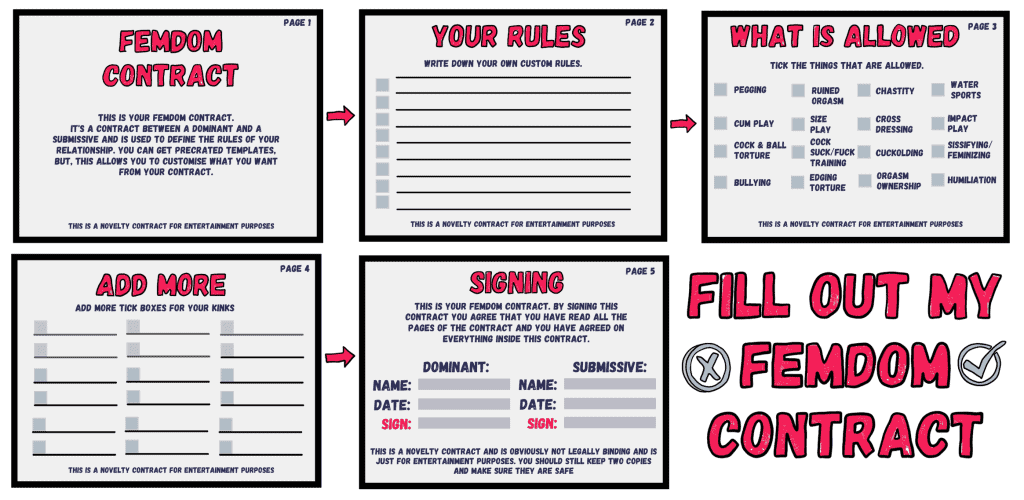 This is where all femdom relationships should start and so let's kick things off with the beauty of a femdom contract.
You can either start your contract mentally (lay down your rules, wants, and desires) or a better option is to do this with a pen, paper, and clear rules. I've been super kind and decided to make a printable/online document that you can download and send to your slave or dom for them to fill in.
You can pick what you enjoy, and what you might want to try, and then sign your sexual freedom away.
Disclosure: These contracts are for novelty and for educational use and are not actually legally binding. Just for fun and to add a little spice into the bedroom as you both take on your sub and dom roles seriously.
A Collar Is The Wedding Ring
After the contract is signed it's a good time to get yourself a collar, this is like a wedding ring or the bdsm and kink world to the sub from the dom.
This is worn in private, at lifestyle and pride clubs, and at events to show everyone you're owned. Some take it a step further and wear an anklet, a chain around their neck, or a ring to symbolize this relationship, as you can wear it in public, every, single, day and others just keep the collar worn in the bedroom, whatever works best for you and your dynamic.
Know Your Roles
Everyone is different, before you do anything know the role you play and what role you expect from the other. This isn't something I can show you, this is something that you know deep down.
Subs Role: Your role is to give yourself completely to your dom, submit, embrace, love deeply, and be only hers (or his). It doesn't matter if she isn't your partner, you give her every part of yourself and obey your doms commands wholeheartedly. Let your dom know your limits, your safe word, and what you expect to really get things off to a clear and respectful start.
Dom's role: As a dom, it's up to you to define your role. Are you strict, forceful, highly strung, waiting for a mistake, or are you loving, wanting to deeply own your sub, wanting them to surrender and give everything to you? or, are you a switch, do you want to fuck his cute ass until it's raw and then the next day have him fuck you to the point you can barely walk for a few days?
Find out what you are and what you enjoy and that will help you fulfill your role.
Remember to discuss your roles, communicate clearly and ensure you are both on the same page with what you want in the bedroom and always have a safe word.
Talking and Communication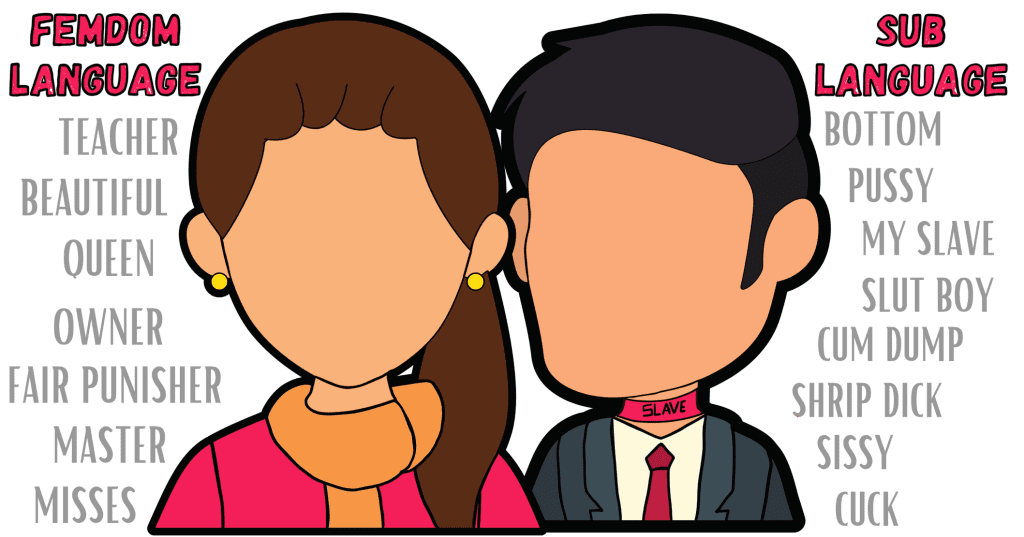 It's a good idea for us to start right at the beginning of this guide with something very important. I am not talking about communicating your wants and needs, which happened earlier on in this guide, I am talking about now how to actually communicate to your submissive or you're female dominant in a way that they understand in the bedroom.
There's a way to speak to doms and subs, the keywords, triggers, and compliments are usually the first part of the training and this is the first thing you're going to learn.
How to talk to your subby partner: They must learn to only speak when spoken to, treat them as less important as you, use diminutive language when speaking to them, ensure they use your chosen name (eg mistress), speak clearly to your sub with no room for confusion.
How to talk to your female dom: Address her as your superior in her chosen name (eg queen), speak only when spoken to, don't forget your manners, and raise your hand to speak.
Harsh Dirty Talk: If you are a gentle dom this won't apply to you but if you like to get a little nasty don't forget to talk to your sub with harsh dirty talk, here are just some of my favorite words and phrases:
Slut
Cunt
Whore
'Try harder'
Ugly
Tiny cock
Shrimp dick
Pig
(Lots of sighing and rolling of the eyes)
The Supplies I Use To Dominate & Make My Sub Submit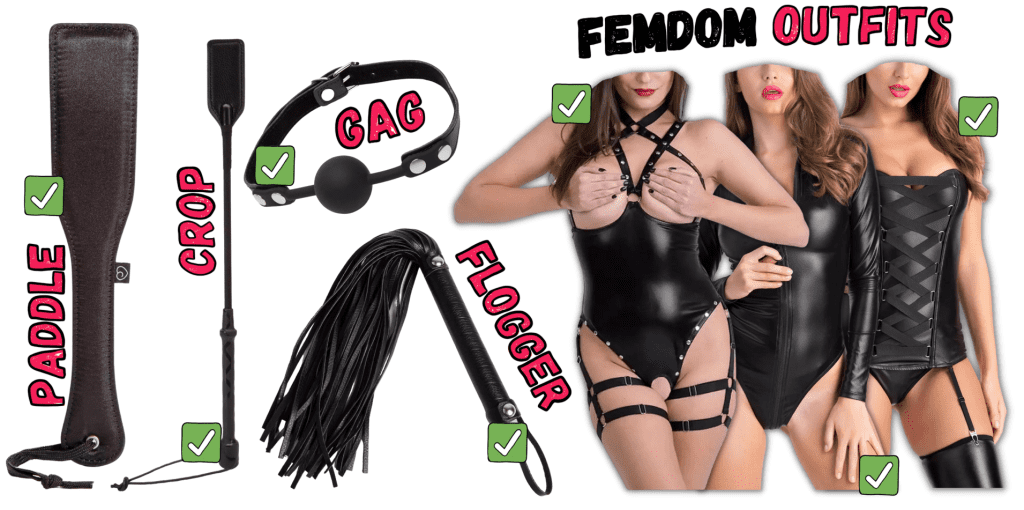 You do need supplies to keep your sub in line, how we use these come in later on in this femdom 101 guide but for now, make sure you have these supplies or anything similar in your arsenal:
Crop, whip, and Paddle: You're going to need a crop, a whip, a paddle, or all three. This is to spank, punish, tease, and keep your sub in line.
Gag: A good quality gag is very needed to keep your sub quiet, keep them subdued, and make sure they know who is in charge. They also look super cute all gagged up and doe-eyed!
Outfits: An outfit for the dom and an outfit for the sub create an instant power dynamic. Think sexy intense lingerie for the dom and perhaps a pretty pink thong or some ultra-tight boxers for the sub?
Soft Is The Way To Start (Start Point)
You've signed up, locked yourself into your dynamic with a collar and now it's time to bring this kink into your lifestyle.
This is where most people start, soft, kind, and gentle femdom. Deep loving, positive reinforcement and complete safety is offered to subs who commit and surrender themselves completely.
This is the kind of femdom you use on a one-night stand to completely bend his mind and show him the power of submission, it's also great for beginners and people who don't enjoy the punishment, the humiliation, and the harder parts of the femdom kink.
I created a master guide on gentle femdom, if the above sounds good to you then check it out and I'll see you back here after you've read it.
I know it will blow your mind!
What it involves:
As I created a massive guide on gentle femdom, I won't go into too much detail, but here are some of the key things that it involves:
Gentle punishments.
Gentle and soft words and phrases.
How to create the dynamic between you whilst still being soft about it.
Aftercare and foreplay for gentler times.
Next, let's move on to something that will get your sub in line.
Exercises For Obedience and Punishments for Submission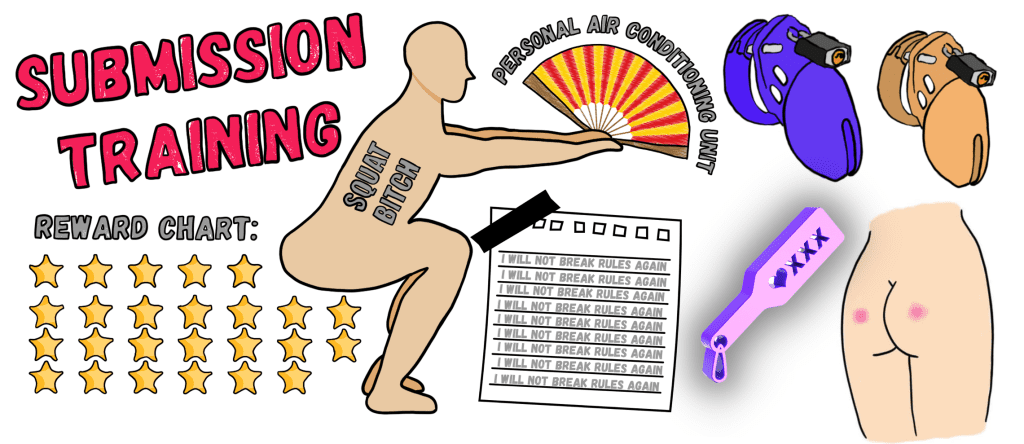 As a dom, you need to have two things in your arsenal at all times exercises that create obedience, discipline, and build a reward system and punishments for when they step out of line and you need to teach them a lesson. This is very important.
The punishments and exercises are very similar, it's just how you use them that counts. So, pick a few exercises from below and it's time to get your subby to earn a release.
Naked Exercise: I have him get naked and do 10 pushups, 10 squats, and 10 jumping jacks, If he can't do them then I mock him and tell him he can't cum till he can do it properly, which of course I am the judge of.
Extra points if you're in a cock cage or outdoors while doing the exercises.
Lines and writing: Write 1000 lines of why they were naughty or have them write 10 reasons they should be allowed to cum and 10 reasons they shouldn't. Have them write out the punishment they think they deserve, and have them write an apology letter to you. Have them write 'I'm a sub' 500 times.
Stand In the Corner: Have your sub stand in the corner for the length of time that you set. This could be 10 minutes or 2 hours, whatever you think they deserve. This can be a punishment or just a method of obedience training.
You're My Pet: Treat your sub as your pet, give them a cute pet name, speak to them as if they were an animal, and have them behave like one too. This will teach them a lot about submission and forgetting who they really are.
Lock Up: Lock them up in a chastity cage until further notice. This relinquishes all control of their cock and makes them a total slave for you. (Learn more about cock cages here).
Orgasm Reward Chart: Have a chart set-up that allows you to reward your sub with orgasms. Perhaps they get a gold star for each time they are good and once they get to 10 they are allowed to cum.
Door Mat: When you enter the house, he must get naked, lay flat either on his back or on his front and you must use his body as a doormat with either your shoes on or off you decide.
Spanking: It's the age-old way to punish and train a sub. My favorite is my spanking paddle or crop whip. I use the spanking paddle for punishment and my crop for control. If he doesn't stand up straight, a few taps with the crop, If he doesn't do what is ordered a few taps with the crop. If he repeatedly offends, then the paddle comes out.
Self Spanking: If you don't like to raise your hands or your hands are tired, you can hand him the tool and make him administer the spankings himself.
Ball Spanking: Again this isn't for everyone and comes with the danger of injury so don't do it or do it at your own risk. This is for the boys who enjoy a little CBT, you get your crop whip, squeeze his balls from the base and give them a few taps as a spanking punishment. This punishment is very BDSM-inspired so be sure to check out more of my bdsm punishments.
CBT: If you like the above there's some other stuff you can do to practice CBT with your sub and that is to squeeze and pinch the balls. Pinch the head of his dick, slap his cock and balls with a flogger, paddle, or crop, even your hand. Some like to stand on their man in heels, have him lay flat, and just step down onto his body with your heels on you can even try stepping on his cock and balls.
Ignoring: It's painful to do, but sometimes the best way to get a response is to ignore, show them what it would be like if you didn't care about their kink, and ignore everything to do with them. You could even make them naked and ignore them, treat them like they don't exist, especially if they have been disobedient.
Chores: It's good to have daily chores that teach obedience and are punishable if they're not done. Things like washing up, cooking the food, washing the car, lawn mowing, laundry, cleaning the floors, taking out the trash, doing the groceries, and making sure you always have your favorite things stocked in the cupboard.
Personal Fan: Feeling hot? Turn your sub into your personal cooling system as he stands there and fans you down until you tell him to stop.
Foot Stool: If your legs are tired and you need a rest get your sub on their hands and knees to act as your personal footstool, keep them there for as long as you need to teach them obedience, and to punish them.
Face Slapping: Move away from the ass and enjoy the face as you show them who is in charge with the spank of your hand on their pretty sub face (discuss this type of punishment beforehand always).
Hair Pulling: Pull their hair to guide them and show them who is in charge around here. Gentle tugs or strong pulls, whatever you feel is needed at the moment.
Dog Shock Collar: This will keep him extra quiet and is perfect for when he is being a little brat and nothing is working. Be extra careful and do it at your own risk, I don't recommend it.
Custom Outfit: There are places online where you can get pre-made or make your own t-shirt and underwear/panties and if I want to humiliate, I print something degrading on a shirt and they have to wear it, the things I get printed: Owned by [enter my name or master], caged, I heart pegging, Mr. Small, daddies fuck toy, daddy's little slut, cum slut, owned, property of [enter name], cuck, sissy boy.
Use his pillow as a cum rag: While fucking, I either take his pillowcase off and place it under me so all of my juices and cum and then his cum goes on it, or I do that but with the whole pillow and then I make him use it that evening, sleeping on our cum.
Check out this full list of femdom punishments and humiliation ideas and here are some extra chastity punishments for if they're in a cage.
Pegging, Dildo Play, and Training
Next up in our femdom guide, we have the beautiful art of pegging and playing with wonderful sex anal sex toys. Not every sub enjoys anal play but the majority do and so for those of you who do, listen up because this is important.
Picking The Pegging dildo For The Job: Picking the right dildo is important. If they have never done it before opt for something extra small dildo if they are looking to scale try this 7-inch dildo and if they want to be stretched try this girthy 9-inch machine as for strap on this strap on is the one I use.
Warming up his ass: If he is new to anal sex, you need to read my anal sex training guide, it will show you and him how to warm up the ass and get it ready for any size pegging dildo.
If you don't have time to read, always put a butt plug in beforehand for at least 10 minutes, and don't be shy to warm up with a finger or two, the more you do it, the less warm-up is needed and the more comfortable pegging will be.
You might have to start slow, with fingers, then bigger butt plugs, but your end goal should always be to turn his ass into a hole you can forcefully fuck at a moment's notice. Just remember a good lube and lots of it, it will make getting your dick deep inside me a lot easier.
Restraining: I like to make sure my sub is nice and restrained when I am pegging his ass. This is not only so that he gives up control but it also gives me complete power over his body. Mattress restraints give you many positions to play with and can be kept under your mattress when not in use.
Size Training: If he is starting small, train him up to taking something bigger and bigger and eventually tell him that he doesn't have long to learn to fit 8 inches in his ass and you don't want an inch visible.
Pick His Fate: Line up your dildos and have him pick the size he wants. He will know that you will reward him more for bigger ones and punish him harder if he chooses something smaller.
Threesome: This is a lot of fun, using a suction cup dildo or a male masturbator, you sandwich your sub between you and the toy.
With a suction cup dildo, you suction it to the wall, insert it inside your man and then have your man insert himself inside of you, it's a lot of fun. This will be the best sensation he has ever had and it's something I do towards the end of the session when I've really edged him and built him up to this moment.
The other way is to peg him in doggy or missionary and use a male masturbator on his cock, he will cum in seconds, so take it nice and slow. I did a whole pegging threesome guide on this and it will show you what it was like when I had a real pegging threesome with my sub and another.
Your Ass Is The Only Way You Cum: His dick is now obsolete, his ass is the only way he can reach orgasm. This can be a punishment or a test of obedience.
Dildo masturbation: Make him suck, handjob, and fuck himself with a dildo while you watch all for your amusement. For an added bonus you can even give him a dildo that's a little bigger than usual, send him to the floor, and watch as he tries to fit it all inside him.
It Stops When I Want: You edge his orgasm while you're pegging him, you keep bringing him there and then letting off, finally, you make him cum, push past the point of no return, let him have a beautiful release, but once he cums, you don't stop. You keep going, and you will see a look of shock on his face, keep working his ass, don't stop, he will have a sensory overload at the start but then he will love it and you can repeat this again, keep repeating till you get tired. Let him know that he is silly for thinking that you would stop after he cums, this is all about you, the dom.
Practice makes perfect: Making him repeat a task again and again until he gets it perfectly right will teach him a thing or two about patience and obedience.
Edging, Denial, Ruin, and Repeat

Femdoms have to be good at resisting the urge to give their sub pleasure. Ruining and denying a subs orgasm is practically number one on the sign-up page of becoming a femdom and so it's time to learn how to do it perfectly.
It's the way it goes, you edge, then deny, sometimes edge again and deny once more, and then finally you let it happen, but you become forgetful and stop jerking his cock just as he is cumming. Whoops!
This is the ultimate show of power, you control his orgasm and you decide when it comes (if it ever does). I use these techniques to wreak havoc on my sub:
Restrain: If your sub is well trained you might be able to trust him without restraints, but just knowing they don't have a choice adds something extra for me.
Chair restraint: A chair restraint is an effective way of keeping your sub nice and secure. I will sit him down and use a rope to secure his place, just make sure you learn how to do some secure knots.
Bed Restraint:

I love this bed restraint

, it works great, it's discreet and it allows you to secure all four limbs if you need to and get him into all kinds of positions.
Magic Wand with attachment: I've talked about this many times on my blog as it is a very effective form of orgasmic torture. Hold the magic wand against his cock and watch him twitch and moan whilst you edge him for what feels like hours on end.
You can go inside my pussy once you can last: I set a timer of 5 minutes and give him a blowjob or a handjob using with a vibrating butt plug inside him. Once he can get past the timer we can go back to fucking, till then no going inside me, once he starts being able to last longer, I make it harder, but making him watch femdom porn while I do it. You can also do the timer and if he cums before it you ruin his orgasm, the trick is to not let him edge, just keep going, don't slow down.
Ruining Orgasms: This is when just as your man is about to cum, you just stop, you let him orgasm, but you don't touch his cock, cum will come out of his cock, but there will be no pleasure, he will barely feel it. It's pretty to watch, makes me feel powerful, and is an amazing punishment for Premature ejaculation.
Some of the ways I ruin his orgasm:
While I'm sucking or giving a handjob I will just stop right before he comes and if he complains he gets punished.
I stroke a dildo and his cock at the same time, when he is about to cum I just focus on the dildo, I do this with blowjobs too, I switch between a dildo and his cock, as he cums I start sucking the dildo instead and just ignore that he has came.
Hours of teasing, edging, and playing with his cock, I then slow things down, use his cock like a clit, do one stroke here and there and he is usually dripping with pre-cum, I then time the strokes, two every 10 seconds, if he cums at the right time, he might get a few strokes, but at the wrong time it will be completely ruined.
Using a strap on I get him to the point of orgasm and just stop as he is about to explode.
When I know he is cumming, I make sure he pulls out and squirts all over himself, I do this while his hands are restrained so there's nothing he can do.
Ruin his orgasm, then promise him release, do the same till he ejaculates with no cum.
One of my favorites is I order him to not masturbate for a week, he has a really high sex drive so this is a super long time, I then say he can fuck my brains out on the 7th day, I get the hottest outfit I can, I tell him every day what he is going to do to me, then when we get in bed I touch his cock and don't stop when he is about to cum, I then say 'oh, nooo, please don't cum, don't cum' at the moment it's too late, because he is so worked up from not playing he cums in a minute of nothing, but usually I stop and let him cool off, I don't this time and I get sad with him after, so he has a ruined orgasm and he doesn't get to fuck my brains out. Pure torture.
Why ruin his orgasm it?
Because it's pretty,
Because it can stop him from losing his arousal,
It keeps him wanting more,
It's the ultimate tease.
It keeps him on his toes.
It reminds him that I am in charge.
He gives all cock privileges to me, his dom.
Edging Games: You can edge with a vibrator as I mentioned before or you can do it for him or he can do it with you there. You can then add Fap instructor and edge me please to do it for you and make him follow every rule or you can have him edge to long porn compilations or two, sometimes I find two 20-minute-plus videos and make him edge for the whole time and after, I decide what we do with his orgasm.
Trick Orgasm: Get him to the point of orgasm, tell him not to cum, explain the consequence, but don't stop, just keep going so that he cums, then punish him. Using restraints for this edging game makes it much easier.
How Many Times Will You Cum: I like to restrain him and leave the vibrator on his cock and see how many times he cums, it gets so sensitive and impossible to stop cumming which exhausts a sub and has them begging for mercy.
Orgasm coin flip: Just as he is about to cum, I flip a coin, you should see the look on his face, he picks the side that he wants, and if he wins he cums, if not he has 24 hours without orgasm.
Timed ejaculation: Put a timer on for how long he has until he has to cum, it could be a minute, could be 10 seconds, you can also do a longer timer, but add that he has to cum without using his hands, which means he has to rub up against a random object to get off, you can mock him while he does that.
Cum before I say you can: If a sub is disobedient and cums before they are allowed, some doms make their sub clean it up with their tongue, others, if they cum inside them they face sit, others create a rule that if you cum you get punished, some say that if you cum we stimulate your cock or ass for another hour, turning orgasms into a bad thing. It's good to have a rule and a punishment for this type of thing.
Beg: Making him beg, apologize and plead with you for an orgasm. You can have him do this while you edge or set it up before where he has to write down and then read out the reasons why he deserves to orgasm, mark them down for spelling errors and lack of effort. You can also make him beg for more during punishments like spanking, ruined orgasms, and any from the list above. Just make him say please and beg you for the punishment you're about to give even if he hates it, also he must always say thank you for any punishment or pleasure.
Confession: Confess your kinks and I'll let you cum, if he doesn't tell them all, ruin his orgasm. If he starts telling you them and gets too worked up, ruined orgasm it is. Mwahaha.
Subby Servicing/Services (What You Get In Return)

Now you have mastered his orgasm denial and teasing I want to teach you all about servicing and how you can use your sub to serve you. This is all about your submissive accepting that they are not in control and that you hold the keys to their pleasure. The sub-services you to make you feel good, sometimes as a punishment but often just to show good behavior.
In short, a sub does an act of service to show love, affection, and complete submissiveness, and here are some of the ways they can do it:
Clean you in every way: At the start, they wash you in the shower to get used to the cleaning sensation and then they clean you with their tongue before sex, cleaning your toes, feet, breasts, pussy, ass whatever you want them to clean.
Eat your pussy: They are your personal pleasure puppy, use this, don't waste it. Have them go down on you for hours, you can have them eat your pussy while you read a book, watch a show, or just so you can bust a nut, it's just about your pleasure so never feel like you have to get them off after.
Eating ass: Again, if you want your ass eaten for an hour while you watch your favorite show or listen to some music, that's what you get. Most of the time I don't want my ass eaten for hours, but it's good to make it happen once in a while just because you can and have that control over your sub.
Massages: You should be having a full body massage daily or at least having your foot rubbed at all times whilst watching your favorite show, all courtesy of your sub of course.
Cuddles: If you like cuddles, you get cuddles for as long as you want and need them.
Personal Chef: Cooking isn't for doms, unless you enjoy it, instead pick a meal and have your sub make it.
Cleaner/Maid: All them pesky chores are done, just put your sub to work, for all the hard work you do keeping them in order, this is the least they can do, so put your feet up and let them wait on you hand and foot and clean whatever it is that needs doing.
Extra points if he wears his maid outfit and is plugged. Make sure you always inspect the job and make sure it's up to standard if it is maybe he gets a reward, if it isn't then it's time for a punishment.
Free To Use: He is your free-to-use slut, his ass is yours, his mouth is yours, his cock is yours, use it how you please, you can demand it whenever, if he is on the phone, on a walk with you, gaming, working, it's yours and that feels nice and powerful.
Wingman: If you want some more dick or pussy in your life, he will help set that up, using dating apps or come out with you on a night out and help you meet someone, maybe you let him watch, or maybe you part ways and he sleeps in the guest room.
Bed Warmer: He warms your side of the bed on cold nights, he puts your car heating on before you need to go, he warms up the comforter for you. He has to make sure you're snug.
Sissifying and Deep Feminization
This is the part of the femdom guide where I talk about the art of sissification and feminization. If you're not into that, don't scroll ahead just yet because although you may not wish to participate, there will be at least one thing you may enjoy from this section, perhaps it's wearing panties or cum play? You decide. If this is definitely not for you, scroll down to 'Time to lock you up' to continue and skip this part.
Femdom is extreme female domination and there's no better way to do that than to turn your male sub into a female through a rigorous process.
I've now decided I want a girlfriend instead of a boyfriend. I'm going to start feminizing you and making you dress like me or the girls I find hot.
Dress up:
This is the order I usually dress my sissy, sub up in.
I usually start with pink, simple they have to wear pink PJs, pink shorts/trousers, pink underwear, pink t-shirts/hoodies, they can be made for men, this is planting the seed for the things I like to dress my sub up in below:
Girly PJs (Or slutty pjs, you decided)
Panties
Bra
Knee-high socks (boys love them)
Lingerie set
Nipple pasties
Nipple Tassels
Stockings
High heels
Fishnets
Body stocking
French maid outfit
Slutty dress
Tight mom jeans and t-shirt
Thong
Corset
Slutty Halloween and Party costumes
Once your submissive is used to dressing up like a girl, it's time to move on to the next step of this femdom adventure…
Dildo practice:
For this next part, your sub has to learn how to please, this involves the dom giving the sub dick-sucking, fucking, and handjob advice. You get a suction cup dildo and ask them to replicate what you do on them onto the dildo for the sucking and handjob part and then you show exactly how to fuck their dildo. Encourage them, show them how it's done, and congratulate them when they can take a cock just how you do.
Makeup:
To begin the conversion on a more extreme level it's time for some makeup. It doesn't have to be complex, buy some basic cosmetics and start applying makeup, here are the guides that I always give my sissies who want to learn how to apply makeup like a real girl:
This video is basic but there is a good application and it's easy to follow. You're going to look like the belle of the ball with this makeup on your pretty face.
This video is a little harder to follow and will take a little more practice but it shows you how to feminize your face and gives you a beautiful transformation into a perfect sissy.
Shaving/Waxing:
How do you want your sub? Hairy, Trimmed, Shaved, Waxed?
It's time to pick and teach them how. It's pretty simple to get that smooth look and the fun of pegging a smooth ass is amazing. I always find the best sissy is completely hairless and free from all stubble. This means they are nice and smooth and look lovely and girly when they are naked or all dressed up.
Cum Play:
There comes a time when cum play has to start being a thing for feminization, my favorite methods are self cum play:
Making them try their own cum
Having them facial themselves
Go down on you once they creampie inside of you, but you can also get

ejaculating pegging dildos

and play that way, you can make him suck till it blows and then continue with his cock training.
Here are some more ways that I train my sissy with cum:
Make him cum in a condom and it gets emptied into his mouth
Ruin his orgasm while he is in doggy style and then have him finish on a hard floor, plate, anything he can lick up his jizz from.
Make him cum in his thong or panties and take them off and shove them in his mouth, you can do that while you peg him.
If he cums too soon, catch as much cum as you can on your hand and then rub it into his mouth and onto his face.
Have him squirt his load into a glass, you can even set a challenge, he has an hour to fill the cup/shot glass, if he doesn't make it, he has to drink it.
You can make him give a blowjob to an ejaculating dildo and make him swallow all the loveliness, make sure he makes eye contact with you as he does this.
Pee While Sitting Down:
Pee sitting down, it's a must, especially once you're fully caged (more on caging below). If you don't, punishment will ensue.
Some skip this part, but I find the ones that don't want it the most are the ones who will benefit from it the most.
Again, I've broken this down into a more in-depth sissy training guide (coming soon), but the points above are what parts of sissying I use the most and find are the most effective.
It's Time To Lock You Up
Whether you skipped the sissy part of this femdom training guide or you are here after educating yourself on the art of being a sissy, it's time to lock your cock-up.
At this point in your journey, it's when the locking begins, now some people skip this part, but for those who don't, it adds a whole new world of control.
It's time to lock that little cock-up, this gives me full control over your orgasm, no touching yourself without me being aware, and no more control at all over your most precious piece of kit.
Now, in this part of the femdom relationship you want to do a few things.
Pick the right cock cage, we have got a good guide on that.
I usually recommend the CB-6000, it comes in three sizes and fits most men.
Once you have your cage, you want to do some cock cage training, you can use this full guide, it's a solo guide and will train your man to be fully submissive without you having to lift a finger.
Or you can train him yourself, using a small amount of cage time every day, until he is ready for overnights and weeks of lock-up at a time, this is a great way to ensure he isn't orgasming behind your back.
You often find once you start doing this, he will become more submissive, will work harder for that orgasm, and will cum a lot quicker.
Next, get a necklace to always keep the key safe around your neck and it keeps him near your heart at all times, after all, he is caged.
There are so many levels to this, that I've dived deep into on this blog, there are punishments, challenges, training, and something special all doms should read is the keyholding guide, it's a whole new kink that I'm sure you will fall in love with.
Lock up can be as a punishment, as a way of orgasm denial, to teach respect, to get the inner brat out of him, and to create desperation to the point where he will do anything for his femdom queen.
Degrading Sex Play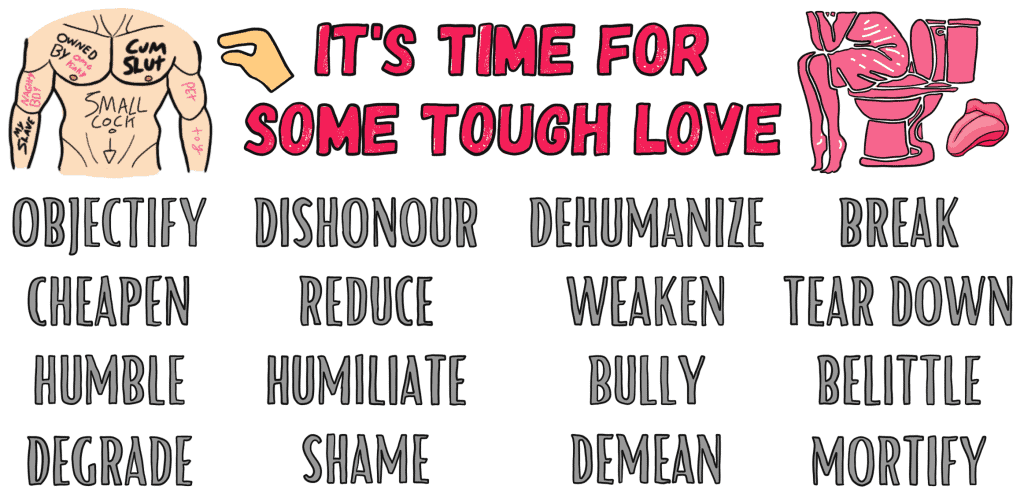 Something I love about being a femdom mistress is the degradation aspect of this kink and I am not alone in loving it. So many of us get off on having this control, saying and doing things we never would in real life and I think that is why it is so popular for femdom doms and subs.
Sometimes you need something a little more dirty to teach a lesson or two and these are my favorite ways to degrade my little sub:
Face Sitting: Sitting on his face until I feel like getting off. I make him lick me to orgasm, clean out his own cum, or I just use him as a coach until I can be bothered to find something else to do.
Rimming: Have him rim you on-demand, at a moment's notice, tell him to stick his tongue inside your ass, to shove his whole face in your ass, to clean up your ass for you with his tongue, this can be degrading, while it's also pretty fun.
Watersports: This isn't it for a lot of people, myself included, but some like to involve pee in femdom as the ultimate way of degrading. Making him clean your pussy after you pee, making him dry your pussy after you pee, peeing on him while he lays down as a form of punishment and only works if he doesn't like or want it.
Dildo sucker: I've mentioned it before, but have him suck a nice big floppy dildo, dirty talk while he does it, call him a slut, tell him to go deeper, extra points if you wear it as a strap on and fuck his mouth like a pussy, you can show him what it's like to be a girl and suck cock, push him to his limits.
Cum Cleaner: Clean all the cum, this can be in your sessions and if you've shared with another, have him always clean up creampies. If there's another man involved, have your sub clean up his cum too.
Tongue Cleaner: Clean your whole body or any object you say with his tongue.
Toilet cleaner: He is on toilet cleaning duty and he has to get stuck in, you can give him a toothbrush and soap and say you want it to sparkle, I'd make sure he gets his face in there just to make sure it's spotless.
Forced Performance: I make my sub dance/sing for me, forcing him to do something he isn't very good at. Laughing at him as he tries his best, it's a real degrading moment for him but he always comes back rock hard.
Spit: Using his mouth as a spit dump. When you want to tell him to open up and just spit in his mouth, don't be afraid to spit on or at him, you can do it while he sucks your dildo, while you're pegging him spit on the dildo, spit at his face while you fuck him in cowgirl, etc.
Humilation and Punishments: This is a great list of humiliation and punishment ideas you can use on your sub if you want more.
Naked exercise: Make him do a little workout, completely naked! Laugh at him, point at him, and make sure he knows how silly he looks.
Extra: Naked, caged exercise, or even bring the exercise outdoors, if you have a private outdoor area.
Extra Advice For Female Doms
These are a few little things I missed from above that make your life easier as a dom and in turn make you a better and more irresistible dom too:
Use your weight: It's a good idea to use your weight during sex, lean, rest, push down, put all your weight on him. This keeps you in control and makes it easier for you to control him.
Dismiss: I mentioned it a few times, but a big part of this kink is just dismissing. Having him eat your pussy while you're on TikTok, texting, using Instagram, forget about him. Just shut him up with your pussy and finally use their mouth for the one thing it's useful for.
Use him as a coach: Sit on his face while watching TV, chatting on the phone, leave him down there, forget about him and his existence.
He is just a cock: Use him as a sex toy, put some porn on, read some erotica, have him go under the covers and eat you out, once you're done, turn him off and leave the room just like you would with a sex toy.
Seduction: Be so hot, he can't say no to you. I wear my cutest, skimpiest lingerie/outfits, he can't say no to me and he is always so much more well-behaved.
Don't be afraid to raise your voice: If he is wrong or misbehaving I will raise my voice, tell him off, and put him in his place, I am in charge after all.
---
I really hope you enjoyed my femdom 101 guide, if you did let me know in the comments below and any advice you have for any femdom lovers out there!
Jess ❤
I'm Jess and I'm a woman in my twenties. I created this blog to share my sexual experiences along with the experiences of people from all walks of life. I am actually quite introverted, but my boyfriend and I have a semi-open relationship and it's really helped me open up and experience things I never thought I would and that's one of the biggest reasons I created this. I hope you enjoy my blog as much as I enjoy writing for it. Read more about me.