I've had a few hung partners in my life and I have a love for well-endowed men, however as I explained in my how to take a big dick guide, taking bigger isn't always easy in the pussy, let alone in the butt. I wanted to create this article to help anyone who needs advice on how they can take a big dick in the ass, it can be stressful, frustrating, and seem impossible sometimes but I am here to solve all of your worries.
The Problem With Size And Anal (and how to fix)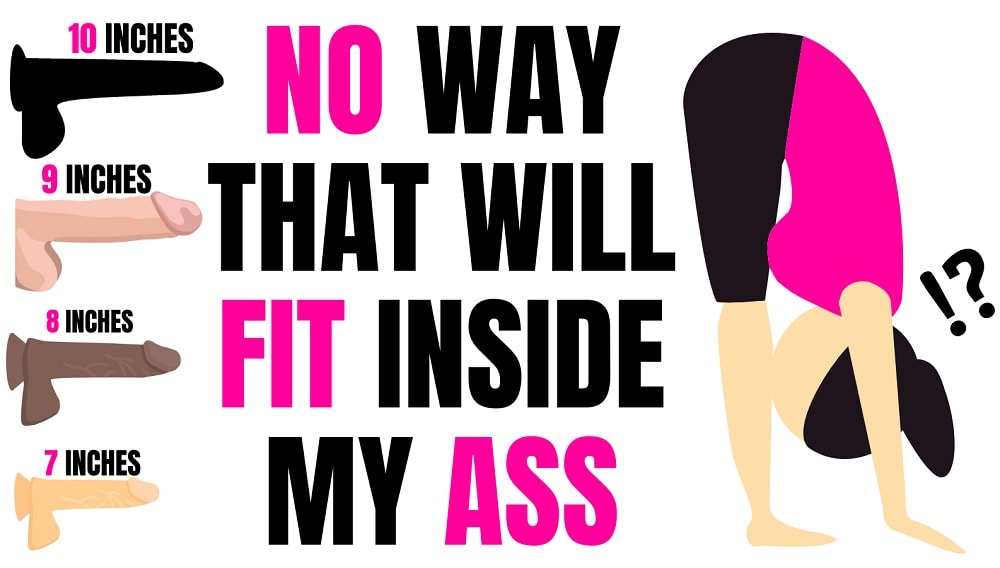 Big dick is scary, especially if it's your first experience with one. I could take an average-sized dick anally with no problem, but it's nothing like taking a truly hung guy. There is a lot more that goes into the preparation to taking a larger dick and essentially how to be a great 'bottom'.
There's no better feeling for me than being able to take a big cock in my ass and not shy away due to the size (something I have mastered with big cock blowjobs) and that's not mentioning the orgasmic anal sex I've had with hung guys, it's honestly unlike anything else once you master it and like with anything good, you must be patient and prepared to put in some work to reap the rewards. Having anal sex with a big cock or big sex toy isn't easy but you can train your ass to be accepting.
How To Have Anal Sex With A Big Cock

There are a few key things you need to always be aware of and those are: relaxing your anal muscles, using more lube than you think you need, and then some more, your breathing, dilating, and practice. I have a guide you may like on: How to take a big cock which focuses more on vaginal insertion than anal. The key to having good anal sex with a large dick is having a process and sticking to that process, stretching your sphincter muscles adequately comes with time and once you have mastered this you will be on your way to amazing anal sexploration.
This Lube Trick Is Game Changing
Using lube during any type of anal exploration is key. Lube is what should always be on your mind, in your hand, and ready to be applied. Lube makes sliding inside of your ass much easier, it stops friction and it allows your muscles to start to relax to accommodate whatever it is you may be using up there. Something I do that coats the entire internal cavity is this…
I use a lube applicator right before sex, I don't put too much lube inside my butt, but still a good amount, then some around my sphincter, and then loads on his cock. I then re-apply again as needed. Using too much lube is way better than not using enough.
The lube shooter is not necessary and a well-lubed butt mixed with a lubed-up cock or dildo will be more than enough, it's just a little extra to make it comfier and to spread the lube out so that your ass can get in on the action and during penetration spread around a bit more.
What type of anal lube do I use?
For anal sex without sex toys I always use a pure silicone-based lube, it lasts a really long time, is soft, and keeps everything really slippy. This type of lube, cannot be used with silicone sex toys (which is most sex toys) as it can break them and so when I am using sex toys I use this water-based lube, it's unbeatable and you don't have to worry about using it if you are switching between sex toys and cock. You can also use coconut oil or the best natural anal lube if you want to keep everything natural but please bear in mind that you shouldn't use coconut oil with condoms as it can break down the barrier of the latex.
Lube is an absolute must for anal play both with toys and real cock, always take time to re-apply lube and I always find when in-doubt add more, there is no such thing as too much lube, ever.
My Amazing Anal Warm Up (Preparing & Dilating)
It's time to warm up your butt, now I usually do this alone, but you can do it with a partner during foreplay which is a lot of fun. Once you begin getting your anal muscles used to being played with you will find that it will become easier and easier to warm yourself up.
Picking A Toy: First, you need to pick a sex toy, you can use your finger, but I recommend investing in a few dildos or butt plugs with different sizes, small, medium, and large, this training kit is great for that. This is to get your ass ready for penetration, starting small and slowly working your way up so that your muscles begin to get used to the dilating, gripping, and thrusting.
If your budget won't let you, you can use your fingers until you are happy to purchase a medium-sized toy for the rest of the stretching.
Getting in the mood: You can skip this step, but I like to get myself in the mood, I play with a vibrator to warm myself up. If you have a cock try jerking yourself off and get yourself into the right headspace.
Insertion: You can start with a lubed up finger (avoid long nails, sharp nails, or pointy cuticles), just use a circular motion around your sphincter and then slowly insert a finger, massage in and out and do this till you feel comfortable, then insert another finger or if you have a small butt plug or better yet big anal toys nows the time to use them.
Actively Try To Relax: Now, lube up your ass, fingers, or sex toy and try actively relaxing your ass as you slowly push inside yourself, the second you meet resistance stop and slowly pull out, re-lube, and go again, you'll need to do this a few times before you can take the size of the dildo. You shouldn't feel any pain.
Time: You want to keep with the slow thrusts in and out (remember to stop if you hit resistance), take your time, and repeat this 10 – 15 times, after that you can complete your session, if it's too much at any time before that, stop, relax and try again another time.
Ready: At this point I'll stop and know that I'm ready for anal sex later in the day, however, we've still only stretched to the point of the small dildo, if my partner is bigger I may level up (if my body allows it) and try some large dildos.
I'll repeat the same thrust and relaxation as above, stopping if I meet any resistance, re-lubing every few thrusts, and listening to my body.
Now if you can't fit anything bigger, or you're stuck at one finger, you need to move onto the next part, as you'll probably need to stretch over time.
Extra Tip: You can keep a butt plug inside after warm-up to keep you all stretched out, just make sure to re-lube it. I only do this when I'm extra horny and meeting my partner within the hour, it's more of a slutty fun thing than a technique, but it does help, especially if you want to jump right into anal sex or have an anal quickie.
You May Need To Stretch Over Time
If you find it hard to move up to different sizes in the warm-up phase you might need to try stretching over time, which is totally normal and something you really should do when practicing to take large items anally.
At the start I used to use my finger or my smallest dildo and butt plug daily for around a week (sometimes two if you're really tight), then I moved up to my medium size and I used it for a few weeks more or less every day, then on the third week, I could take the biggest with little to no give. This is more important if you're with someone who is seriously hung with lots of girth and not just above average or you're really tight and can only fit a finger.
Regularly dilating your ass relaxes the anal muscles and gets them used to the exercise, contracting the muscles back again is also important and this can be achieved through Kegels and even squats.
Keep Your Butt Training Regular
Being a size queen takes regular work. Just like in the gym, if you don't play with your butt often, you become stiff and revert right back to the start. However, just like with any other muscle on your body once you get back to work and get back into it, it can be trained back up again, easier than the first time.
The more butt plays you have both solos and with your partner the easier it becomes. It's never going to be easy at the start but it's all about patience, perseverance, and lots of lube.
And Relax Your Sphincters
Your sphincters are always in motion, keeping your butt hole closed and tight. What you need to do is relax those muscles when you need to allow objects in. It will soon come naturally to you with enough practice just try not to force it straightaway!
One of the reasons warm-up and keeping butt play a regular occurrence is that you'll become more comfortable and become more relaxed. Relaxing is the difference between good and bad anal, but it's something you can't force it has to be natural and can usually only happen when you're comfy, aroused, and wanting.
Techniques To Use During Anal To Make It Easier
On top of the advice above and making sure you have loads of lube and re-lubing multiple times during sex and foreplay you can also do the below to have an even better time.
Take Full Control!
You need to be in control of the speed, thrusts, motions, and deepness, if you leave it up to him he will treat it as a vagina and end up going too hard and too fast. If you're a guy with a partner entering your ass, the same goes for you, even though you may be the 'bottom' and happy to have no control, you need to be in control of what your limits are and what you can take.
The bigger he is, the more time you'll need to edge him in, just like we did in the warm-up, you need him to slowly push in using shallow thrusts until you meet resistance, then slowly and I mean slowly pull out and repeat till you can take him all, it might not happen the first time, it might take a bit of practice before you're able to take him all, but once you have you'll know what you're able to achieve.
The key to being in control is picking a good position so let's move on to that.
Pick A Good Anal Sex Position
More important than position is being in control of the speed, depth, and thrusts, positions that allow that are usually the best for the beginning while you're getting used to his size, once you're relaxed and more used to anal sex it really is a case of what works best for you.
Anal Sex Position:
Spooning: You have lots of control, easy to keep things slow, he can play with your nipples, clit, or cock.
Prone bone: This is when you lay on your belly and have him enter you from behind, it's one of my favorites and one of the best places to start.
Missionary: Easy to relax, once he is inside it's a really enjoyable position.
Riding: Sitting on the dick is a great position for taking control of how much you can take and it's really hot to look into their eyes as their dick enters you.
Arousal And Waking Up The P-Spot/G-spot
Waking up your ass is really important. Arousal for women can happen in the form of having an orgasm (this really helps my muscles to relax), vaginal penetration, and lots of foreplay and for men, the same applies except you may want to hold out on that orgasm and just edge yourself until you can unlock your sweet prostate and all of them anal nerve-endings.
The way I do it as a female is I have my man go down on me while he massages my g-spot with his fingers, this gets my g-spot to wake up, then he pops a finger or two inside of my ass and continues stimulating my g-spot through my butt, sometimes I orgasm there and then, other times he stops and we start the anal sex since my g-spot has been woken up, the anal sex feels even better and I can usually reach orgasm through it alone (read about my first anal orgasm).
Rating Anal Toys And Their Effectiveness To Stretch:

Fingers: Most of us start this way and you can accomplish a lot of stretching using just your fingers, toys make it easier and less tiring, however, if you only have your fingers, use them and explore. Just ensure they're clean, trimmed, and lubed!
Butt Plugs: Butt plugs can be a good way to warm your butt up for anal sex, due to their ease, you can just pop one in, then start the foreplay while it relaxes your muscles and gets your hole ready, however, when playing with bigger sized men you would need to use a larger butt plug as most mainstream plugs are usually built in a way that makes the smallest part of the plug the bit of your ass that needs stretching!
There is a way around this, you can get thicker neck butt plugs and these are really effective at stretching things out. The kit I love is this one.
A normal butt plug, with a thin neck, still works great for foreplay, relaxing, and getting ready and open, it's just not as effective as something that has a thicker neck, especially when relaxing your ass for a bigger man.
Anal Dildos: Dildos are by far the best way to prepare your butt for size. You won't probably find a guy with a dick like a butt plug, however, you will find one with the shape of a dildo, which makes it more realistic and helps you get used to the sensation. I use this average size realistic dildo quite a lot and this anal dildo for a bit more size and finally this is currently my biggest.
Anal Beads: I've used a few anal beads, they can be good, but personally they are more for enhancing sex and not really something I use to stretch out/get ready for anal unless they are the beaded dildo beads, which stimulate you with their powerful vibrations.
Dilator Kit: One of the best ways to stretch is to get/build a collection of different sized anal toys, that way you can always build up to bigger.
I usually do this alone, but you could do it with your partner during foreplay for something a bit different and they can watch as you stretch yourself to accommodate them.
Questions I Had Before Taking A Big Cock

I wanted to answer some of the questions that I had before I first had a big cock inside of my butt. If you have any questions of your own feel free to leave them in the box below and I will get back to you. ❤️
Larger Makes It Harder To Keep Anal Clean?
So long as you practice good hygiene, everything will be fine, although I do understand that people are always worried about 'accidents', it really isn't as common as you think.
It's pretty easy to stay clean, all you need to do is eat a high-fiber diet to ensure your stool is healthy and if you have been to the bathroom that day and don't need to go, everything will be fine during penetration. However, here are some tips you can follow too:
Take a shower before: It's probably the easiest step and makes it easier for me to relax and feel good about anal.
Clean Without A Douche: If you don't have a douche you can just use your finger, it's not always good to use water, or be rough down there as you can cause issues and inbalances, if you have a high fiber diet, you probably won't need to clean all that much. But a simple finger in the shower can be enough to make you feel more comfortable.
Douching: If you want to feel 100% clean then douching can be really amazing, however too much douching can lead to problems, less is always more, don't overdo it, just enough to get clean. You can also use the future method douche kit, it's one of the best, but any douche like mine will clean you out.
Dildo Test: After cleaning, insert a lubed dildo (similar size to your partner) inside of you and make sure it comes out clean, if it does you're ready.
Diet: Lots of fiber, having a diet high in fiber will make it so you're pretty much clean all the time down there.
Use the restroom: If you need to go, go. I don't recommend having anal sex if you need a number 2. However, if you have pooped that very day, you will be fine.
Should You Use Anal Desenzitization Lube/Gel?
No, and yes.
I used to use it all of the time but now I only use it to prolong anal sex and never to make anal sex less painful. Luckily I didn't have any injuries but using desensitizing gel can make it harder for you to know where your limits are so if you are new to anal sex I don't recommend using it but it is okay for me personally to use from time to time when the situation is right and you know your limits.
You need the pain to make sure you're not going too far and causing damage, it's much better to feel your body, to slow things down, and learn to take him and his size than using a gel that takes your pain away and can cause you to rush, take more than your body is ready for and in turn cause damage and pain in the long run.
Also, if you do the above techniques that I have talked about in this article, you shouldn't need to desensitize, you should be able to take him just fine.
What About Anal After Care?
After being stretched out, your butt can sometimes be a little sore, I usually take a nice hot bath with Epsom salts and then use a butt soothing cream, I feel soft and a nice kinda sore after, instead of the annoying kinda sore which is what you need to try and avoid.
What About Having Quick Anal Sex?
If you do the warm-up routine that I outlined in this article, use lots of lube and the lube shooter trick (extra help), you'll be ready for anal sex for most of the day, so if a quickie should arise it is possible, you can make it even easier by using a butt plug after the warm-up and then taking out just before you have sex, but I would only do that if it's soon after your warm-up.
No matter what though make sure your ass is used to it, lubed up, and relaxed.
If you have any questions feel free to leave them down below, Jess <3
---
Make sure to join us inside of my membership where you will find unfiltered erotic submissions. A plethora of erotic stories, videos, pictures, and even a copy of my erotic book await.
I'm Jess and I'm a woman in my twenties. I created this blog to share my sexual experiences along with the experiences of people from all walks of life. I am actually quite introverted, but my boyfriend and I have a semi-open relationship and it's really helped me open up and experience things I never thought I would and that's one of the biggest reasons I created this. I hope you enjoy my blog as much as I enjoy writing for it. Read more about me.