This article is not for the faint-hearted. This is for those serious about anal play, anal pleasure, and getting that full-feeling, stretching fix. I am going to teach you how to get past the anal resistance that many people come up against when trying to stretch themselves and how you can go from sausage to full fist in the safest and easiest way possible.
How To Anal Fist
It's no secret to my regular readers and to those of you reading my tips that I am a size queen. I love pushing past my limits and trying to do things I know my body is capable of and so this is a simple, easy-to-understand anal fist guide that will show you exactly how to start the orgasmic journey of fist anal play.
Just follow my steps, listen to advice, and put it all into practice. If you have any questions or want to tell me about your fisting journey (I love this) leave them in the comments below! ❤
You Want This Anal Lube (Or Something Similar)
Before we even begin putting anything near your ass you're going to need something that is going to really lube you up down there and make insertion a whole bunch easier. Lube really is the key to a comfortable ride so please don't skimp out on it!
I would make sure to avoid water-based lube if you can, even though there are some amazing brands out there, when fisting you want silicone or oil-based lube as it'll stay on for a lot longer. Water-based is fine but I don't personally think it has the staying power or the slipperiness needed to do something as heavy-duty as fisting.
The two more common anal lubes that are used for fisting are Crisco and J-lube.
Yes, that's Crisco that fat that you use for cooking, it's used a lot for fisting, but isn't something I've used myself. I wouldn't personally put it inside of my body but I know it has had great results for some people. Just make sure if you do get ahold of some Crisco that you don't use it with latex or condoms as it will destroy them.
However, the J-lube is one of the more popular anal lubes, you have to mix it yourself as it's a powder and it's also commonly used as a cum lube for those with cum fetishes or who like to use it in squirting dildos and it's even used as a bad dragon lube dupe. It lasts a long time, you can use as much or as little as you need and this stuff knows how to perform under pressure and inside the anus.
It's the best lube around for fisting however it is not entirely vaginal or penile safe due to it containing sucrose, which can trigger and cause infection.
That's why usually I recommend Pjur silicone lube (works with condoms, latex gloves, and sex toys that aren't silicone-based), it has a soothing and relaxing effect on the anus which aids insertion too, which I find very helpful and the other lube I recommend is Anal Jelly this lube is oil-based which is not safe for latex gloves or latex toys or latex condoms but works very well with silicone toys. This lube is thick, silky, and perfect for anal fisting as it coats the anus liberally and efficiently with just one swipe.
Update: I recently tried K-Lube which is J-Lube but is made for people and doesn't contain sucrose so it's body-safe, latex friendly, condom friendly, and vagina friendly. It's become my go-to fisting lube and is amazing value for money, one bottle makes 20 liters of super slippery lube and after using both J and K I can tell you k is just as good as J-lube without any of the issues.
The Anal Lube Applicator (Must-Have)

Another little trick I use is a lube applicator, this allows you to push lube deeper inside your butt, which makes you stay lubricated for longer, as the ass isn't self-lubricating this is a real must and is really easy to use before and even during anal play.
I love the lube applicator because it coats your anal cavity, right where you need it, not just around the rim of your anus, and with each thrust or poke inside of you the lube becomes even more evenly distributed and coated inside of your anal walls.
Don't Use Numbing Agents: You need to feel when you're being hurt and are in pain. If you can't feel the discomfort then you won't know when to stop which is what helps you to prevent injuries. When done right anal sex shouldn't hurt, if it does, slow down, use more lube and go smaller and work your way up. I am all for relaxing ingredients but don't fall into the hype of buying things that claim to take away all pain, you are just asking for trouble.
My Anal Stretching Excersies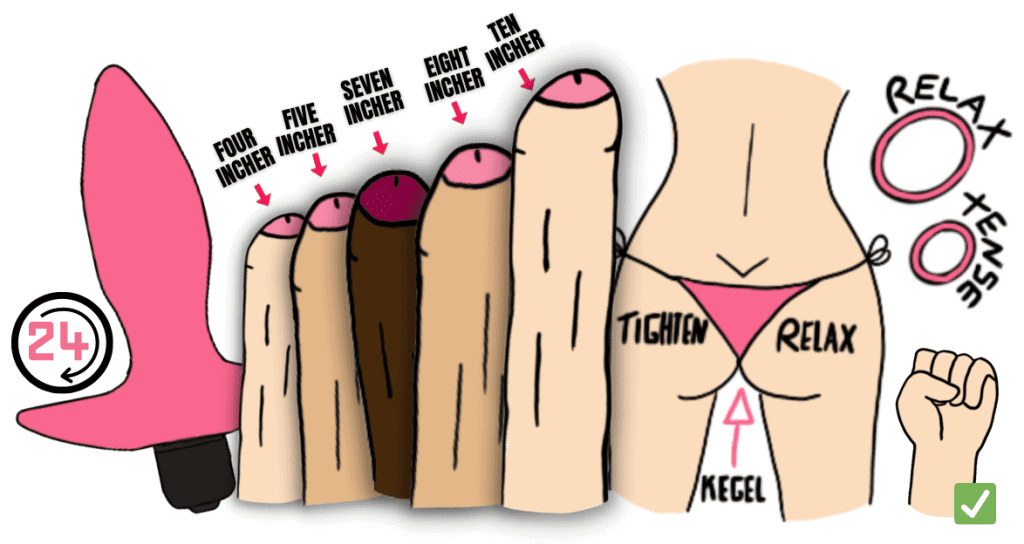 Before you try fisting it's important to start the stretching process, fisting is a time game and so it's important not to rush this step otherwise you could end up in a lot of discomfort. If you're already not fully able to take a fist, these daily exercises will get you there in no time and will get your ass ready to be trained to the max.
Butt Plug Daily Exercise: You need to start wearing your butt plug (I love this plug) as often as possible, usually for 30 minutes to 1 hour a day. You then need to increase the size of your butt plug when you feel ready.
Side note: A butt plug kit with increasing butt plug sizes is a really good idea to save you time and money, this is the one I use. You can also get an inflatable butt plug, if you don't want a kit, as inflatable plugs you can change the size with a squeeze of a bulb but most people like to work their way up with a kit.
Some just do the first exercise with their butt plugs and feel ready enough to start easing in their fist inch by inch but others, including myself, need to do a little extra work.
Anal Dildo Exercises: Exactly the same premise as above, you're going to use an anal dildo every day, building yourself up in size. You will get to a point pretty quickly where you can take a very well-sized dildo without foreplay or build-up. Your anal muscles will relax and stretch enough with continuous use for you to take your dildo without any issues.
Relaxing (Kegels): The next thing you will need to do is start learning to relax your sphincter muscles, the above should have you get used to big sizes and the feeling of being full, and while it's happening you want to work on relaxing your anus. Sometimes I find doing butt Kegels, by tightening the anus and then relaxing a few times a day has helped me learn to loosen my butt when I need to and tighten it back up after anal play to ensure complete control of the butt hole.
Finding and Testing Limits: Part of these exercises is to get your body used to this stimulation and help you relax while also testing your limits, but you will quickly find your limits, maybe you like the stretching feeling, maybe you like the deep feeling, maybe depth scares you, this is all good to know and will help you set boundaries for yourself and your partner.
Anal Warm-Up For Fisting

I actually did a real in-depth anal warm-up in my guide on how to take a big dick anally so be sure to check that out for even more extensive tips on taking something large anally.
You're here because you're looking into anal fisting, so my guess is you know how to warm up your ass hole, so I'm going to give you a quick breakdown, and if you want to know every in and out then be sure to read the article that I linked above.
1. – Clean: A few hours before I know I am going to be doing anal I shower and use a douche or to be extra safe I do an enema and if I don't have access to any of these things (impromptu decision away from home) I use my finger and get myself clean that way.
2. Lube Up: Get your favorite anal lube and lube your hole up, if you have an applicator like the one I mentioned before, squirt a little bit more lube inside of yourself to really get everything nice and slippery.
3. Use Your Fingers: Start by using a finger or two to warm up your butt hole or have a partner do it for you. Do this for a few minutes, alternate your thrusts from shallow to deeper. You can also stimulate your cock or vagina while doing so for some arousal, which I highly recommend.
4. Grab A Butt Plug: For beginners use a butt plug like this, advanced you probably already have your favorite butt plug, but if not this is the best plug I've come across for stretching. Just pop it inside you. I sometimes do everything above an hour before the sex, I can then leave the butt plug inside myself for a good 30 minutes and then I know I'm ready anal.
5. Go Bigger: After about ten minutes (sometimes longer), I switch to my larger butt plug (getting a butt plug size kit like this is really useful) and I keep doing this and working my way up. Now, I can work my way up quickly, in one sitting, but if you're new it can take weeks to increase the size, so don't rush, take your time and trust the process.
At this point, you will be ready for yourself or your partner to start the fisting process. Do not skip the steps up to this point even if you are advanced at anal, you want to train your anal muscles to stretch and accommodate and become used to taking larger sizes.
It's Time For Your First Fist
We're all different, it might take a few weeks of butt stretching exercises or you might be ready way quicker than that.
However, once you've completed the butt warm up it's time for your first fist, whether you're fisting yourself or you're fisting somebody or having someone fist you the rules stay the same. It also goes without saying applying more lube here (again!) is absolutely necessary.
Arousal: Have your partner go down on your ass, lick it, tease it (the first time my boyfriend licked my ass was unbelievably pleasurable), and make sure you're all nice and aroused down there whenever you're about to play with your ass.
Position: Pick a position (I have listed loads further down in this article so check that out after!) that feels the best and most comfortable for you. Being comfortable is key, don't do any kind of position that looks sexy but makes you feel tight and achy.
Insert Fingers: One, then two, then three, and then all four fingers. Feel how the ass is taking it, does it feel good, is it relaxed and stretched, when the ass wants more you'll know and when that time comes you can move on to the next step.
Put All The Tips Inside: Put all your fingers, including your thumb inside the ass, use the circular/twist motion, while being gentle, edge a little closer to the knuckles every time and at this point really take your time, listen to your body or read your partner's body. Take it nice and slow.
Everything In: There's an 'oooh fuck' moment right as you go over the knuckles, take it super fucking slow, I mean so slow, tiny little thrusts, let yourself relax and know that once you're past the knuckles, you should be in a world of bliss. Again, stay relaxed, don't tense up, learn to let go and succumb to the pleasure.
Enjoy: Once you've gone over them knuckles, every time after that it gets easier, and if you have followed the steps and done everything right then your/their hand should be able to slip in and out of your ass with only minor resistance. You can then try further depth, different hand shapes, and motions/thrusts.
Advice For The Top (Person Whose Fist Will Be Used)
Cut, File and Clean Your Nails: Make sure you clean under your nails and cut and file them. Do not leave this to chance, test your nails don't hurt or catch on your own skin to be extra sure. This will stop you from tearing and scratching your partner's rectum.
What about If You Love Your Nails? If your nails are too important you can get a fisting glove, this will allow you to fist without doing the above and protect your partner at the same time.
Latex Glove: I highly recommend latex gloves, they hold lube well, they stop you from scratching or cutting your partner's anus or rectum and they make your hand smooth (which makes for easier insertion). Do you have to wear them, no, but do they make the experience safer, cleaner, easier, and more enjoyable, yes.
One Finger At A Time: Take it slow, even if they are all stretched out, still go one finger at a time. Once you get to 3 or 4 fingers give them some time to relax and get used to the feeling, usually a few minutes of fingering is perfect for the anus to start stretching and opening up, but sometimes more time is needed.
The Knuckles: The hardest part of fisting is going past the knuckles and it's because of the size difference. If you've done all of the tips that I mentioned above, you should be able to ease a little bit more with every push, still taking time to let your partner relax and get used to the feeling.
Twist Motion: It's best to use a twist motion, put your hand in a fisting position (the best is with your four fingers pressed together and your thumb tucked between them to make a beak shape), then just turn it like you would turn a door handle, with your fingers pointed.
You can widen the circle as your partner becomes more aroused and turn your hand into a fist shape or keep the circle small.
Communication queues: Some of us hate asking what we want in the bedroom, but if you really want this to go well we have to put that aside. I have a check-in with my partner, we use the traffic light system, green means all good, keep doing what you're doing, yellow, slow down, be more gentle, red: stop, I encourage my partner to say these freely. They can also just say slow down, take it easy, stop, but sometimes it's more comfortable to have a word you can use.
Practice With Your Own Hands
Some of you will be learning to fist with the sole purpose of fisting yourself, but some will be doing it to try with a partner, you should always try it yourself with your own hands first.
It's a lot easier to master it and even if you're planning to do it to your partner, it wouldn't be the worse idea to try it on yourself to experience what they will be feeling and what feels good and what doesn't. It may seem difficult to fist yourself but on all fours or laying on your back gives you optimal entry and allows you to really learn how it all works.
Get Yourself A Fisting Toy
Practice makes perfect, using your own fist can be hard due to positions and arm fatigue, getting a fisting dildo is a great solution to this problem. You can practice when you like, explore different motions and really learn how to take a fist. This is a good toy for people who enjoy solo fisting or want to train for fisting with another person.
There are a few brilliant fisting sex toys out there but, if I had to pick one toy it would be this fisting dildo. It's by far the best quality I've used, the only downside is that it is an angled punch fist shape which is a little harder than the silent duck shape. In terms of quality, feeling it's by far the best and gives not only your own hands a rest but ensures maximum pleasure and efficiency.
I Always Wear Gloves
You can get a pack of medical-grade latex gloves for a couple of bucks and these stop fingernails from causing any discomfort and when used properly can be useful in preventing infection, unlike with skin-on-skin contact. They make the hand completely smooth, lube sticks well to them, they are hygienic and a no-brainer, especially if you are being fisted by someone else and not fisting yourself.
Depending on what lube you use you either need Latex gloves (ideal for water-based and silicone-based lube) or nitrate gloves (ideal for oil-based lube), nitrate gloves are also good for people who have allergies to latex.
Extra Tip: Pick Someone With Smaller Hands
If you are still looking for someone to try fisting with, it's always good to find someone with smaller hands, you would be surprised how much hands change on a person to person basis, females tend to have smaller hands and with men, it varies to the point where I would recommend you seek someone with smaller at the start (this is where the fisting sex toy is good for) that's if you haven't found someone yet, as some guys hands are monstrous and will take a lot more practice.
Fisting Positions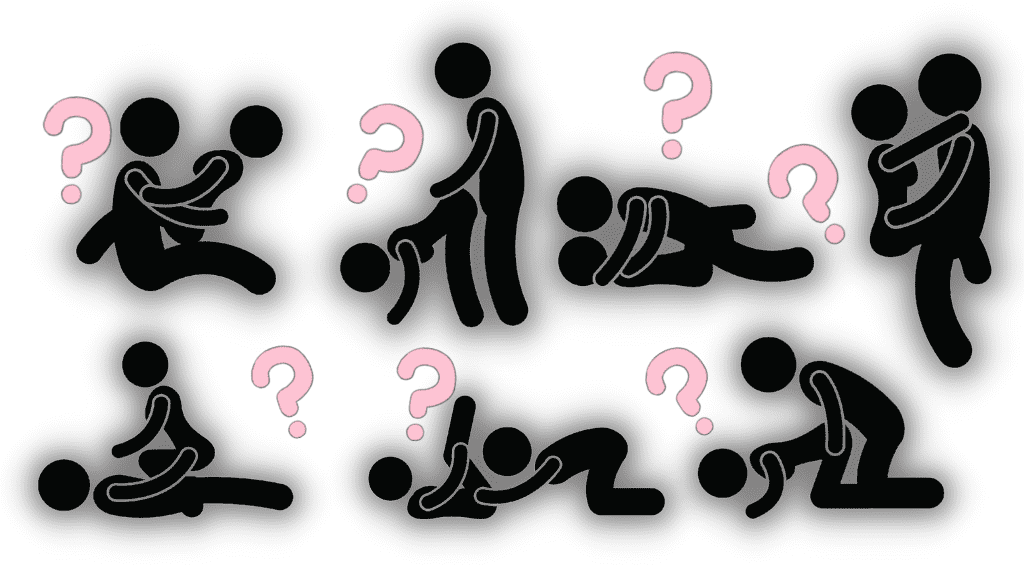 Any position that feels good for you is right, even if it doesn't seem right to others. These are the three positions I find myself in the most when I fist, if you do something different let me know in the comments below!
#1 Missionary
The easiest and probably the best position for both solo and partner exploration. You can prop yourself up for better solo play and even more to an almost sitting position to make ass access easy. You won't ache when laying down and you can spread your legs as far apart as you want in this position.
It's also a good idea to go round your legs rather than over the top of your legs with your hand as you will be able to go deeper and it's more comfortable, however as I mentioned before, whatever feels best for you is the best position.
#2 Doggy Style
On your hands and knees is also a good way to explore. Some people find it a little harder to relax in doggy, but it can be easier to reach around your back and fist yourself during solo play, it all depends on what you find the most comfortable. Fisting in doggy also gives you a lot of depth and control, It's also a very visually appealing position for your partner so once you get used to fisting it may be something you try out.
#3 On Your Side
Laying on your side on the bed is another way I like to explore with fisting. It's comfy, it's relaxed and if your partner is behind you, it can lead to some serious fisting spooning. Whilst it's not the most popular position it does feel great like this and if you are fisting solo, it isn't an awkward position to feel yourself in, you can take things nice and slow like this, easing your way in and enjoying your body.
Frequently Asked Questions About Anal Fisting

People often have a lot of questions when it comes to sex, especially when it comes to matters like fisting. I wanted to answer a few of the most people ones that I get but if you have any more, feel free to ask me down below and I will get back to you!
What Does Anal Fisting Feel Like?
For me personally, it feels amazing. Yes, it is either by my hand or another person's hand up my ass but it feels so intense and so pleasurable when it's done right. I gush when fisted and I can get much deeper in my asshole than I can with my pussy. When it's done right it is unforgettable and many people can squirt, gush and cum anally (sometimes for ages afterward as I've spoken about a few times) through fisting which is just some of the reasons why it's so popular. For me, it creates a strong sense of fullness and intense stimulation.
What About Fisting A Really Tight Butt Hole?
The human body is incredibly accommodating. Everyone has a tight butt hole but it is able to stretch beyond what you can imagine. Some people can take a lot more practice to get there, it's just the way some people work but everybody can do it with perseverance, practice, and a shit ton of lube.
How Do I Clean Out My Butt For Stress-Free Anal?
So many people worry about poop but it's pretty simple to make sure you see none or a very tiny amount. Take a shower before, use an enema anal douche, squirt water up inside of your butt and push it out, do this a few times and try a finger check.
The cleaning process usually starts a few days before with diet, I take a Metamucil (a soluble fiber supplement) which helps make cleaning up really easy, I also eat a high fiber diet as it keeps everything regular and that helps with cleaning.
With anal sex in general it's pretty easy to keep things clean, however, fisting is probably the most invasive type of anal play, so the risk is slightly higher, so put down some dark towels, you probably won't need them, but makes life easier and remember it's just a bodily function and if someone wants to stick their fist up your ass, a little bit of poop shouldn't matter.
Is Vaginal Fisting The Same?
Nope, we have a guide on that. The anus and vagina are quite different and so the techniques used and tips I give you are not to be confused so if you want to try vaginal fisting make sure to read my guide first and acquaint yourself with the different kinds of mechanisms that come with that.
Fist Safety Guide
It's really important to take safety seriously, don't go rushing into fisting because you're horny and can take a dick. You need to be careful or you could end up actually hurt.
Tearing: TAKE IT SLOW! You can cause damage by fisting and that's why you should take it slow, listen to your body, and stop if you feel pain. Fisting shouldn't hurt or cause you any kind of actual pain.
Hand Hygiene: Make sure you wash your hands before and after. You don't want to contaminate surfaces, food, or another person with bacteria found in your anus nor do you want to contaminate your body with bacteria found outside of the body so always make sure to clean afterward and before.
No Cuts: Even if you're fluid bonded and have unprotected sex with your partner, you do not want to risk getting fecal matter anywhere near an open wound. So, if you've got a cut or even something as small as a scratch, wear a glove or just wait for it to heal.
Disclaimer: This should go without saying, I've done my best to give my own experience on fisting and give you the best possible advice, but if you wish to try anything mentioned above you do it at your own risk as anal fisting is by no means risk-free and you should always do your own research.
---
If you have any questions or want to share your own experience, leave them in the comments down below! Also, don't forget to come and check out my private membership packed to the brim with erotic stories, pictures, and videos.
Jess ❤
I'm Jess and I'm a woman in my twenties. I created this blog to share my sexual experiences along with the experiences of people from all walks of life. I am actually quite introverted, but my boyfriend and I have a semi-open relationship and it's really helped me open up and experience things I never thought I would and that's one of the biggest reasons I created this. I hope you enjoy my blog as much as I enjoy writing for it. Read more about me.