I would consider myself to be a pretty kinky woman, I am open to most fetishes, kinks, and things a partner I am with is into, I am not one to shy away from something and I like to go into something open-minded and ready to experiment.
*Before you read on any further I just wanted to let you know about my VIP membership where I post stories, pictures, and videos too raunchy for my blog.*
If you read my blog (Hi and thank you!) you will know I have done everything from sharing my partner to one-night stand ass licking. I am not shy and I certainly have explored most of my sexual fantasies, however, BDSM is still something I haven't really dipped my toes into all that much. I find it to be quite an overwhelming world, I find I don't really know where to start and I wanted to create a BDSM test of my own where you can explore your kinks and turn on's with the knowledge of what comes with the things you apparently enjoy, something I found massively lacked in the BDSM test community. You get all of this information but you have no idea what to do next and so I wanted to explain what goes with each kink (more on that if you keep on scrolling down).
Please don't get me wrong, I am extremely kinky and I have tried a lot of BDSM related acts but I still feel like I haven't explored it full so my test is as much for you as it is for me.
If you have anything you want to add, please free to add it into the comments below, without further ado, let's begin! Jess xoxo
The Search For A Worthy BDSM Test
I looked for ages online for a suitable BDSM test, I found they either wanted to email you the results (which I hate!) or they were just not the types of test that I wanted or liked once I was done with them. Finally, I stumbled across this one…
bdsmtest.org: It was good, it gave me a good idea of BDSM categories I liked and where I would like to explore, it gave me a couple of results that I had no idea I might be into which was great as it opened a door for me into another side of the BDSM world.
The only real downside to this test and all of the other test I took was the fact that they don't help you explore your new-found kinks afterwards, they don't offer you much advice, you are just left with a small snippet of information and sent on your way so I decided to make my own BDSM test results with all of the things you may need to explore those things, but there's more on that later on in this article.
My Results From This BDSM Test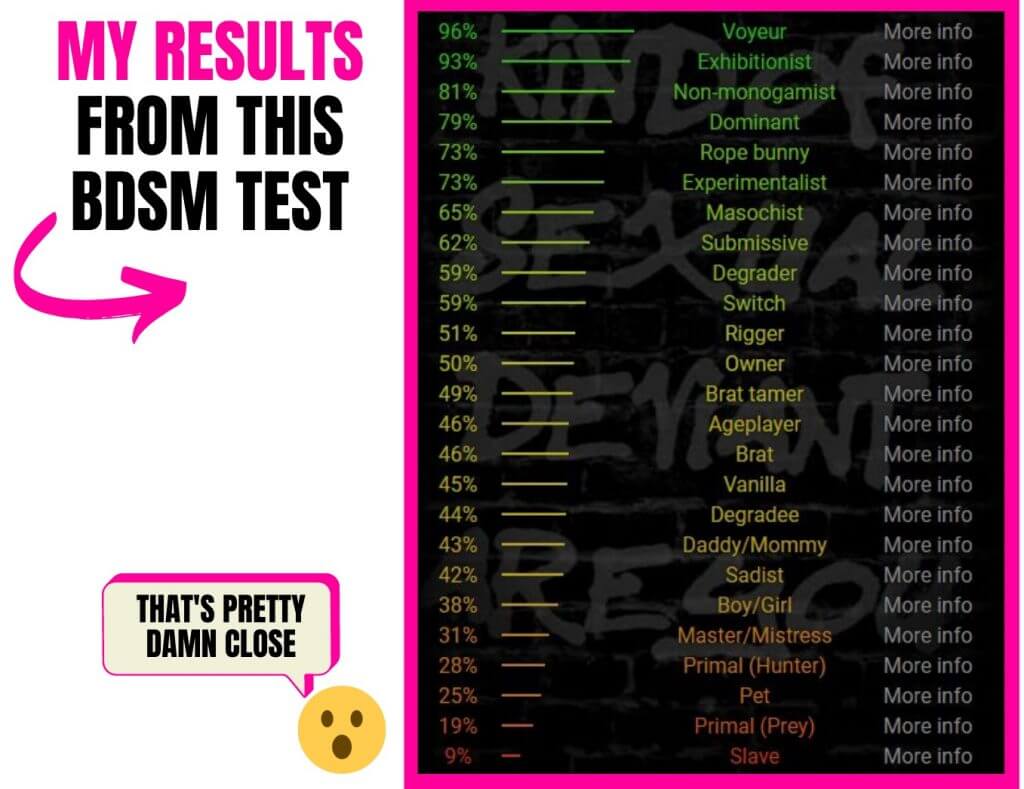 They were interesting, a lot of the results I already assumed about myself, things like non-monogamist, voyeur, rope bunny and experimentalist but I was surprised to see masochist on there, I enjoy being spanked but I didn't realize how much I guess. I was also surprised to see degrader, this is the act of humiliating and/or degrading their partner, it was quite low down on my results but it still made me re-think what I find a turn-on when it comes down to BDSM.
The BDSM Tests I Use & Recommend (My BDSM Test)
As I mentioned before one of my biggest pet peeves about all of the tests I did was not being able to look into detail at my results. I wanted everything in front of me so that I could go through every single result and decide whether or not it was for me.
Scroll on below and you will find my BDSM test, tick off what you like the sound of, get your partner to do the same and then compare notes, you may find there are plenty of things you have in common that you want to try out in the bedroom.
I would recommend doing the test in private and then both swapping your results to see where you both want to explore without the pressure of someone looking over your shoulder. Read through my list, write down what you like and explore!
The BDSM Test (Explore Your BDSM Kinks)
You can download it here and print it out, tick off alone or with your partner and then come here to see how you explore each fantasy.
Exploring Your BDSM Test Results (How To)
So, you've completed the above, now it's time to see how to explore each of the fantasies you ticked off, just use the below, find the ones you've picked and then learn how you can give them a try.
Try Being Restrained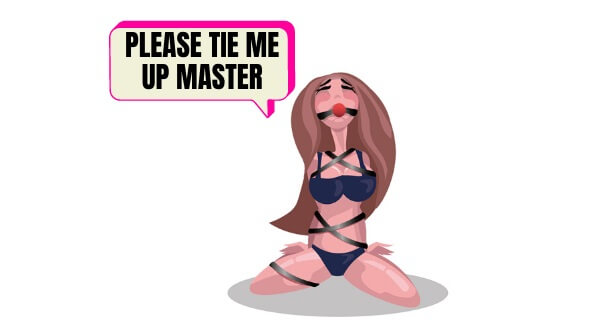 Being restrained also known as a 'rope bunny' or 'rigger' is the act of enjoying being restrained, restraining your BDSM partner, and engaging in rope play. There are lots and lots of different reasons why people enjoy playing with ropes and some of these reasons might be: giving up control, inciting fear or pain, suspension from ropes, restraint, humiliation, comfort, and it goes on.
Types of Sex Restraints
Bed restraints

: Under the bed restraints are awesome for those wanting to try out being restrained in a non-intimidating way. The ones I have fit under any mattress and secure your wrists and ankles in place, the cuffs are soft yet firm enough to keep you there.
Handcuffs

: Handcuffs secure just your wrists in place so you can keep them behind your back, behind your head, or any other position you can think of. Wearing handcuffs renders you virtually helpless and your partner is free to explore.
Collar & Leashes: Wearing a collar and leash is a submissive role, it symbolizes belonging and service. You give your dominant control over you and allow them to guide you. Some people wear their collars out of the bedroom and into the real world, this means they have a strong dom/sub relationship.
Rope

: Rope play has lots of different names but it is one of the main symbolizers of BDSM. Those that enjoy rope play use it to restrain their partner, tease their partner, humiliate and pleasure their partner.
Tape

: This PVC bondage tape is just a kinky thing some people love. The aesthetic of seeing their partner's wrists and ankles restrained with the tape turns them on, the wearer often loves the tightness of the tape and the inability to be released.
Spreader Bars: Spreader bars keep your partner in position without any compromise. Keep their arms and feet widths apart so that you can spank them, tease them, fuck them, humiliate, and just about anything else.
Wrist & Ankle Restraints

: Strap your partner's wrists and ankles together behind their back for total restraint, keep them in one position and tease their body however you wish.
Using Sex Toys Without Control
Basically, this is for people who like forced orgasms. You restrain your partner and use different sex toys to make them cum as much or as little as you want. This can be also considered a submissive and dominant role.
Using sex toys on your partner can be as simple as using a fleshlight on a man that's restrained with under the bed restraints (like the ones in the restraint list above) and not stopping even after he has orgasmed or stopping right before he cums and forcing his orgasm out again and again when you feel like it.
This can also be restraining a female's legs with restraints or rope and placing a magic wand between her legs whilst she is restrained and not turning it off until her orgasms have made you satisfied and she has cum again and again.
Here's an example for you to see how to secure a wand to a woman:
it gives you great insight and as you should be able to see why ropes are so appealing.
Techniques for Sex Toys Without Control:
Using bondage rope + magic wand
Using bed restraints and a sex toy of your choice
Using a sex machine while restrained
Using cuffs to restrain whilst using a sex toy
Try Being Dominated
Domination is the act of having total control of your submissive in certain aspects of yours and their life, this is also called dom and subs or D's and S's. Some people choose to be dominated 24/7 and others prefer it just in the bedroom. To dominate someone means to take total control from them and have them submit to you.
You can explore both the dominant and submissive roles and quite often people switch between the two in the bedroom. People enjoy being dominated for lots of different reasons, some like having no control, some enjoy being told what to do, there are so many different reasons. The same goes for being dominant, some people love the control, being the aggressor and the one in charge is just some of the reasons people enjoy it.
Types of Domination
The Top & The Bottom: (The Top is the person giving orders, in-control and taking charge, the bottom is the 'submissive'.
Slave & Owner: Some like to roleplay the idea of being a slave and doing anything their owner/master says.
Daddy Dom / Mommy Dom: There are lots of different types of these roles such as DDLG. These types of subs are often called 'littles' whereby they enjoy acting younger than they actually are, sometimes these submissives do not do this for sexual satisfaction but enjoy the kissing, cuddling and nurturing.
The Master (Mistress) & The Apprentice: Similar to the role above, both partners take a role and either teach or be taught. Sometimes the master will humiliate and torture their apprentice to make them learn, other times they will tell them exactly what they must do reclaiming power as they do so.
Pet: A pet is usually someone who enjoys taking orders from their master. It's often more of a loving rather than a sexual relationship like with the slave and master role. Pets also sometimes like to act like an actual pet, curling up like a kitten, purring and meowing. Walking around on four legs is often encouraged with pets.
Good Girl/Boy: Often called 'littles' this type of domination is where the submissive roleplay being younger than they are, sometimes in a non-sexual nature. Littles enjoy being told what to do, being treated well and having their owner care for them.
Other Types Of Domination
Brat (Submissive)
Brat Tamer (Dominant)
Princess (Submissive)
Femdom (Dominant)
Bull (Dominant)
Vixen (Dominant)
Degradee (Dominant)
Who Is Going To Deal The Sexual Punishments
I love being punished, I didn't know quite how much until I began doing these BDSM tests and I realized that it was such a thing. I don't know where my love for being told off and taught a lesson stemmed from but it's there and it's very real. I think of myself as a masochist which means I enjoy being humiliated, being punished sexually and non-sexually.
Punishment is always consensual in BDSM, where the dominant inflicts pain or a consequence for action by the submissive. Punishment can be inflicted by spanking, whipping, flogging, torture, withholding orgasms, and more.
Types Of BDSM Punishment:
Being Spanked: Using your hand, a flogger, a crop whip, a paddle, or a cane to punish your submissive. Test out your punishing tools first, on your own hand to understand how your tools work. Set up rules and boundaries with your submissive and enjoy punishing them.
Ball Gags: There are ball gags to keep you quiet after you've been too loud and there are ball gags that force your mouth open so the dom can use it how they please.
This is my current favorite ball gag, I use it all the time.
Nipple/Clitoral Clamps and Pumps: These beginner nipple clamps are perfect for getting started and this pussy pump is the one my boyfriend uses on me. Using nipple clamps can be used as a punishment as it can hurt to use them and it's very erotic, the same goes for pussy pumps, swelling the pussy and using it as you wish.
Cock & Ball Toys: There are ball stretchers and ball dividers and cock cages that we will take about later.
Candle Wax: Using body-safe candles and melting the wax over your partner's body is a form of erotic punishment.
Choking: I love it when my boyfriend chokes me, I did a whole article on safe BDSM choking. Choking your partner safely is a huge part of BDSM punishment, knowing how to do it properly is the key.
Try Being Locked Up In Chastity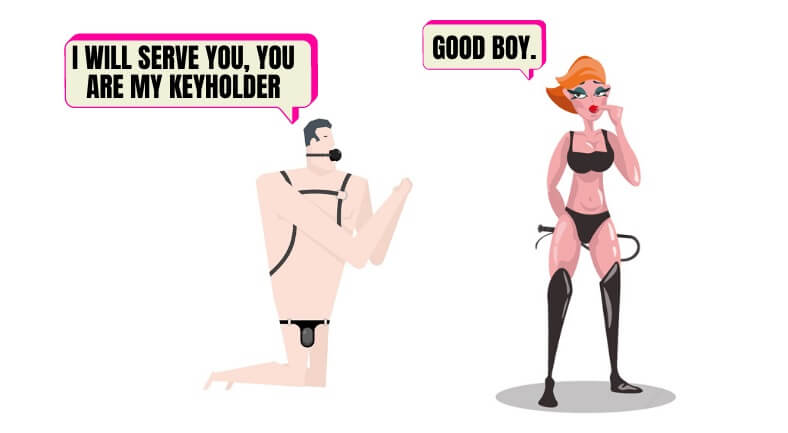 Chastity is principally the act of restraining your partner from engaging in sexual intercourse or any sexual pleasure. Wearing a chastity device enables you to use your genitalia, although sometimes there is a pee hole. The dominant with have the key or the decision as to whether the chastity device is removed or not. Some people love keeping their devices on for prolonged periods of time and others for shorter amounts of time. Male chastity devices most of the time are built so you are unable to really get erect, so as you can imagine the teasing can be pretty brutal but incredibly hot.
Chastity rules that I use:
You cannot be released until your master says so.
The dom keeps the key somewhere safe
Keep it on for as long as physically possible
No amount of teasing is off limits
There's also this massive list of chastity punishments you can check out for more ideas.
How to try chastity:
Female chastity belt

– Made from leather this female chastity belt keeps you from going anywhere near your clit until your dom says so.
I Love Big Pleasure (Size Queen)
I am a huge fan of large sex toys, this is called being a size queen or king. I have always loved being filled with something larger than average and trying to squeeze it inside of me. I love the feeling of being filled up, it turns me on so much fitting it inside of myself and I know lots of other people love it too.
You can read more about my love of big size here.
How To Simulate Big Pleasure:
Penis extender: Get your partner to wear

this penis extender

(I make my boyfriend wear his a lot), it adds 3 inches in size and makes his cock instantly longer and thicker. It's also a lot to squeeze in and great for trying out being a size queen.
large dildos/vibrators: You can use large sex toys, I love large toys and this is

my favorite large vibrator

(especially good for beginners size queens). Here are some super-sized dildos that I use too (amazing).
Strap-on dildo: You can get hollow strap-ons that men can wear like this one, or you can get

female-friendly strap-ons

like this one. That way you can switch things up and enjoy different larger sex toys every time.
Open Your Relationship With Group sex
Group sex is another BDSM category that sometimes gets brushed under the rug by these BDSM tests online. Often people get tarred with being a voyeur (performing for a group of people or even in privacy on a balcony etc), is where lots of people turn, group sex isn't a term of being a voyeur but it is one of the things people often turn to if they find they like voyeurism.
Group sex can be simulated with butt plugs, sex machines, and double penetration strap-on. If you're not into the idea of group sex you can simulate it and it is amazing fun.
If you want to experience the real thing head to:
Sex clubs
Sex party
Threesome apps (thrinder)
Are you a Cuckold/Cuckquean?
Being a cuckold/cuckquean means you enjoy watching your partner have sex with another person. There are other aspects of this, some people just enjoy watching their partner flirt with other people, some enjoy staying at home and getting updates about their night knowing they are with another person and some enjoy sharing their partner knowingly and waiting outside.
Having a cheating/affair fantasy all falls under the bracket of being a cuckold/cuckquean. Setting your partner up to have an affair, knowing all about it, and hearing all the details is also something people enjoy.
I enjoy this myself and have written a few stories about my experiences if you are a man then check out the time my boyfriend shared me, if you get off on the idea then maybe this is something you should try. The same goes if you're a woman here's the time I shared my man with another woman, it was one of the hottest experiences of my life, but it's not for everyone.
Maybe Sexual Humiliation Is Your Thing
Humiliation all falls into cuckolding, chastity, and being a slave/degraded. It's where you enjoy humiliating or being humiliated by your partner. In the bedroom making your partner feel shamed, degrading them, and using them up is all part of humiliation, and whatever side of the coin you fall on, it's always a fun ride.
Who Doesn't Enjoy Voyeurism
Voyeurism is the act of enjoying being watched during sex or sexual acts, this can be through an open window, on a balcony, in public, or even during group sex. Being a voyeur is actually pretty common people just don't know the name of it.
Some BDSM Roleplay Ideas
Cheating – A cheating roleplay fantasy is so much fun to act out, be the kinky MILF fucking her gardener or the sexy DILF treating his secretary too well.
Domination– Dominate your partner or submit to your partner until you are both satisfied.
Teacher/Student – Need better grades? Roleplay fucking your professor in order to bump that D up t an A.
If you want some more BDSM ideas try this article with all my BDSM ideas and if you want some more roleplay ideas, check this out.
Important Must-Read Advice
Remember to take things slow, learn what you li,e, try new things and talk to your partner about what is on and off the cards, especially if you are going to be trying out punishments, humiliation, or slave/master roles.
You will find things you don't like and you will find things you live in so keep them in mind. Remember to try new things always, it's important to keep things fresh., If you need any advice just let me know in the comments below, you can do this anonymously!
Let me know what your kinks are in the comments, I read all of them.
Jess xoxo
I'm Jess and I'm a woman in my twenties. I created this blog to share my sexual experiences along with the experiences of people from all walks of life. I am actually quite introverted, but my boyfriend and I have a semi-open relationship and it's really helped me open up and experience things I never thought I would and that's one of the biggest reasons I created this. I hope you enjoy my blog as much as I enjoy writing for it. Read more about me.